No Magic, Just Hard Work for this Growing Gluten-Free Bakery
This Vancouver-based small business has developed a cult following for their gluten-free products, now making their way into Washington stores.
By GluteNull March 16, 2018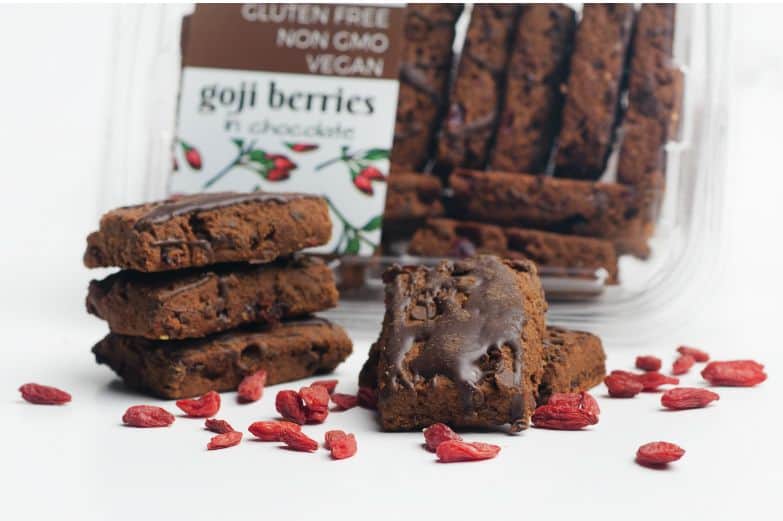 GluteNull's founder, Otari Kobalia was born in the European country of Georgia. A successful mathematics teacher, he and his family were forced from their home during the Georgian Civil War, immigrating to Canada in 1996. Vegetarian since the 80s, he saw the need for healthy and delicious gluten-free and vegan options. In 2011, after ten years in the baking industry, he began GluteNull, a small twelve-person operation in Vancouver, British Columbia. GluteNull's breads and nutrition bars have developed what some would call a cult following in Vancouver, and they're now expanding to the U.S with carriers in Washington such as Whole Foods, Central Co-Op and Sno-Isle Natural Foods.
Here's a bit more about Kobalia, his products, and his journey to becoming a successful small business owner in the Pacific Northwest:
Were you a baker in Georgia?
I taught math at Sukhumi University in my hometown. My educational papers were submitted to the Canadian Evaluation Board but were delayed until the year 2000. By this time, I had already started my bakery business and didn't want to give it up.
I'm not sure what prompted me to open a bakery; perhaps it was a call of nature. My last name translates as "Bready" in Georgian and my mother's last name translates as "Miller." My decision to become a vegetarian in 1980 is where it all began. This was tough in the beginning, and I began experimenting by creating treats for myself. Thus, unknowingly, I was starting my future career, which is now GluteNull.
Why did you decide to focus on gluten-free treats?
When I first arrived in Canada, I had to learn a lot of new things, including how to cross the street! When I first started my bakery, I didn't know anything about the business. Within the first eight years, two articles were written about my Georgian baguette, one featured in Vancouver magazine. I will never forget Mia Stainsby's passionate article; she made me believe in myself.
In 2009, a customer asked me to make bread for his gluten-intolerant child. I love a challenge, and so I started experimenting. We introduced Buckwheat Bread, which in the beginning looked and tasted more like clay than bread, but eventually we came up with the product that's available today and I'm very proud of it.
GluteNull's Amaranth Bread
What makes your product unique?
While most mass-produced breads and baked goods are made with chemicals and high-energy mixers to speed up fermentation, the production at GluteNull, takes anywhere from four to twenty hours, allowing the natural enzymes to react with the ingredients in their own time. In turn the products are richer in flavor, healthier and better for your digestion. In our books, slow and steady wins the race.
How did you come up with the recipes?
I relied on intuition and experience, putting together ingredients that I thought would pair well. For example, our Buckwheat granola bars are very similar to one of my all-time favorite nut-and-honey desserts from Georgia called 'gozinaki'. Though not well-known in other parts of the world, Georgian recipes are unique and have thousands of years of history, so here was my chance to use some tricks from my ancestors.
Your greatest obstacle…
Sugar. Wanting to make my product available to everyone, I had to find an alternative sweetener to refined sugar that was both natural and vegan. After some research and trials, I decided on coconut sugar, now used in most of our products including our Choco Moko cookies and our dark chocolate Buckwheat cookies. The taste and texture of coconut sugar is a lot like brown sugar, yet in comparison, it contains less fructose, letting your liver metabolize it in a healthier way. In addition, coconut sugar has nutrients like zinc and iron, as well as antioxidants.
Who are GluteNull's customers?
Although the emphasis of GluteNull is on gluten-free and vegan production, it is so much more than that and at the same time, so much simpler. It is just 'good food' – natural, nourishing, ethical and delicious.
Our products don't contain any allergens such as yeast, soy, gluten, dairy or eggs. We use only top quality non-GMO organic ingredients and always choose quality over price. With quality ingredients you can create a product loved by children, health enthusiasts and people who just enjoy clean, great tasting food.
Your company offers 25 different treats. Which is your absolute favorite?
My favorite is our Hemp Energy Bar, because I matched the taste with a famous treat in Georgia called "Churchkhela". One of the best ways to make a tasty product is to recreate your favorite flavors from childhood.
How would you describe your vision for GluteNull?
We don't pretend to be bigger than we are, but we do think big. In Euclidean geometry a dot is an object, which doesn't have dimensions. At the same time the universe consists of dots.
What is some advice you can give to other aspiring entrepreneurs?
As a good friend once said to me, "It is better to lose with good, than to earn with bad." There is no magic here, just hard work.
Find a list of GluteNull's Washington State retailers here and follow along on Facebook, Twitter and Instagram: @glutenull

Sign up and get Seattle's best events delivered to your inbox every week.