Old Ballard Liquor Co. Transforms from Distillery into a Scandinavian Bar
Swing by for amazing aquavit cocktails and lutefisk handpies
By AJ Rathbun October 11, 2018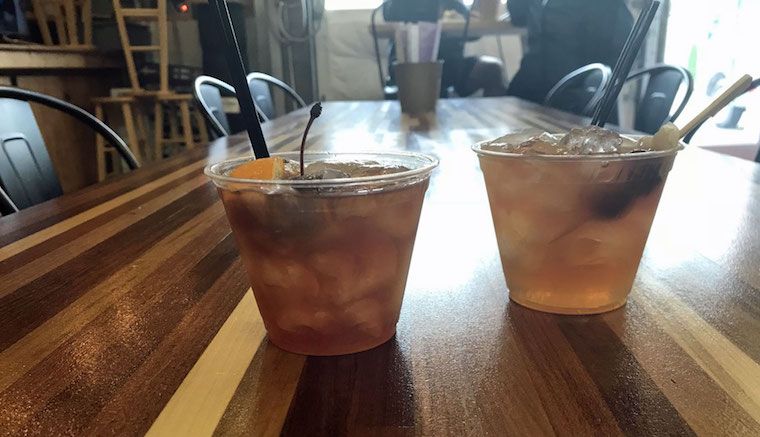 Starting off as a wonderful nano distillery right by the boat launch and across from the Maritime Academy, the Old Ballard Liquor Co. recently transformed into a Scandinavian-style bar. There had been a charming small café in the distillery, but with this change, it's a full bar, with the distillery no longer in operation.
It's hard to make a distillery sustainable in our state (in my opinion, anyway), and while I'm sad to see that part of Old Ballard Liquor Co. (OBLC) go, the bar is amazingly welcoming. I'm glad that owner Lexi kept it rolling (she's also the executive chef at Skål, a much-anticipated Viking-inspired beer hall opening on Ballard Avenue later this fall). The cocktails – where I always start – are swell, utilizing a range of locally made spirits and liqueurs, including OBLC products still available. My top choice leans in a Scandinavian way. Called the Ballard Fancy, it mixes OLBC's caraway-forward aquavit and Cherry Bounce liqueur with ginger beer.
There aren't many outstanding aquavit cocktails – it can be a tough spirit to mix with – but this one hits a high note. Refreshing and savory, the caraway starts the experience, followed by fruit notes and flowing into other spices. It's not to be missed. Other highlights include the fun Sidetrack Shandy, which matches a Carlsberg beer with your choice of one of four of Kent-based Sidetrack Distillery's liqueurs: Raspberry, Blackberry, Strawberry or Cassis. I can't pick a favorite – it'd be like picking a favorite child!  But I can say this is an ideal accompaniment for watching the game; luckily, OBLC has a good-sized TV and shows Seahawks and football on Sundays.
Don't miss browsing the rest of the booze menu, because they have the largest aquavit selection in the state – maybe in the whole U.S. – with about 50 choices. Aquavit may be the most misunderstood spirit in our country, as the range of flavors is wide and very regional and seasonal, though most drinkers haven't realized that yet. You'll also find beer and cider, a little wine, Snaps (a strong shot often taken during a meal in Denmark and Sweden) and Malörts, or bitter drams.
The house-made food options follow traditional Scandinavian recipes, from the Lutefisk Handpie (with the famous – and sometimes infamous – salt cod known as lutefisk, a rye crust, mashed potatoes, green peas and a Hollandaise dipping sauce) to classic Swedish meatballs with lingonberry jam – another popular item since they opened in early September. The "National Dish of Norway" is on the menu, too; it's a lamb and cabbage stew and would easily chase the cold away in winter.
If just in for drinks and snacks, the charcuterie board should be your pick, with Nordic meats and cheeses, including the brown, caramelly Gjetost cheese (it's dreamy, and hard to find), flatbread, pickles and an excellent house mustard that's both creamy and speckled with whole mustard grains. They can make it all cheese, no meat, for vegetarians, too.
The space, as when a distillery, has a cozy industrial feel, with concrete floors and metal walls and a handful of tables, some tall, one shorter, but all adorned with beautiful wooden tabletops. A small bar-shelf with stools is on one wall, right in front of a cabinet full of gleaming distillery parts and other implements. Overall, OLBC is the very definition of a singular neighborhood bar, one that stands out from other cookie-cutter spots.
They're currently open 1 p.m. to 9 p.m. Fridays and Saturdays, and 11 a.m. to 5 p.m. Sundays, but keep an eye on the website, as they may be expanding those hours. Dollar Dog Happy Hour runs 2 p.m. to 5 p.m. on Fridays and Sundays, too, with $1 Hot Dogs if you're drinking – veggie dogs available – and an amazing array of rotating toppings you can add for various prices, from exotic things like shrimp salad and banana curry (a shout out to the Swedish banana curry pizza craze) to fried and raw onions. Yet another reason to catch a Sunday afternoon game here!