Our 7 Favorite Dog-Friendly Bars and Restaurants in Seattle
No need to leave your pooch behind when hitting these Seattle favorites.
By Alexa Peters July 11, 2017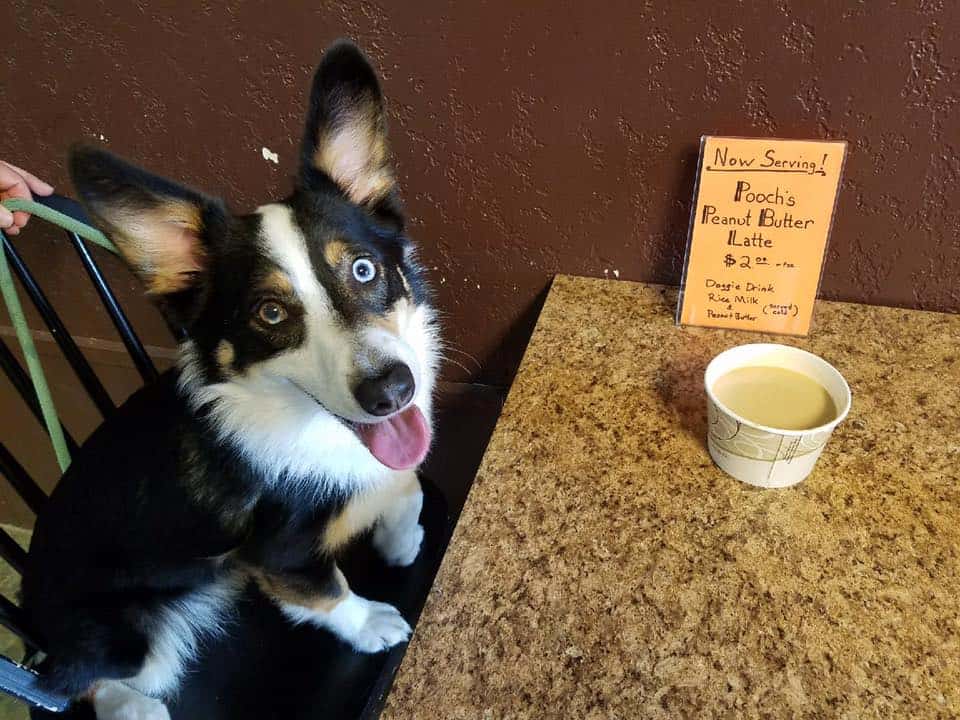 Now that summer has hit Seattle, everyone's looking for great restaurants and bars with patios where they can enjoy the sun as a family. In our dog-obsessed city, that often means places where Fido's welcome, too. Luckily, Seattle is full of great dog-friendly spots, each with their own distinct flavors and perks for human and canine alike. 
It should be noted that the dog-friendliness of specific restaurants depends on permitting and whether or not the dog is a service dog.
It's worth noting that while the U.S. Food and Drug Administration strongly suggests against having animals where food is served, there is no federal law forbidding it. Washington state law technically only allows service dogs inside restaurants. But because it's difficult to differentiate between service dog and plain ol' pet, the Seattle and King County Health Department says, the rule is rarely policed and often flouted.
The safest bet is to stick to the patio or bring your collared pal to businesses with special permits allowing dogs.
Now that we know who let the dogs out, let's look at bars and restaurants in town where you and your furry friend to enjoy an outing together.
Norm's Eatery and Ale House
This Fremont bar is named after a golden retriever and its motto is "sit…and stay." Need I say more? Norm's is a quintessential haunt for local dog and beer lovers with an extended happy hour (4-7 p.m. daily, plus 10 a.m. to 2 p.m. Saturday and Sunday) offering a wide selection of wines and brews. Oh, did I mention their tasty coconut shrimp? Their food makes both humans and dogs drool (though the latter isn't too tough).
Bark! Espresso
Hidden away in the North Seattle neighborhood of Pinehurst near Northgate, Bark! Espresso has a whole separate area where dogs are allowed, with a service window for yummy treats. The human food and drink is impressive: beautiful Cafe Vita espresso drinks adorned with incredible latte art, food from Dancing Women Uniquely Grained Foods and Bark's own "Mardi Gras" meatloaf sandwiches with smoked paprika. The dog food isn't bad either, including complimentary biscuits and even a peanut butter and rice milk concoction called a "pooch latte."
Chuck's Hop Shop in Greenwood
With both indoor seating and outdoor patio with umbrellas, Chuck's allows you and your pup to enjoy its vast selection of craft beers (there's literally about a thousand) rain or shine, as long as your doggy date's leashed. Rotating food trucks park outside nightly after 5 p.m. (plus weekend day shifts), so you can roll after-work beers into dinner. In case you want to bring something tasty home, our readers recently voted Chuck's the best beer retailer in Seattle.
Portage Bay Café
One of the Seattle's best weekday breakfast spots, Portage Bay Café, allows dogs on their inviting patios at their Roosevelt, Ravenna and South Lake Union locations. Enjoy all-day breakfast with Fido at your side, savoring brunch options like a Dungeness crab cake benedict, lemon poppy seed baked french toast or a goat cheese omelet. Portage Bay is also committed to serving food with organic, local and sustainable ingredients, and has four locations throughout town (no pooches at the Ballard spot).
Fiddler's Inn
Fiddler's Inn is known as Wedgwood's pizza-slinging neighborhood tavern. The cute little pub offers 11 craft beers on tap, pizzas and specialty sandwiches including a Greek olive-stuffed muffuletta. Grab a pint and a pie and head out to its dog-friendly patio, one of Seattle's best beer gardens. As its name implies, Fiddler's Inn often features local live music for guests and their furry friends to enjoy.
The Barking Dog Alehouse
This family-friendly Greenwood pub specializes in micro craft beers (local and national) and has an outdoor eating area where pups are welcome. On weekends, the cozy Barking Dog adds exciting dinner specials to its menu fit for meat-eaters and herbivores alike, and their desserts—like the Northwest Cobbler made with local berries—are to die for.
Ampersand Café
This waterfront café is a great place to stop with your dog after a long walk on Alki Beach. At the intersection of Marie and Alki avenues in West Seattle, Ampersand has a dog-friendly patio with a view of the water. The baristas make splendid coffee concoctions for thirsty humans, including delicious seasonal drink specials like the Spicy Mexican Mocha and Coco Cold Brew with coconut cream.