Pottery Northwest Exhibit Fuses Coffee and Clay
Upcoming exhibition displays Seattle's coffee obsession through ceramic art
By Carley Schmidt June 2, 2016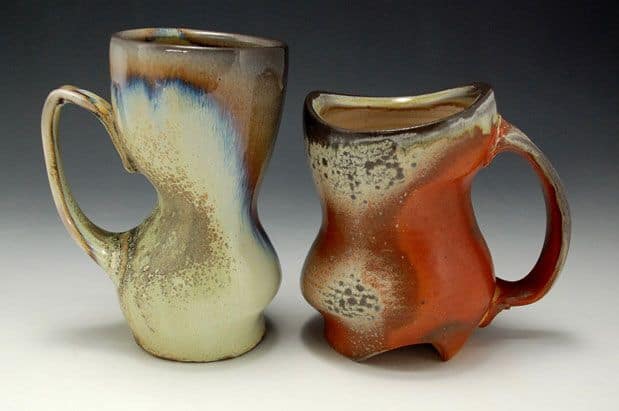 Seattleites can't get enough coffee. But the often forgotten and likely more important piece to this necessary beverage is its vessel.
Pottery Northwest's upcoming exhibit, "Coffee and Clay," features coffee-related ceramic ware to demonstrate an intersection between seemingly separate mediums. It runs June 3 to July 1 and will celebrate 21 different artists, including work from four of the program's artists in residence. The 50-year-old non-profit arts organization will also host a brunch reception on June 5, complete with a waffle bar and brew demos, courtesy of Pioneer Square's Elm Coffee Roasters.
"Seattle is such a coffee town, and there are so many potters who love making coffee cups and different contraptions," James Lobb, executive director of Pottery Northwest, says. "We thought it would be fun to focus an exhibition on that." Guests will have a large number of handmade cups from which to choose, and can purchase the work any time during the exhibit. If a mug is purchased during the opening reception, it can be filled on the spot with freshly brewed coffee. 

Wood-fired pour over coffee maker by William McComb. Photo by William McComb.

The show is nationally juried, which means that the organization issues a call for submissions, and two chosen judges narrow down the works to select the final winners. Noah Riedel, a former artist-in-residence at Pottery Northwest and contemporary ceramic artist, will jury the "Coffee and Clay" show. Carolyn Reddy, of the espresso machine company La Marzocco, will take the second juror's seat. Each an expert in their own field, the judges will present awards to two outstanding artists for their work in the exhibit.
Though Lobb says he views the organization's gallery space as more of a "supplement" to the foundational focuses, education programs and the artist-in-residency arrangement, exhibits such as this one are beneficial to the space.
"It gives our artists a chance to display their work, and our students a chance to look at professional work," he says. With a wide range of artistic styles, and brunch to top it off, visitors should expect to fill their minds and stomachs at the event.
The "Coffee and Clay" exhibit will run June 3 through July 1, with a reception June 5 from noon to 2 p.m., at Pottery Northwest's Seattle Center gallery.
Sign up and get Seattle's best events delivered to your inbox every week.