Ramen Nirvana: Ramen Bushi-Do
Oodles of noodles from the Dough Zone folks
By Chelsea Lin January 20, 2017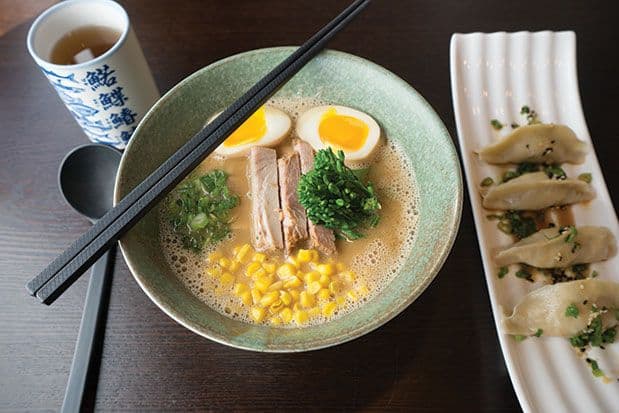 In 2014, a group of friends opened the Dough Zone Dumpling House—a modest dim sum restaurant where the xiao long bao, or soup dumplings, rival those of Din Tai Fung, the Taiwanese-based dumpling chain with the hour-long waits. The friends had a simple philosophy: "If no one else likes it, at least we have a place to eat," says co-owner Ding Xia. Well, people liked it. The group now owns three locations, all on the Eastside, with a fourth soon. In July, they branched out with Ramen Bushi-Do, an Issaquah noodle shop that is the pet project of co-owner Nancy Xia (no relation to Ding), a ramen-phile who spent the past few years training with renowned noodle mentor Kaoru Fujii. Her al dente noodles and slow-cooked broths are rich in umami, though slightly muted in flavor (particularly the porky tonkatsu). The menu bridges traditional and modern; think restorative miso ramen with salmon mazemen, a chilled noodle salad. The pot stickers are fine, but Dough Zone is still the best bet for dumplings.

Inside Ramen Bushi-Do in Issaquah
Ramen Bushi-Do
Issaquah, 5625 221st Place SE; 425.391.9999
See also: This Dough Zone Is Not Like the Others
Sign up and get Seattle's best events delivered to your inbox every week.