Recipe of the Week: Barley Porridge
Cook like Canlis chef Brady Williams, who's nominated for a James Beard award
By Chelsea Lin April 25, 2017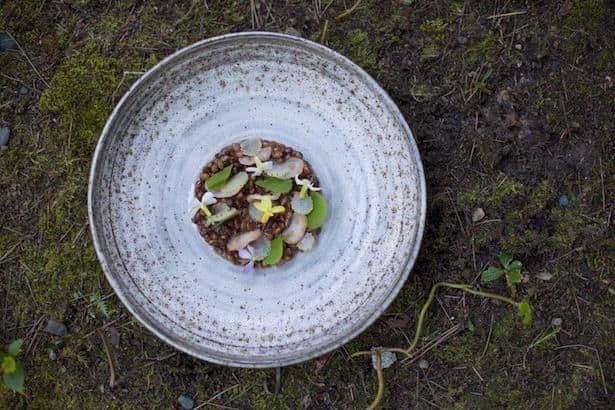 We're officially less than a week out from the prestigious James Beard Awards Gala—essentially the restaurant world's answer to the Academy Awards—which takes place May 1 in Chicago. Seattle is representing in a number of categories, but perhaps most notable this year is that Canlis chef Brady Williams has been nominated for the Rising Star Chef of the Year (presented by S.Pellegrino).
Williams shared with us a signature dish, now on the menu at Canlis, of barley porridge with geoduck, green strawberries, sorrel, and shiso. Chances are you have questions about the origins of more than one of those ingredients. But trust Williams when he says: "This dish is the perfect snapshot of who [Canlis is]—an iconic Pacific Northwest restaurant, combined with Japanese influence, and a focus on the best ingredients our area has to offer." 
Judging by the lengthy recipe below, we say go have Williams make it for you at the restaurant, and wish him good luck. But if you're an ambitious home cook who wants to aim for the pros, try this out and let us know how it goes: 
Barley Porridge
Components:
– Barley porridge – ​creamy barley porridge with garlic paste, butter, shio shoyu, lemon juice
– Geoduck – ​thinly sliced and dressed in shio shoyu and lemon juice
– Green strawberries – ​thinly sliced and dressed in a muscatell vinegar and honey
– Sorrel – ​wood sorrel garnish
– Shiso – ​grapeseed oil infused with shiso
Barley
500 g barley
1000 g water
Rinse the barley well. Be sure there are no hulls still attached to the barley. Groats with the hull still attached will usually float when soaked in water. Add 1000 g of water, bring to a boil then reduce to a simmer. Cook until tender.
Barley Milk
200 g barley
400 g water
Place barley and water in a blender and spin until smooth. Strain through chinois. The barley starch will settle out and must be mixed thoroughly before every use.
Barley Risotto – One Portion
100 g barley, cooked
30 g barley milk
15 g shiro shoyu
30 g butter
To taste: salt, lemon juice, garlic paste
Combine barley, barley milk, and soy sauce in a small pan and bring to a boil to activate barley milk starches. Add garlic paste and lemon juice and then emulsify in butter. Season.
Green Strawberries
500 g Muscatell vinegar
500 g honey
Mix two ingredients together with a pinch of salt. Thinly slice green strawberries and compress in liquid until translucent (about three cycles).
Shiso Oil
1 part shiso
1.5 parts grapeseed oil
Add to a blender and blend until steaming (about 5 minutes). Strain through a coffee filter
Sign up and get Seattle's best events delivered to your inbox every week.