Recipe of the Week: Cinnamon Basil Ice Cream
A former Seattle pastry chef comes to town to talk about her new book
By Chelsea Lin May 12, 2017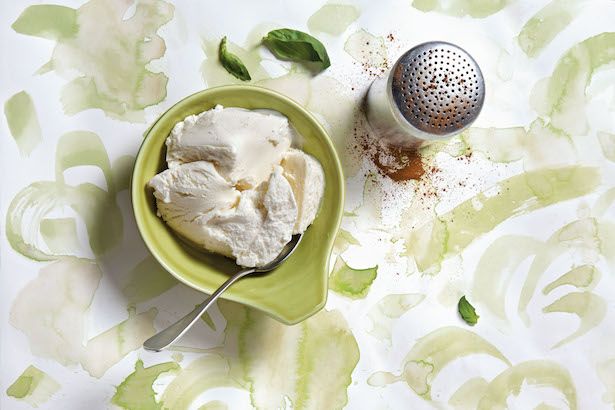 When Seattleite Dana Cree was the pastry chef at Poppy, her desserts were the talk of the town. Now, her sweets are enchanting Chicago—the James Beard-nominated chef is now leading the pastry program at the Publican restaurants there.
Cree is perhaps best known for her ice creams—on display in her first cookbook Hello, My Name is Ice Cream, which was just released. She's said before that her philosophy for making desserts is to start with a base and build flavor from there, and that comes through in the book, which offers base recipes for people to use to improvise their own flavors. Cree says, "The most important part is that people make ice cream, not that they do what I tell them to do." In addition to recipes, she offers some of the science behind ice cream; this is truly a book for amateurs and skilled home cooks alike. 
The pastry chef will be visiting her hometown for a May 18 book signing at Book Larder. Admission is free, but RSVPs should be made here. She'll also be teaching a May 20 demo class with recipes from the book at Hot Stove Society ($85 tickets here). 
Cinnamon Basil Ice Cream
Makes between 1 and 11/2 quarts ice cream 
The flavor of cinnamon and basil together is brilliant and unexpected, which is exactly the kind of thing I'd love to be credited for inventing! However, Mother Nature beat me to this one. Cinnamon basil is a type of basil that tastes exactly like it sounds. Jerry Traunfeld, the chef and owner of Poppy restaurant, in Seattle, planted it specifically for me to use in ice cream. I gladly obliged, and became such a fan of this flavor that I started using basil leaves and cinnamon sticks when our gardens stopped producing the specialty herb. 
While not essential, it's worth seeking out true cinnamon sticks, often labeled Ceylon or Vietnamese cinnamon, rather than the cassia bark that is often labeled and sold as cinnamon in grocery stores. If you have cinnamon basil growing in your garden, call me—I need some! Also, use just the fresh leaves, omitting the cinnamon stick from this ice cream. I have also made cinnamon-less basil ice creams with this recipe, using globe basil, purple basil, or Thai basil, all with great success.
Summer fruits like peaches and nectarines are a perfect foil for basil ice cream, and nothing is finer than topping it all off with a drizzle of aged balsamic vinegar.
Ingredients:
Milk powder (2%) 20g | 3 tablespoons
Sugar (15%) 150g | ¾ cup
Cream (38%) 380g | 2 cups
Milk (40%) 400g | 2 cups
Glucose (5%)50g | ¼ cup
Fresh basil, leaves and stems 25g | 1 ounce (about a handful)
Cinnamon stick 2 pieces, each about 3 inches long
Texture agent of your choice (see below)
Texture Agents:
Best texture – Commercial stabilizer 3g | 1 teaspoon mixed with the sugar before it is added to the dairy.
Least icy – Guar or xanthan gum 1g | 1/4 teaspoon whirled in a blender with the ice cream base after it is chilled in the ice bath.
Easiest to use – Tapioca starch 5g | 2 teaspoons mixed with 20g | 2 tablespoons of cold milk, whisked into the ice cream base after it is finished cooking.
Most accessible – Cornstarch 10g | 1 tablespoon plus 1 teaspoon, mixed with 20g | 2 tablespoons of cold milk, whisked into the simmering ice cream base, then cooked for 1 minute.
Directions:
Combine the milk powder and sugar. Mix the milk powder and sugar in a small bowl. 
Boil the dairy. Place the cream, milk, and glucose in a medium heavy-bottomed saucepan over medium-high heat, and cook, whisking occasionally to discourage the milk from scorching, until it comes to a full rolling boil.
Add and cook the milk powder. Whisk the milk powder mixture into the pot. Reduce the heat to a low simmer and continue cooking for 2 minutes, whisking to prevent scorching.
Infuse. Remove the pot from the heat. Stir the basil and cinnamon into the hot dairy, and allow it to infuse for 30 minutes.
Strain and chill. Strain the base through a fine-mesh sieve, into a shallow metal or glass bowl, discarding the basil and cinnamon. Fill a large bowl two-thirds of the way with a lot of ice and a little water. Nest the hot bowl into this ice bath, stirring occasionally until it cools down.
Cure. When the ice cream base is cool to the touch (50°F or below), transfer it to the refrigerator to cure for 4 hours, or preferably overnight. (This step is optional, but the texture will be much improved with it.)
Churn. Place the base into the bowl of an ice cream maker and churn according to the manufacturer's instructions. The ice cream is ready when it thickens into the texture of soft-serve ice cream and holds its shape, typically 20 to 30 minutes.
Harden. To freeze your ice cream in the American hard-pack style, immediately transfer it to a container with an airtight lid. Press plastic wrap directly on the surface of the ice cream to prevent ice crystals from forming, cover, and store it in your freezer until it hardens completely, between 4 and 12 hours. Or, feel free to enjoy your ice cream immediately; the texture will be similar to soft-serve.
Sign up and get Seattle's best events delivered to your inbox every week.