Recipe of the Week: Marijuana-Smoked Gelato
By Julien Perry, The Fresh Toast contributor January 11, 2017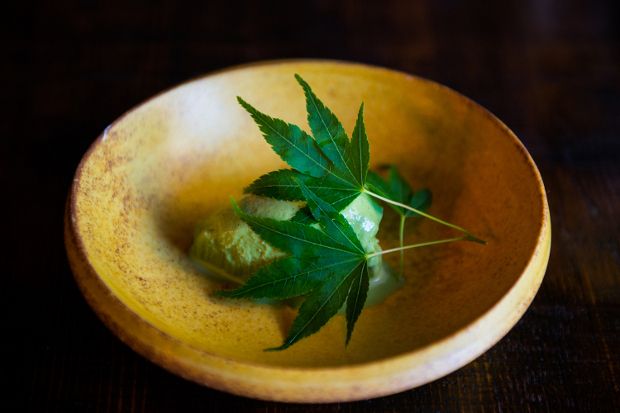 This article originally appeared on The Fresh Toast.
Cold-smoking matcha gelato may not sound like your cup of tea, but as chef Shota Nakajima demonstrates, it's really quite easy. All you need is an ice cream maker and a smoker. And some basic ingredients you probably already have in your fridge for the gelato base.
"You can also just use melted vanilla ice cream for the base," says the 26-year old chef-owner of Naka restaurant in Seattle. "Then re-churn it after you smoke it."
For a Fresh Toast demo, Nakajima, who worked at Japan's Michelin-starred Sakamoto before opening Naka in June 2015, cold smoked gelato with cedar chips. But you can use pretty much anything.
"If you're using marijuana," Nakajima says, "when the gelato melts, you get this nice, marijuana flavor. It tastes delicious!"
Here's how you can do it at home. 

Cold Smoked Matcha (or Marijuana) Gelato
Ingredients 
450g milk
150g cream
120g sugar
75g egg yolk
½ vanilla bean (split open, scrape out the innards)
2Tbsp matcha
Directions
Boil milk, cream and vanilla bean (including pod) on low heat.
Whisk egg yolk and sugar until white.
Add hot milk and cream to yolk and sugar mixture slowly (if you add too quickly you'll cook the eggs) and bring up heat to 80 degrees.
Stir in matcha.
Strain.
Cool in an ice bath. (If it's summer, feel free to hop in the tub, too!)
Place mixture in metal container, cover with plastic wrap, make a small hole in the plastic wrap and insert smoker (make sure to seal it as best you can) and fill container with smoke. Ideally, chill smoked mixture overnight to thoroughly infuse it. Place mixture in an ice cream machine and churn until desired consistency (about 20 minutes). Eat! 
For the original article, click How to Make Marijuana-Smoked Gelato
Sign up and get Seattle's best events delivered to your inbox every week.