Red Tricycle Recommends: Kid Friendly Events Sept 30 – Oct 2
By Kristina Moy September 30, 2011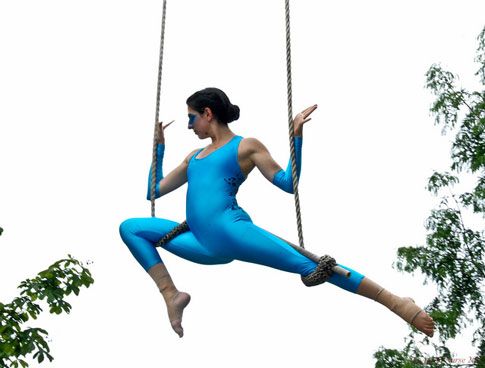 This weekend's roundup includes a date night out (or in!), a super-fun pool party, a concert with lots of fiddle tunes, a two-day neighborhood celebration, a wildly popular fish festival and parade, a family day on the trails, and a show with the famous Fee-fi-fo-fum giant. If you've got multiples, be sure to check out the super-sized Family of Multiples Clothing & Gear Sale in Shoreline. Or take the Littles to the annual Camp Korey Fall Festival in Carnation for U-pick pumpkins, hayrides, s'mores, and lots of family-friendly activities.
Seattle
Date Night
Need a night out on the town or just a little R&R? Drop your kiddos off at Evans Pool (near Greenlake) for a fun-filled night of activities. Kiddos will enjoy a pizza dinner and a movie, games, and lots of time in the pool. Fri., 4:30 pm – 8:00 pm. Seattle. $25. Registration required. Ages 6 to 13. Event details.
Kids Concert at Northgate Community Center
Looking for a free indoor activity to get the wiggles out before nap time? Head over to the Northgate Community Center for lots of singing and dancing with The Onlies (formerly known as Beach 3). Sami, Leo, and Riley (ages 13) will play traditional fiddle tunes from Scotland, Ireland, and the Americas. They are guaranteed to get you movin' and groovin' in your seat. Arrive early if you want to sit (or dance!) near the stage. Seating is on a first come, first serve basis. Sat., 11:00 am. Free (donations accepted at the door). All ages. Event details. 
PNA 30th Anniversary Celebration (pictured)
Celebrate the 30th Anniversary of the Phinney Neighborhood Center and the Phinney Neighborhood Preschool Co-op with a weekend packed full of family festivities. On Saturday, catch a Johnny Bregar concert in the morning and an improv comedy show by the Taproot Theatre in the evening. On Sunday, take the fam to the Ridge Rumpus carnival for rides, bouncy toys, games, carnival food, and much more! Sat., 10:30 am and 7:00 pm; Sun., 12:00 pm – 4:00 pm. Seattle. $3 for concert tickets, $30 for theatre tickets, and $10 to $25 for carnival tickets. All ages. Event details.
Red Tricycle offers ideas for cool things to eat, see, make and do with your kids in your neighoborhood. Sign up (http://www.redtri.com/newsletter-signup) to receive five fresh weekly picks for Seattle and the Eastside.
Sign up and get Seattle's best events delivered to your inbox every week.