Restaurant update: Chef Shaun McCrain dishes on Copine, opening this month in Ballard
Former Book Bindery couple brings contemporary American to Ballard Public Lofts & Market
By Seattle Mag June 1, 2016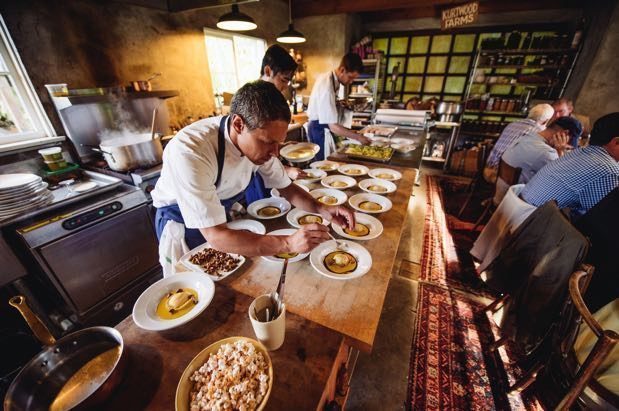 Shaun McCrain and Jill Kinney — the power couple behind Fremont's old Book Bindery — are in the final stages of the buildout for their very own contemporary American restaurant, Copine, which is set to open "by the end of June" at the base of the Ballard Public Lofts & Market next door to the new Royal Drummer cafe.
One thing's certain: In every sense, Copine (pronounced ko-peen) is Book Bindery on their terms; a chance to bring the artistry and hospitality back to their devoted guests, which they've stayed in touch with through supper clubs at fabulous locations, like Kurtwood Farms, over the past year.
As we did last week with Jake Kosseff of downtown's Circadia, set to open in October, we caught up with McCrain on the details surrounding the 60-seat Copine and its summer opening. McCrain was fairly tight-lipped on recipe development, but we managed to get some good intel nonetheless. Excited!
Where are you at with construction?
We are roughly two weeks away from being finished with construction. It took a lot longer than we thought. Mostly because we wanted to find the right location and fit for us. Jill (Killen) with Royal Drummer is our neighbor. The owners of our building own a grocery store, The Green Market, that sells artisanal products and there are 99 high-end units above us. This is part of the aesthetics we were looking for. It really worked out and we're happy to be here.
Can you tell us about the Olson Kundig design?
We've tried to bring in some reclaimed wood elements and have built a very large bar to accommodate 12. That's where people can sit without a reservation. We have gone to the point of working with an acoustical engineer to install acoustic panels to ensure a pleasant experience for everyone.
How's recipe development going? Any dishes to divulge?
My sous chef and I have written the menus. Book Bindery was my food and my concept, so it's going to be a more refined version of that without being too fussy. Jill and I and our staff are really excited.
Can you tell us about the chef's table?
It's just a way for me to do a menu – about five courses – catered specifically to the guest. It's something we've wanted to do since Book Bindery.
Copine (pronounced ko-peen) will be located at 6460 24th Ave NW and should be open by the end of June 2016.
Sign up and get Seattle's best events delivered to your inbox every week.