Scratch Distillery's 'Giniology' Class: A Trip to Gin City
Create your dream gin in Edmonds at Scratch Distillery's 'Giniology' class
By AJ Rathbun January 4, 2017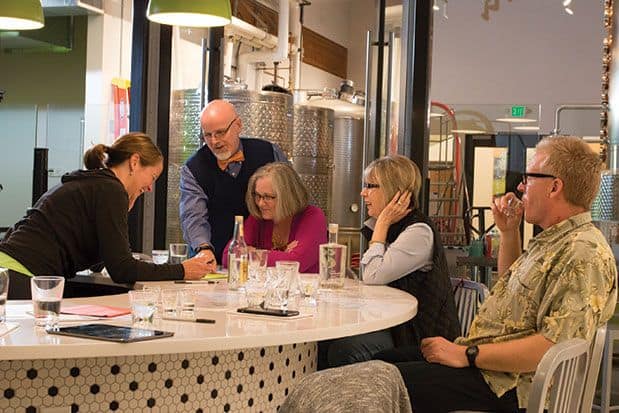 Ah, romance! The beginning of so many good things in life—though you might not expect that it would lead to a distillery and finding a perfect, customized gin. But that's the story of Scratch Distillery in Edmonds. It started years ago on the Michigan State University campus, where spring temperatures provided Bryan Karrick with the chance to flirt and study outdoors with a fellow student, Kim Lenhardt. He mixed her a gin and tonic (his drink of choice), they chatted about how good it was, and their love of gin—and each other—began. 
After moving to Washington in 1996, Bryan—an optometrist—opened his first practice in North Bend with Kim (who ran the business side of the practice) before selling it and joining a practice in Edmonds. Meanwhile, Kim took a job at Sparkman Cellars and got "really geeky about wine," until a "gin-centric" trip to London in 2013 led to an interest in distilling classes. After a couple of years of planning, testing and researching, the couple opened Scratch in July 2015.
Soon after, they hosted the first-of-its-kind "Giniology" class, during which attendees craft their very own custom-blended gin. The classes are intimate, friendly affairs (by the end, everyone is tasting each other's gins), hosted in their contemporary-style distillery. You start with a cocktail made with one of their house gins and then settle in for an informative session led by Bryan about the history of gin, including details about Washington's speakeasy past (we had 4,000 at one point).

Image by: Daryl Bernstein Photography
Kim Lenhardt poses by the handmade German still
Class then moves into the distilling room, anchored by a handmade German still, where Kim talks about Scratch's process and spirits. Then the personal gin exploration really begins (well, first you get another cocktail!), by touching, tasting and smelling the 30 different botanicals they use to make single-botanical distillates for blending. Once Kim talks you through the flavors in their gins and some other gin brands, you get to taste the different distillates Scratch makes. (To make the distillates for the blending classes—and this is key—the distillery does individual runs in the still for each botanical, using a method that infuses the selected botanical with the alcohol vapor rising up through the still.) It's an amazing process of discovery to see which you like best. I found out I'm pro grapefruit when it comes to gin, though I can't stand eating the fruit itself. 
Gins can be made with all different kinds of botanical combinations, using items such as coriander, lavender, ginger, grains of paradise or others. To build your gin, you mark your favorite botanicals on a provided worksheet. All of the gins start with juniper, of course, followed by smaller percentages of other botanicals. Once you have the "recipe" worked out (a method that involves tasting and smelling), they blend your gin by combining your picks of single botanical distillates-–and you get to take a bottle of it home that night. 
It's awfully fun—and delicious—and set up for all group sizes, from families to businesses doing retreats or team building. Plus, Scratch keeps all recipes on file, so you can stop in to get another bottle when you run out. Even if you don't think you love gin, I'll bet a night of Giniology changes your mind. Just look at what that first gin and tonic did for Bryan and Kim. 
Five Scratch Spirits to Try
Making your own gin at a two-hour (or so) Giniology class ($150 per person) doesn't mean you should miss the gins and other products made by Scratch Distillery (Edmonds, 90 Sunset Ave. S; 425.673.7046; scratchdistillery.com). It offers a wide range of spirits already, with more on the way, including at least one rum this year, and a whiskey closer to the 2017 holiday season. Get these at the distillery, or check scratchdistillery.com/taste to find retailers carrying them. 
Martini Style Gin 
$45, 750 ml bottle
Developed to pair perfectly with dry vermouth in the most classic of cocktails, this gin has a solid—but not overwhelming—juniper essence, underlined by a layered level of spices. There are 17 botanicals in this gin, including coriander, various citrus, bay, pepper and more. Beyond the martini, try it in a gimlet, or other drinks that let the gin shine.
G&T Style Gin 
$45, 750 ml bottle
Here's where you see how the type of gin really makes the drink, as this is much different from its martini-focused sibling: lighter, a little more citrusy (including pomelo, as well as lemon, lime and grapefruit) and floral. It won gold at the San Francisco World Spirits Competition, and is sure to win medals when served on a sunny day next summer in the backyard (see recipe below).
Barrel Finished Gin
$60, 750 ml bottle
Using a recipe similar to the martini style, this gin has a bit more juniper, along with nutmeg, cinnamon and spice, and is aged in oak barrels that have been used once for bourbon, and then in oak barrels used once for rye. The end result is memorable, with vanilla added to the spices and a rich flavor that both whiskey and gin lovers will adore. Try it in a gin old fashioned.  
Breakaway Spirit
$50, 750 ml bottle
This gets to why local distillers rule—they are always trying new things to deliver fresh ideas for drinkers. Here, Scratch has taken American Brewing Company Breakaway IPA and distilled it into a singular spirit. Hop-forward, with touches of citrus, malt and sweet mingling with a light floral finish, it's something to sip with beer-drinking friends. It also makes intriguing cocktails, such as the Good Break Down (recipe below).
Tea Flavored Vodka
$30, 375 ml bottle
Scratch has a number of award-winning vodkas, including wheat, grape and potato versions, and berry-, pepper- and citrus-infused. Its latest is a treat, offering a complex but light flavor, with sweetness from pomegranate tea, floral from hibiscus tea (which also delivers a blooming nose), and a rich, warm, lingering finish from Early Grey. The flavor medley makes it good chilled or mixed with another friendly player, like blanc vermouth.