Seattle Fall Arts Preview: Inside the New Burke Museum
The new Burke Museum of Natural History and Culture invites visitors to interact with the cultures and objects that document our world
By Gwendolyn Elliott September 4, 2019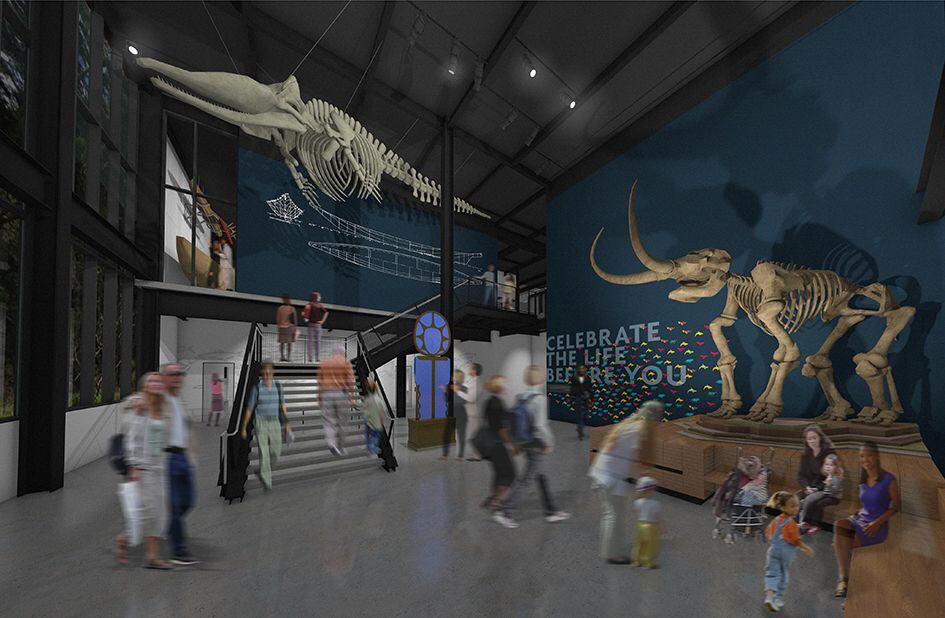 Stuffy corridors. Closed doors. Dated histories. Hidden drawers. The Burke Museum of Natural History and Culture is betting the farm—or rather, its ultramodern $99 million Olson Kundig–designed facility, scheduled to open October 12—that visitors are ready for a new way to engage with the natural and cultural sciences.
It's all part of the institution's new guiding principle to "turn the museum inside out," and to foster a more robust conversation between the public and the experts about what the museum's 16 million objects—from fossils and dinosaur bones to cultural items, such as weapons, tools and canoes from native communities—say about us today. "Our cultural collections are part of living cultures," says Alaina Fuld, the Burke's director of external affairs. Descendants of those cultures, she says, can add "voice, perspective, and help inform the history of the objects."

Rendering of the new Burke Museum's modernized southeast entrance. Courtesy of Olson Kundig

It's a transformation that has altered both the physical and cultural imprints of the Burke, which is the state's oldest museum, founded in 1885 by a group of young naturalists. The new Burke has been more than a decade in the making, beginning with its ambitious fundraising campaign in 2008.
On the logistical end, the building that formerly housed the museum's collection was an overcrowded '60s-era facility with outdated or nonexistent seismic, security and climate features that could no longer serve the museum's growing collection of artifacts, fossils and cultural treasures. (That building was razed in April, and its footprint has been incorporated into the new design as a parking lot and multiuse space.) The new Burke, which neighbors the former site in the northwest corner of the University of Washington campus, is 113,000 square feet, adding 66 percent more space, along with modern environmental controls to safeguard and accommodate the museum's still-expanding physical collection. That collection is spread out over four sprawling floors, which also house research labs, classrooms, storage rooms, work offices, galleries and permanent exhibit space.
To have a cultural impact, transparency was key. "Museums can't expect the public to support them if they don't show the value to them," Fuld says. To fulfill this, much of the new Burke is made of glass: oversize windows, skylights and glass-walled work spaces ensure visitors will always be able to see "end to end and top to bottom," notes Fuld.
Museum curators, who are members of the University of Washington faculty, will be at work in those offices and labs throughout the day, and a team of 125 new trained volunteers will help interpret what visitors are seeing, whether in the specimen preparation room or the fossil preparation workroom, where paleontologists carefully remove rock from dinosaur bones. Along with the Burke's growing online database, which is free for anyone to access, a new tier of educational workshops and programs will offer more opportunities for learning.
Art will be another cornerstone of the new museum. A bronze and glass Salish welcome figure, created by a team of artists led by Brian Perry, with Anthony Jones, Preston Singletary and David Franklin, greets visitors upon entry. Indigenous artists can apply for residencies to work with the collections for their projects. Rotating and permanent exhibits by contemporary native artists, whose communities are represented by many of the museum's artifacts, will fill the two arts and culture galleries on the first floor. The inaugural exhibit features the work of six indigenous female artists, created in response to specific objects in the collection. Two of those artists, Alison Marks and RYAN! Feddersen, have presented permanent works to the museum: Marks' vinyl mural "The Troll II" and Feddersen's three-story graphic interior mural "Synecdoche," which runs along the east-facing wall.

A sampling of Burke's ancient artifacts, which will have more space and improved climate controls for storage. Photo by Hayley Young
Sign up and get Seattle's best events delivered to your inbox every week.