A Seattle Florist With a Dancer's Poise
The art of dance informs the arrangements of florist Meridith Isaacson
By Gwendolyn Elliot & Alanna Wight February 6, 2019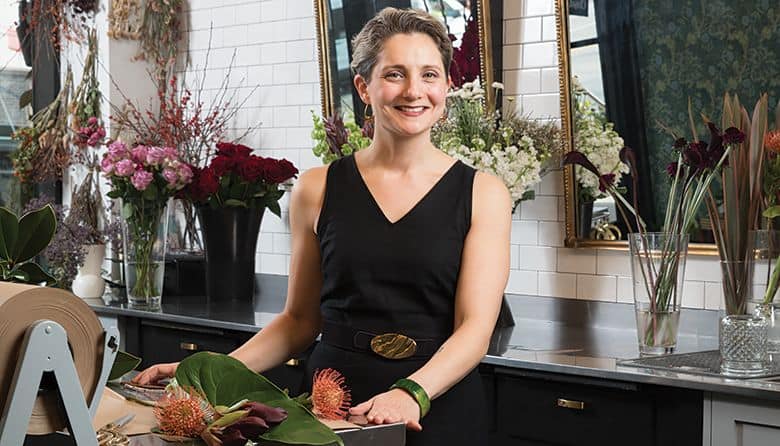 This article appears in print in the February 2019 issue. Click here to subscribe.
Meridith Isaacson calls the organized and controlled chaos of Valentine's Day the "floral Olympics." That's not too surprising, given that she's a floral designer and the owner of flower shop Verde & Co. (South Lake Union, 400 Fairview Ave. N), where she preps for a typical Valentine's Day two months before the holiday hits. The preparation includes formulating original "recipes" for bouquets; taking marketing photos; doubling her staff; planning meetings; arranging flowers; making schedules; and last but not least, ensuring her team has something to eat.
"I do a lot with food planning," says Isaacson. "I make snack bags for all my employees, lots of protein, chocolate and nuts."
Isaacson, who spent almost a decade training in classical ballet, says that her background helps keep her focused and organized during holiday rushes like Valentine's Day. She was drawn to working with flowers after leaving the dance world when she moved to Seattle in 2007, and enrolled in floral design classes at the now closed Floral Design Institute. "I wanted to have more movement in my life, and it had to have color," she says.
Isaacson has since become known for her lush, textured, architectural arrangements—a poetic bridge between her dance and floral design backgrounds—and she's learned a lot since opening her small, bright storefront four years ago in Seattle's rapidly growing South Lake Union neighborhood. She's developing supportive relationships with her retail neighbors, such as art and design marketplace Join Shop, with which she occasionally cohosts events. She's also committing to sustainability and responsible product sourcing through the Slow Flowers movement, whose members are dedicated to using American-grown flowers whenever possible.
There's no doubt Isaacson's flowers make many people happy on Valentine's Day, but what is she hoping for on that romantic holiday? "Every arrangement tells a story. My goal is to make sure that everyone leaves with a piece of art," she says.
Vital Stats
A Small-Business Family
While growing up, Isaacson worked in her family's New York–based trucking business, started in 1913 by her great-grandfather from Italy, who was a blacksmith and built wagons.
Garden Roses
"My favorite flower. They are resilient…being resilient is the thing that has sustained me in my life," says Isaacson.
Vendor Friends
Isaacson sources some stems locally from Hori Hori Flowers in White Center and from the Seattle Wholesale Grower's Market in Georgetown.
Sharing Knowledge
Customers can learn about plant and flower design in Verde & Co. classes
including Floral Design 101, wreath making and terrarium design. Isaacson is also teaching a flower crown workshop at the Northwest Flower & Garden Festival on February 22. 
Sign up and get Seattle's best events delivered to your inbox every week.