Seattle Opera Debuts Its New Civic Center
The center's grand opening is slated for December 15
By Gavin Borchert December 4, 2018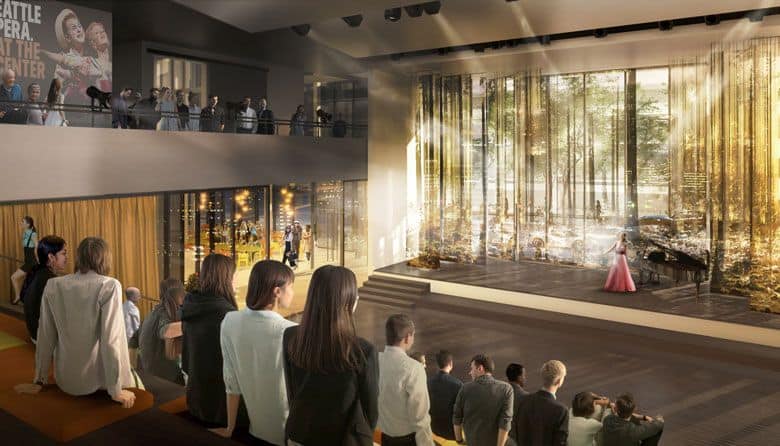 This article appears in print in the December 2018 issue. Click here to subscribe.
Among Seattle Opera's most thrilling offerings in recent years have been its smaller productions (As One, O+E), so one of the most exciting aspects of its new four-story, 105,000-square-foot, $60 million Mercer Street digs—next to McCaw Hall in Seattle Center's northeast corner—will be the 200-seat performance space, enabling not only more chamber opera (works too intimate for McCaw Hall), but also lectures and other educational presentations.
The new center, housing the company's administrative offices, practice rooms, scenic and costume facilities, and rehearsal spaces (one the same size as McCaw's stage), were designed by architecture firm NBBJ and replace the current cramped John Street facility in South Lake Union. The building's signature features are its glass walls looking into the costume shop, intended to make this potentially intimidating art form both literally and metaphorically more transparent, or as soprano Serena Eduljee puts it, "to unlock opera for all." Check it all out at the center's grand opening on December 15. Seattle Opera at the Center, Seattle Center, 363 Mercer St.; 206.389.7676
Sign up and get Seattle's best events delivered to your inbox every week.