Seattle's Boozy Slushy Obsession Will Save Us From the Heat Wave. Here Are Our Faves
Keep cool with five of our favorite boozy slushies.
By AJ Rathbun August 2, 2017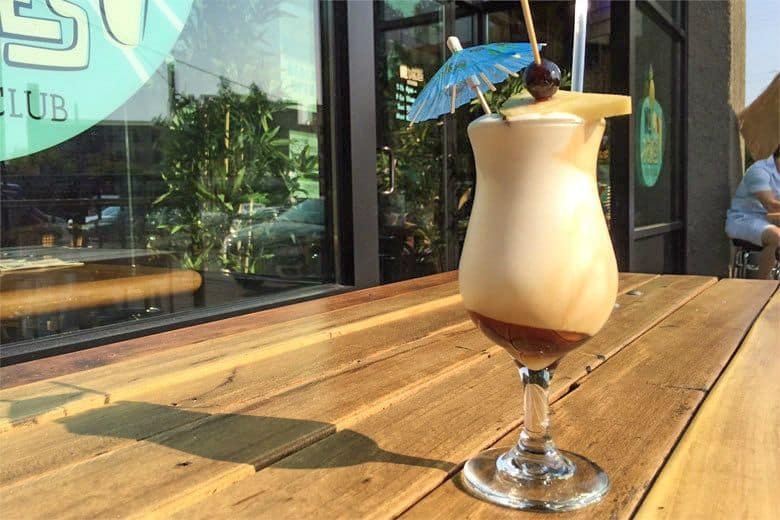 This week might be the hottest of the year and for those of us more acclimated to Seattle's usually cooler climes that heat can be hard to beat.
One great remedy? The many boozy, icy, slushies that have popped up at bars around town. Cool it down with one of the below.
No Bones Beach Club: Piña Colada
One of the classic blended up beauties, the piña (it's too hot for the full name) can lean towards dreck-y mush. But not when you escape to have it at this Ballard vegan haven. Here, it delivers a solid and lush dark rum base that shines through and fortifies while matching up with coconut, pineapple and a little sweetness. Rupert Holmes would love it. I dare you to try to drink just one. And no matter how sweltering, pair it with some of the best nachos in town.
Dino's Tomato Pie: Bluth's Fortune
A creation of bar manager Jabriel Donohue that nods toward fruity, summertime favorites (as well as the comedically-delicious Arrested Development), this frothy number pairs up Novo Fogo Chameleon cachaça, Speed Craft passionfruit syrup (tangier than most), Giffard's dreamy banana liqueur, crème of coconut and Angostura bitters. And lots of ice, naturally. It's flavorful and fun, with a notable pink-purple coloring.
Bok a Bok: Soju Slushy
The Korean spirit soju isn't naturally a fiery-weather pick. But when tropically wielded with fruit juices and blended with ice, it's wonderfully refreshing. The ingredients within this White Center Korean fried chicken joint's slushy machines change regularly, but during my last visit the mix harmonized lychees and passionfruit with the soju. If you're one who likes to combine heat with heat, pair your slushy with the four-chili hot sauce.
Nacho Borracho: Avocado Margarita
This Capitol Hill hotspot usually has a variety of frosty choices, all of which can do the job when the temperature is creeping dangerously close to three digits. But the avocado marg provides something a little different for your summertime sipping, and sometimes changing things up helps take your mind off the sweat dripping down your back. Also, Nacho Borrcaho serves food until 1:30 a.m., in case you want to eat after sundown.
Heritage Distilling: Gin & Tonic Slushie
While you might think "bar" when searching out your glacial glee, Heritage does a slushy "bevandas" (Italian for "drinks") menu every summer. While the Pineapple Upside Down Cake sounds delightfully dangerous, the gin & tonic slushy made with local Bradley's Kina Tonic syrup and Heritage's Elk Rider or Batch No. 12 gins is our pick. You'll have to head to Gig Harbor, but and getting out of the city might in itself be cooling (provided you have AC).
Sign up and get Seattle's best events delivered to your inbox every week.