Seattle's Cinematic New Whiskey Bar Would Drive Bruce Campbell Wild
West Seattle's new neighborhood bar is a movie buff's dream.
By AJ Rathbun December 22, 2017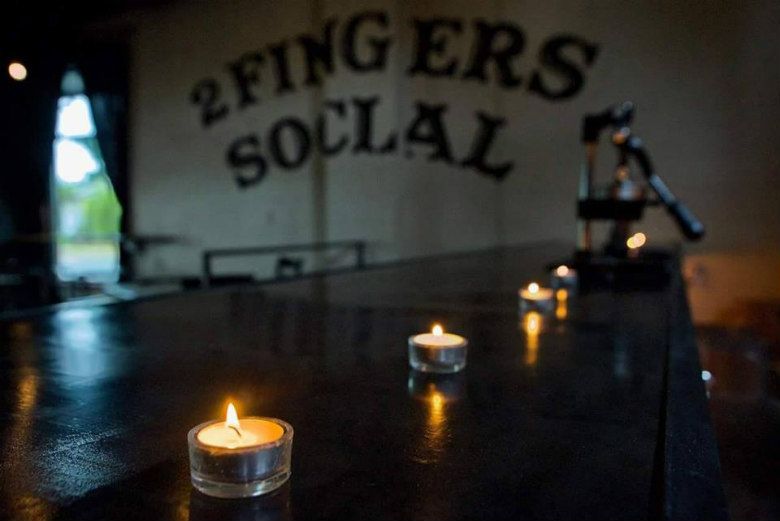 Legendary cult movie star and author Bruce Campbell lives in Oregon, but the next time he travels north to Seattle, he needs to stop by 2 Fingers Social Club.
Opened in October by co-owners Andrew Spence and Ed Wheeler (ex-bartenders at Chupacabra), the West Seattle whiskey bar has a number of cult-horror touches, including a few directly related to Campbell's best-known character, Ash Williams, from the classic Evil Dead movies and current TV reboot.
Not only is there a chainsaw atop the oven in the half-open kitchen (a nod to the motorized blade Ash attaches to his hand to fight zombie deadites), but the cabinet of curiosities near the front door includes a copy of the Necronomicon (an ancient book featuring prominently in the Evil Dead series) alongside a wind-up cymbal-playing monkey and an eerily groovy lamp.
Cool non-Bruce movie touches are everywhere, too, including a set of nine framed prints from The Nine Gates of the Kingdom of Shadows—a fictional book from Johnny Depp flick The Ninth Gate—beautiful Hellraiser tabletop designs and a big screen behind the bar showing old movies (when I stopped in, the seasonal choices were Miracle on 34th Street and Scrooged.
All the cinematic shout-outs smoothly blend into the brick-and-wood building without slipping into kitsch or overkill. They also don't detract from the bar's dedication to strong, well-made classic cocktails. The name 2 Fingers comes from the Wild West days when barkeeps held their fingers on a glass to measure straight spirits. Two fingers were presumed to measure 2 ounces and here the drinks also use 2 ounces of a base spirit.

Classic cocktails and cinematic touches are on the menu at 2 Fingers Social. Photo by Natalie Fuller.
The sizable cocktail menu is split into hot and cold sections (eight hot drinks, 12 cold). The Sazerac I had was made well, with George Dickel rye, Peychaud's bitters and the hint of absinthe capping the drink. Juices are squeezed fresh to order, giving a pleasant tang of lime in their traditional Dark and Stormy made with Goslings rum, that lovely lime and ginger beer. When they put in the patio (hopefully next summer), that'll be a refreshing choice.
With the solid pours, you'll probably want to order one of the good-sized sandwiches available—or the 2 Fingers combo of a meat or vegan hot dog, tots and a Farmstrong Lager ($8)—which range from Italian beef to a vegan field roast BLT and a roast pork and pâté bahn mi. All come with tots, tomato basil soup, or pasta salad. The vegetarian green chili grilled cheese had a nice spicy boost, with white cheddar, diced New Mexican green chilies, avocado and cilantro. If looking for a snack to accompany drinks, the French bread pizza appetizer (available in cheese, pepperoni, or Hawaiian) is bubbling with a creamy garlic butter and red sauce.
There's also a kids' menu, as the bar's open for those under 21 until 8 p.m. Both owners have children and wanted to make sure families felt welcome. It seems to be working. Lots of families and neighborhood dwellers have already been stopping by.
One last note: Don't miss the bathrooms—each has different décor, but I don't want to give anything away—or the spider baby made from Barbie parts above the doorway. Bruce would definitely approve.
2 Fingers Social
9211 Delridge Way SW
Sign up and get Seattle's best events delivered to your inbox every week.