The Skyline, the Sun and the Spam
Marination Ma Kai's waterfront patio triumphantly returns
By Aimee Rizzo August 2, 2021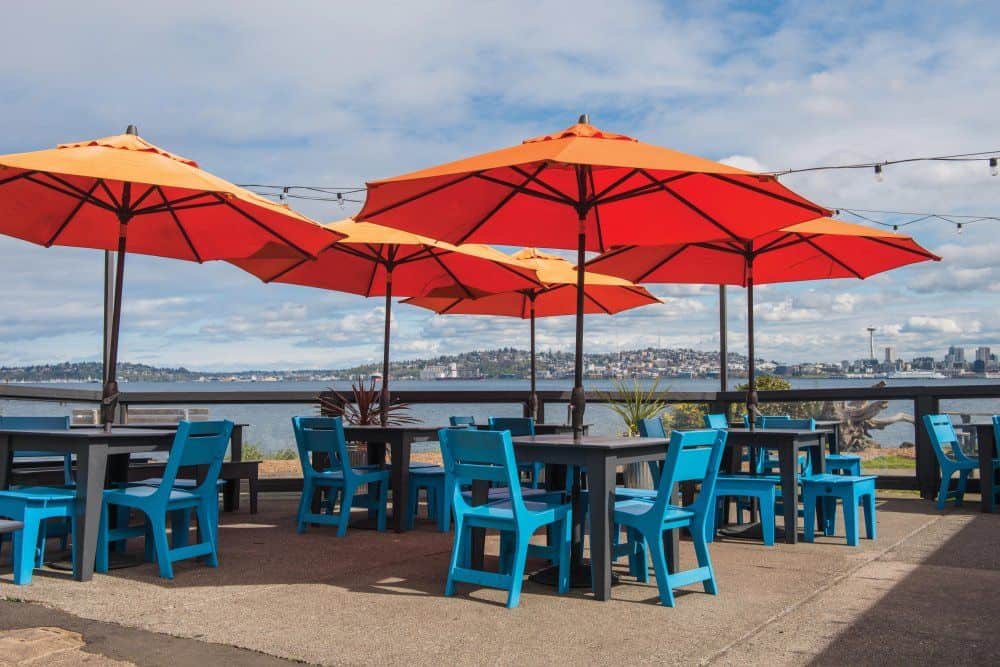 There are certain summertime experiences that perpetually reaffirm my decision to move to the Pacific Northwest from New York.
I'm talking about things like jogging a lap around Green Lake, slurping down an iced hemp mocha from Espresso Vivace's sidewalk stand and a personal favorite — not having to worry that my bare thighs will stick to a lava-hot barstool in the middle of August. (East Coast transplants, you know it to be true).
But quite possibly the greatest warm-weather rite of passage in Seattle is enjoying a meal on Marination Ma Kai's postcard-like patio. It's a stunner of a waterfront space in West Seattle that has finally reopened for the first time since the Covid-19 pandemic began.
For Marination Ma Kai co-owner Kamala Saxton, closing the patio last summer for dine-in service was ultimately a no-brainer.
"We take the health and safety of our staff, guests and the extended Marination family very seriously, and fully understand that the only way to come out on the other side of the pandemic is by everyone doing their collective part by adhering to the CDC and the governor's mandates," she says. "A year later, it still feels like we did the right thing."
I, too, was part of the appropriately cautious, takeout-only camp despite steadily working as a food writer amidst a public health crisis that ravaged the restaurant industry. It was a long year. I ate cayenne-soaked Nashville-style hot chicken sandwiches in my car. Soft-serve ice cream cones in my car. Pizza and crab cakes, also in my car. Shout-out to my poor 2001 Camry.
Fast-forward 12 months into the future, fresh from a double jab of the Pfizer vaccine, and my choosing of the iconic Hawaiian/Korean counter spot on Alki Beach as my first proper dining venture since March 2020 just felt right. With a frosted cup of strawberry lemon frosé to my left, a platter of salty spam musubi and sexy tofu tacos to my right, and a cloudless view of downtown's skyscrapers lined up across a glittering Elliott Bay straight ahead, that feeling was confirmed. After what seemed like forever, the city, and especially Marination Ma Kai, is starting to feel alive again.
But getting there has been a group effort.
"Our guests are special. They always have been," Saxton says. "They have been the most cooperative, patient and understanding folks on the water. Our job is to take care of our guests, but Covid has brought out the best in people, and as a staff, we've experienced that firsthand."
We all want to reclaim our normalcy back, and for so many Seattleites like me, that simply means grabbing some excellent beach food and kicking back at a breezy picnic table without fear. Saxton wholeheartedly agrees. "(Normal feels a little closer) when you have a lychee margarita in hand, eating fish and chips while gazing over at the skyline. That, coupled with a Mariners win, is a phenomenal summer day."
While we can't always expect victory at T-Mobile Park, one can hope. Fortunately, we don't need hope when it comes to this West Seattle staple because now we can count on the skyline, the sun and, of course, the spam.
Sign up and get Seattle's best events delivered to your inbox every week.