With Sleek New Capitol Hill Brewpub, Redhook Hopes to Put 'Bro Sports Beer' in the Past
The pioneering craft brewery returns to its Seattle roots.
By Michael Rietmulder August 11, 2017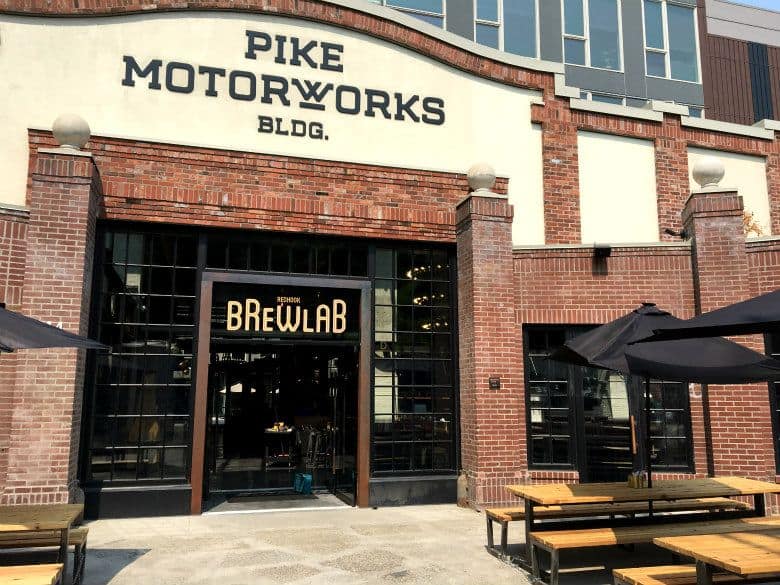 Much has changed in the beer world since Redhook Brewery set up in an old Ballard transmission shop in 1981. That year, Seattle's pioneering craft brewery became one of just 92 breweries in the U.S. Today there are more than 5,000.
Deservedly or not, many breweries born in the '80s and '90s that paved the way for the newbies of the past decade have been ripped by the hop-gobbling cognoscenti for being stuck in those decades, unwilling or unable to evolve along with drinkers' tastes.
The fact that Redhook—better known for its classic English-style Extra Special Bitter than the juicy hop bombs currently ruling American palates—has been criticized as being outdated isn't lost on Nick Crandall. Good thing, since he's the enthusiastic young brewer tasked with helping the self-described "grandaddy of craft" adapt to modern tastes.
"We're honestly one of those brands that hasn't really done that, so that's part of what we're working on doing right now," Crandall admits.
Enter Redhook Brewlab, the veteran brewery's new 10,000-square-foot (including the patios) brewpub and beer incubator opening Aug. 17 on Capitol Hill. From the sleek new digs below the "uber-luxurious" Pike Motorworks apartments, Crandall will brew small-batch beers that may one day end up in bottles. In a sense, Redhook's opening its R&D arm to the public in an effort to reconnect with its birth city after closing its larger Woodinville brewery this year (though the pub remains open).
With Edison lightbulb chandeliers, high ceilings and bright murals, the contemporary space is decidedly more new Seattle than, say, the dark and cozy confines of Hale's Ales, Redhook's early '80s peer. Still, it's as laid-back as you'd expect a Seattle brewpub to be. Communal wooden tables both inside and on the front patio facing Pine Street encourage commingling, as do the Adirondack chairs encircling two fire pits in the building's courtyard.
Digital menu boards above the well-lit front bar display the rotating beer offerings, while the darker "Speakeasy" bar in back—lined with reclaimed cabinetry from the Bellingham Amtrak station—offers a more low-key setting. A shuffleboard table sits in a separate room behind the open kitchen, which is anchored by the wood-fire oven driving the pizza-focused food menu.
For the most part, the inaugural beer list is similarly modern. With too little time to brew enough beer on his new 8-barrel system to fill the Brewlab's 16 different tap handles, Crandall collaborated with other Washington breweries for his opening-day lineup. Roughly half are IPAs (no Long Hammer here), including a brett-fueled offering with Elysian, while a hoppy lager brewed at Chainline's Kirkland brewery is a cross between a pilsner and a "hazy" IPA, both of which are enjoying a moment.
A grapefruit sherbet-flavored IPA is tag-team effort with Salt & Salt. The ice cream mavens, who open a shop in the same building later this year, will make an ice cream using the beer's wort. Also in the works is a "Washington Native" IPA series using all local ingredients.
At a time when some regional craft breweries are scaling back distribution to refocus on their home markets, the Brewlab aims to strengthen local ties and "wash over" previous branding efforts, including a "bro sports beer" fling, as Crandall puts it. In 2013, AB InBev bought a minority stake in Redhook's parent company, Craft Brew Alliance, which didn't help its reputation among beer nerds.
"All the same people who are getting upset in arms over a craft beer acquisition are the same people that are clicking next day shipping on an Amazon product," Crandall notes with a hint of exasperation. "No one's worried about that."
Either way, he now has his "dream job" helping steer the old-guard brewery's beer-first refresh with brewhouse experiments that would've been too costly on his larger Woodinville system, which had more than 10 times the capacity of his Brewlab setup. (Redhook's packaged beer is now entirely brewed at Craft Beer Alliance's Portland facility.) Beyond a coffee stout that could get released in bottles next, what else is up Crandall's sleeve?
"It's a lot of IPAs," he says with a grin.
How appropriately Seattle.
Sign up and get Seattle's best events delivered to your inbox every week.