Sneak Peek: RN74 Opens the Dinner Car Tonight
Michael Mina's French food train blows its whistle for Seattle
By Seattle Mag June 16, 2011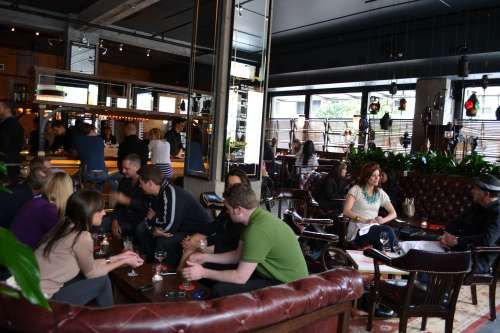 I'm pretty sure someone asked me every single day over the last week if I'm "going to the RN74 party tonight." Yes, the Michael Mina machine has been firing on all cylinders in the week leading up to the launch of its full service, hosting private parties left and right and beginning daytime lunch service on Monday to get its feet wet before going all in with dinner tonight.
If you just returned from three weeks in Siberia, here's the gist: Michael Mina owns many restaurants. Nineteen, to be exact. He was born in Cairo and grew up in Ellensburg, where his father got a job as an auditor at Central Washington University. Mina attended the Culinary Institute of America and went on to open concept restaurants in cities around the country, including New York, Los Angeles, Las Vegas and San Francisco, where he opened the original RN74 and now lives. (Incidentally, Kathy Casey, who was at the party last night, told me that Mina had unsuccessfully applied for a job with her when he was in high school.) When Rite Aid vacated the corner of the Joshua Green Building at 4th and Pike downtown, Mina saw his Seattle dream spot and went for it. Now we have our own RN74, a sweeping space inspired by European train stations, with a menu drawing from the Burgundy region of France, sourcing seasonally and locally.
So, last night's party: We ate some really good stinky cheese and charcuterie, then were ushered back into the kitchen to meet the folks who will actually be running the show after Mina and his executive team fly off at summer's end to plant new food flags in new cities or whatever it is restaurant emperors do. 
There is rarely anything more awe-inspiring that watching a good pastry chef at work, and such was the case with Corporate Pastry Chef (that's his actual title) Lincoln Carson, who demonstrated how he assembles his Frozen Yogurt Parfait ($9), with yellow peaches steeped in Moroccan spices, Sicilian pistachio streusel and blackberry meringue drops on top. You know you're in the company of a real ace when he thinks about things like "balancing out the negative space in the glass."
"I'm really, really lucky to be learning from him," said Pastry Sous Chef Kim Mahar, a Four Seasons transplant who's background as a glass blower led her to blowing candy, and the rest is history.
As for dinner, here's a bit of what you can expect: first courses like Painted Hills Beef Tartare with quail egg, watercress and rosemary frites ($18) and Taylor Shellfish Mussel Souffle with Chardonnay-saffron cream ($15). More local meat stars are called out on the entree menu: Snake River Farms Beef Bourguignon, with braised short rib, maitake mushrooms and "pommes rissolees" ($32); Grilled Idaho Rainbow Trout with pork belly, de Puy lentils and Pink Lady Apples ($28); and Anderson Ranch Lamb Cassoulet, with braised neck, confit tongue and roasted garlic ($29).
If you're not sure if you're ready for the round-trip ticket, the cozy, leather-bedecked lounge would be a good place to test the road with a Pimm's 74 (house-made Pimm's, infused with blackberries, apricots and peppercorns, $10) and a few sharable plates like the Maitake Mushroom Tempura, Tomato Soup Fondue with Gruyere Grilled Cheese, or Duck Confit Arancini with Bing Cherry jus (each $10).
Much has been made of the wine program, a Burgundy-focused selection being overseen by James Beard winner Rajat Parr. They could almost charge admission to see the restaurant's signature "Last Bottle" board, a repurposed train arrival and departure board keyed into the POS system to automatically change when the last bottle of a featured wine special has sold. I was so entranced by the dang thing, I completely forgot to ask when "Mur the Blur" Stenson would be taking on bartending duties.
 What else can I tell you? It's hard for out-of-town celebrity chefs to succeed here, but Mina seems to have a few things going for him: he's very careful about quality, he knows how to create an atmosphere people want to be in, he's just a really nice guy, and he sure is playing up his Washington ties. It's definitely the first time I've ever seen anyone showing off the fact that they're from Ellensburg.