Sponsored | The Most Versatile Pinot Noir Joins Your Dinner Table This Week
We planned your dinners—and your wine pairings—this week. Hint: Every meal goes with Erath Pinot Noir.
By Erath Winery October 18, 2021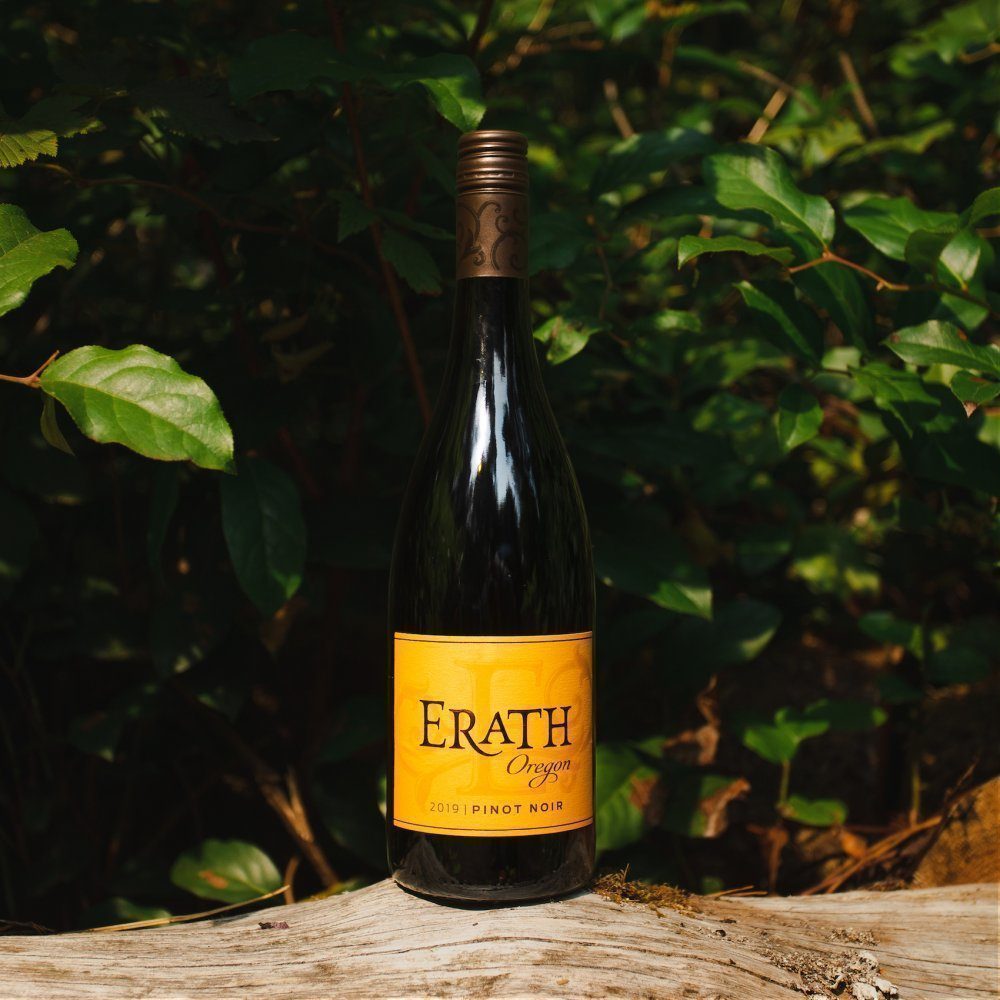 We headed to the heart of Oregon's thriving Willamette Valley wine region to learn what Erath Winery's head winemaker, Gary Horner, is currently pairing with Erath Pinot Noir. When he's not crafting excellent wine at one of Oregon's founding wineries, Gary is in his own sprawling garden harvesting fresh fruits and veggies for dinner with his family.
Erath's impressive Pinot Noir is easy to play around with throughout the week because of its versatility. So, whether you're experimenting with a new cuisine or eating something familiar and fresh out of your backyard, Erath's delicate and fruit-forward Pinot Noir is always going to be the perfect match. 
To prove it, we're pairing Erath Pinot Noir with a different local meal each day this week—with ingredients straight from Gary's Pacific Northwest garden. Feel free to follow along or add your own culinary twists. 
Monday: Hazelnut-Crusted Salmon
Hazelnuts are in peak season right now, so Gary collected some from his trees and got to work in the kitchen. Mix 1/2 cup of crushed hazelnuts with 2 tablespoons of honey and juice from half a lemon. Spread on the tops of two 4 oz fillets of wild salmon. Bake at 375 degrees for 20 to 25 minutes. Salt and pepper to taste! 
Why it works: Both hazelnuts and salmon are relatively fatty, balancing the acidity of Erath Pinot Noir, which allows the brightness of the wine to shine. 
Tuesday: Walnut, Goat Cheese, Fig and Spinach Salad
Make sure to choose a sweeter, fruit-forward apple like Fuji or Honeycrisp (translation: no green apples allowed). 
Why it works: The richness of the goat cheese plays well with the acidity of the Pinot Noir, and the sweet apples bring out the wine's brightness.
Wednesday: Mushroom Bolognese
Mondays aren't the only days you can go meatless.
Why it works: The earthy flavor of mushrooms complements the earthiness of Pinot Noir. And in case you missed it, Erath's slogan is "Earth. Heart. Erath." Chef's kiss to that!
Thursday: Fig Jam Roasted Pork
Who doesn't love an easy yet wildly elegant weeknight dinner?
Why it works: Herbaceous and delicate, figs add a sweetness to the pork that in turn brings out the minerality of the Pinot Noir. Extra points for the fact that figs also highlight the darker fruit notes of the wine. 
Friday: Chocolate Olive Oil Cake
You made it through another week! You deserve cake. 
Why it works: The roundness of olive oil and the overall weight of a cake made with it balances the softness of Pinot Noir and brings its fruit to center stage.
After a week of drinking Erath Pinot Noir, we can confidently say that the versatility of this wine makes it an everyday staple. Erath Pinot Noir is perfect for thoughtfully planned, elegant meals or spontaneous fresh-from-the-garden dinners. Pick up a bottle in-store or grab a growler, a bottle or a glass at Erath's Portland tasting room.
Tasting Room: 1439 NW Marshall Street, Portland, OR 97209
Reservations: 503-538-3318
Shop for the versatile Erath Oregon Pinot Noir online or find the retailer nearest to you here, and sip on some tonight!