Star Seattle Bartender: Amanda Reed
Seven questions for Seattle shaker Amanda Reed
By Seattle Mag November 4, 2015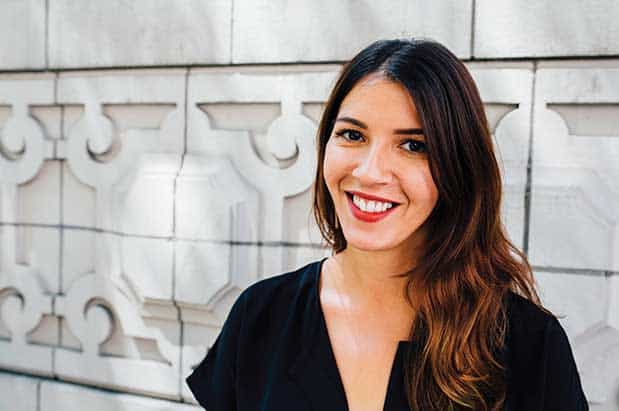 I'm going out on a tipsy limb, but I think we have the best bartenders in the world. Seattle has an abundance of bartending superheroes who are convivial, courteous (mostly!) and, most important, creators of delicious cocktails. We asked a few of our favorites about what drinks they're serving up, where they go to unwind and what they're sipping for inspiration.
Amanda Reed
Beverage Director, Heartwood Provisions
Having been the lead bartender at RN74 and the General Manager at revered cocktail spot Tavern Law, as well as being a certified sommelier, Amanda Reed was the perfect choice for Beverage Director at the soon-to-open Heartwood Provisions. We recently got to chat with her about the plans for Heartwood.
1. How did your love for experimenting with cocktails and wines come about?
During my restaurant career in San Francisco, I began learning about craft cocktails and wine at the same time. There are so many great restaurants that have impressive bar and wine programs. I was lucky to have very talented mentors on both sides.
2. Do you find your wine knowledge influences your cocktail creating?
I'm certain of it. The practice of tasting wine makes me aware of certain nuances, offering me a different perspective. With pairing cocktails, I think my wine experience influences ingredient choices and how I structure the drink. When I am constructing the flavor profile, body, level of sweetness, and acidity, I will often use a wine pairing for inspiration. I also get excited about using wine products in my cocktails, there are so many styles that work. I think the two worlds play well together.
3. You've been involved with the upcoming Heartwood Provisions since development started. Does that early stage involvement make the bar program more integrated?
Absolutely! The bar is a big focus in this restaurant, so I have had the opportunity to be very involved with concept development. I designed the physical bar, chose all tools and glassware, created the cocktail program, and will curate the wine, beer, and spirit selection. I've had full liberty to mold and shape this concept. It's been an amazing opportunity.
4. We've heard you'll be pairing specific cocktails with specific food items – this sounds fantastic! How has the pairing been going and is there anything super intriguing you've matched you can talk about?
It's going well. My approach has changed and evolved over the course of this process. In the beginning I was creating more traditional-style cocktails, like you would find on a house cocktail menu. But what I discovered was that the heat and complexity of these drinks would often overpower the flavors in the dish. So I started simplifying. Most of my pairing cocktails are under five ingredients and rarely have a garnish. The drink and dish essentially work to garnish each other; they each enhance flavors you wouldn't find if they were consumed on their own.
I have also been making predominately low proof drinks. I use a lot of wine products: fortifieds, vermouths, late harvest and bubbles. I utilize beer and ingredients with no alcohol; vinegar, verjus, even adding a little water can make all the difference. I have been playing with textures, temperatures, aromas. There are so many ways you can manipulate when creating cocktails.
There is always a reason behind the idea. Sometimes it's the regional origin of the dish. For example, Chef Varin spent some time cooking in Spain, and he utilizes lots of Spanish ingredients, so you will find a number of sherry cocktails on our menu. Other times it might be a classic pairing that inspires the drink.
He made a smoked salmon roe with crème fraiche and fried capers, and I referred to classic oyster pairings. I wanted to combine a vodka martini with an island Scotch. So I played around with Martini ingredients and proportions. I figured out that the drink needed some weight and sweetness to work with the crème fraiche, so I subbed out vermouth blanc for the traditional dry vermouth. It needed less Martini strength, which I achieved by making it with equal proportions. Then I wanted to incorporate the complexity and salinity of an island Scotch without destroying the clean Martini flavors. I ended up with a Reyka Vodka and Dolin Blanc Martini, equal parts, stirred, served up and finished with Talisker Scotch atomized over the top. The aromatics of the scotch and the structure of the Martini worked beautifully with this dish.
5. What's been the most eye-opening thing about opening an anticipated new spot?
I've been a part of several restaurant openings, but never from the beginning. I have had the opportunity to be involved since the earliest phases of the restaurant's development. It's been an amazing learning experience.
6. We're guessing you'll be using a lot of seasonal ingredients. Does that make it hard at all since when you open it may well be a different season than during planning?
We will be very seasonally-focused, but Chef Varin and I have been working together for a while, so we have plenty to work with. Of course it is ongoing, but we have a lot more experience with at this point and we've developed a style that works for us. It's very collaborative. As interests and ideas change, our pairings change with them.
7. When you're not making cocktails, but going out to drink them, where do you like to go, and what's your regular drink?
Rob Roy is always a staple, and all my favorite people have worked there; Damn the Weather, Vito's and The Hideout are all-time favorites. My regular drink varies depending on where I am, time of day, time of year. I like bitter, mezcal, brandy, aperitif cocktails, old world whites, various styles of beer; I can get excited about all different kinds of beverages.
Up Next: Seven questions for Jay Kuehner
Sign up and get Seattle's best events delivered to your inbox every week.