Staying Power: Two Seattle Institutions Mark Big Milestones
By Seattle Mag October 5, 2012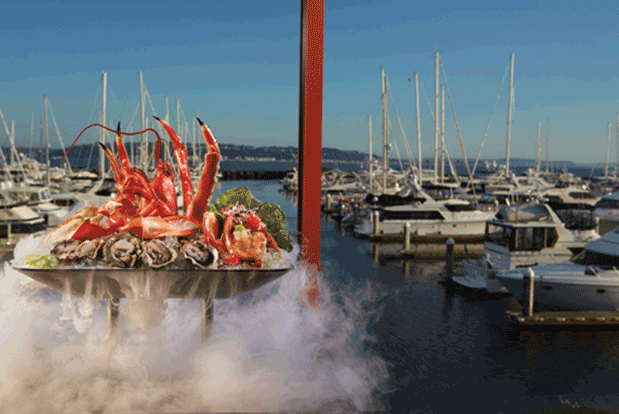 While the last week or so saw its usual share of food news from relative newbies – Marination Ma Kai opening, Chino's closing and the answer to the is-it-or-isn't-it Fuji Bakery mystery – two grand-dames of the Seattle restaurant world were quietly kicking off new chapters in their very admirable histories.
Palisade, Magnolia's Marina-side seafood and steak palace, celebrated its 20th anniversary by unveiling a $200,000 interior remodel and a refreshed dinner menu created by new executive chef Ryan O'Brien, whom they wooed away from Portland City Grill eight months ago. General Manager Douglas Zellers says they "pulled some of the fancy stuff and made it more real," ditching heavy sauces in favor of simpler preparations that let the quality of the ingredients shine through.
At an anniversary tasting, we dove into the majesty of their signature family-style seafood spread called the Ocean Tower that includes lobster, oysters on the half shell, jumbo prawn cocktail, ahi poke and King Crab ($59 without the crab, $83 with) and a divine Filet Mignon Oscar whose flesh was even softer and meltier than the potato gratin that accompanied it.
The three best perks the restaurant has to its name haven't gone anywhere, fortunately: the free shuttle from downtown Seattle, the three-course $16 lunch, and of course, the huge indoor fish pond where you can entertain yourself through an entire martini feeding the salmon.
The Space Needle, meanwhile, is wrapping up its year-long 50th anniversary celebration with a special menu at its SkyCity restaurant throughout the month of October. The forward-looking five-course "Fresh Faces of the Future" meal was created by SkyCity chef Jeff Maxfield and five representatives from our local culinary education programs: Claire Elise Mitchell of the Seattle Culinary Academy, Varin Keokitvon of FareStart, Will McNamara of South Seattle Community College, and Richard Carpenter and Brian Figler of Le Cordon Bleu. The $62 menu, featuring ambitious, go-getter plates like like Roasted Wild Mushroom Salad with Lacinato Kale, duck rillettes, brown butter apples, corn caramel and Douglas-fir gel, benefits the scholarship funds of each school. 
I had a chat with McNamara, who contributed a dish of Dry Rubbed Seared Scallops with Moroccan-style ceci beans, grilled peppers and spinach with a Charmoula dressing. He created a dish with African flavors, he said, "because Futurists look at Africa as the next place for a new middle class. It's an area that has a lot of people potential and a lot of hope."
The SSCC Culinary Arts instructor said he was most excited to give a "taste of the big time" to the three students in his program who assisted him in the execution and presentation of the dish: Stephanie Pearson, Christina Johnson and Anh Tran. "They really reflect what we're about here," he said.
As for the future of food? McNamara has fish on the brain. "I regret that we're mining the last resources of fish – it's the only thing we eat that's still wild." If fish needs to become prohibitively expensive, he says, so be it. "The only thing to do is save them for a treat."
Palisade: 2601 West Marina Place; 206.285.1000; palisaderestaurant.com
SkyCity at the Space Needle: 400 Broad St; 206.905.2100; spaceneedle.com/restaurant