By Seattle Mag October 17, 2011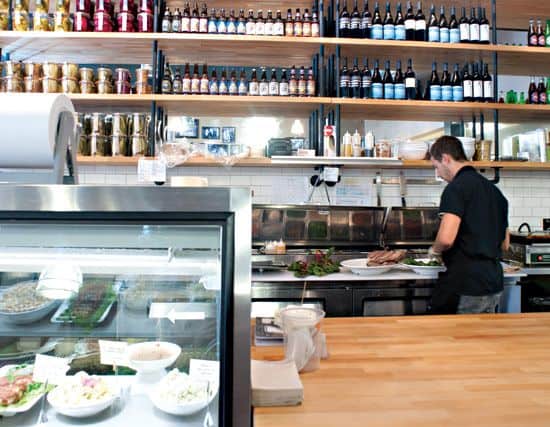 Most of us don't need the census numbers to know that the largest concentration of Jewish households in the state is on Mercer Island. The puzzler is why it took this long for a good Jewish deli to open there.
Demand, meet supply: Stopsky's, which opened in May and aims for a modern take on traditional East Coast deli fare, is the answer to those longings.
And I'm telling you this even though the place can be hit or miss, and even though the Reuben needs work (more on that in a minute) and the service seems overly busy, though there are fewer than 10 tables in the place.
That's because Stopsky's gets better and better each time I go (three times so far), and I've never seen the place at less than full capacity.
So let's start with the good: a beef tongue and salami sandwich with a little horseradish and sauerkraut on potato bread, a sandwich so good it's the dark horse on the menu ($7.95); ruby red house-cured lox that is up there with the best in town alongside a chewy bagel and all the fixin's ($10.95); and a sensational skillet-size apple pancake (on the breakfast menu) with cardamom-scented whipped cream ($8.25).
The breads and pretzels are quite good.
But then there is the problem of the Reuben ($11), which is somehow bland, in spite of a good inch-plus of tender meat. (I also take issue with toasting the rye bread.)
The stuffed cabbage ($6), a comfort-food star when done right, needed that tangy hit of sweet and sour; instead, Stopsky's version tasted like a generic meat sauce.
Still, even with the deli's somewhat rocky start, good luck trying to get a seat on a weekend morning.
Breakfast and lunch daily; dinner Mon.–Sat.
Mon.-Sat. hours 8a.m. – 9 p.m.; Sundays 8a.m.-3p.m. "Nosh Hour" (with special menu items) Mon.-Sat. 4p.m.-6p.m.
Mercer Island, 3016 78th Ave. SE; 206.236.4564; stopskysdelicatessen.com $