Teatro ZinZanni's Welcome to Wonderland: A Delightful Vision Through the Looking Glass
Lewis Carroll is transformed by an exceptional cabaret ensemble
By D. Scully October 21, 2016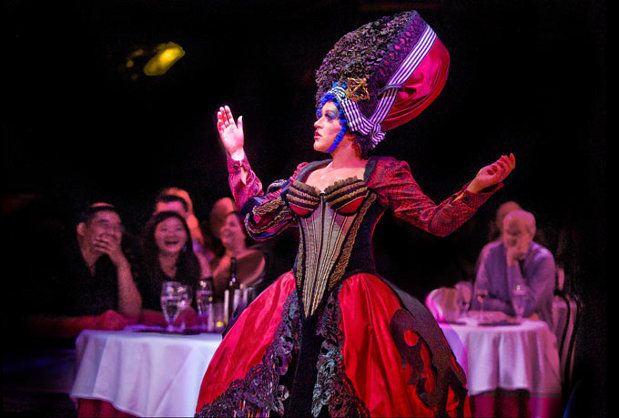 In Teatro ZinZanni's new show, Welcome to Wonderland, Lea Hinz (who plays the mysterious and alluring Caterpillar) walks around the stage pre-show doling out special concoctions and treats to the audience. She put something blue in my drink. It was consensual, but can I really be sure I saw what I saw?
Welcome to Wonderland uses Lewis Carroll's Alice's Adventures in Wonderland and Through the Looking Glass as its source material, mixing in cabaret, improv, the circus, a bit of The Rocky Horror Picture Show, and the mirror scene from the Marx Brothers' comedy classic Duck Soup. But how much the blue drink influenced all the surrealness I cannot say.
When ZinZanni takes on Carroll, it's not Alice who makes her way through Wonderland, but the unsuspecting couple Lewis and Carol, who arrive late to the show. They drink and nibble from the Caterpillar's offerings, and this is where the madness begins. The pair meet the White Rabbit, who introduces them to the Queen of Hearts and her personal chef, the Mad Platter. Along the way, Lewis and Carol interact with the inhabitants of Wonderland as the audience looks on and, occasionally, becomes part of the action.
If you haven't been to a Teatro ZinZanni show and you're expecting to be a typical Seattle theatergoer and play a passive role, this isn't the show for you. Even so, the cast seems to have an instinctual knack for knowing which audience members they should bring onstage to engage in the fun, banter with from the safety of their chairs, or leave alone.
If you have been to a Teatro show, it shouldn't come as a surprise that not only does the cast gel as a tight comedic ensemble, each and every one of them breaks away and grab the spotlight at different points in the show.
Kevin Kent has always been a brilliant improviser, and he's elevated the art of drag to make it his own. He adds a few characters to his bag of tricks, preeminently the Mad Platter, who also doubles as the head of the Queen of Hearts Resistance Army.
As the Queen of Hearts, Lady Rizo (aka Amelia Zirin-Brown) is a mind-blowing vocalist, tackling everything from "Go Ask Alice" to "Let's Get It On" to "Killer Queen," but she's also a gifted comedian. It's not easy to go toe-to-toe with Kent in the improv realm but she's more than up to the task—she even succeeds in breaking him and others up on more than one occasion.
The engaging Joel Salom keeps the action moving as the Rabbit, when he's not stopping to juggle egg shakers or his coat, or having an audience member undress him while he keeps juggling pins in the air. The Queen's Guards (who display a Buster Keatonesque deadpan throughout) are played by Alevtyna Titarenko and Gael Ouisse. They skillfully soar through the air while juggling sundry objects (including one another) in a stunning bit of duo contortion.
Duo Madrona (Ben Wendel and Rachel Nehmer) play Wonderland's protagonists, but they also deliver a show-stopping aerial act.
Lea Hinz sets the scene as the concoction-pushing Caterpillar; she's also a breathtaking aerialist and hoop artist who breaks free from her cool and cold countenance to transform into a smiling and radiant butterfly. Her hoop act proves to be a surprisingly moving number in the middle of the evening madness. Nothing is what it seems, and it's a pleasant surprise.
Shout-outs to the team that helped bring Welcome To Wonderland to life: Joe De Paul (director), Louise Dilenge (costumes), Nicholas Rayment (lighting), Rob Witmer (sound), Ariana Lallone (choreography) and Shauna Frazier (props and scenery).
And although this isn't exactly a food critique, it must be said that each and every dish from the five-course menu almost steals the show. It's served by a wait staff who show you to your seats, interact with the cast, and effortlessly bring dishes in and out between acts.
Now, I could tell you more, but like I said, I'm not sure if I saw what I saw, or whether it was a blue drink hallucination. I'm a little envious, though. One of my dining companions swallowed a blue pill Caterpillar offered him (without a prescription). Four hours later, I wonder how he's doing? Curiouser and curiouser!
Through 2/26/17. Times and prices vary. Teatro ZinZanni. 222 Mercer Street, Seattle. 206.802.0015. zinzanni.com