Tent Cities and Seattle's Growing Homeless Population
Even as shiny skyscrapers pop up all around Seattle, a second city of tarps and cardboard is booming
By Introduction by Ari Cetron; Photos and captions by Andrew Waits March 30, 2015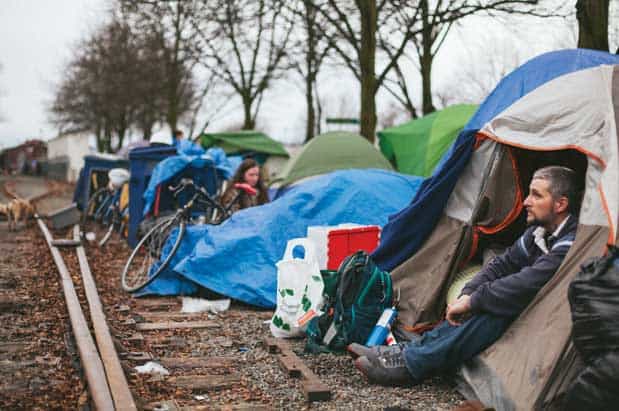 You probably see them all over. Bands of tents set down in a wooded area, flashes of blue tarp dangling from a freeway overpass, or clusters of cardboard wrestled into shapes that will provide some kind of shelter. They're small, ad hoc camps of homeless people, and their numbers are growing.
This year's One Night Count conducted by the Seattle/King County Coalition on Homelessness found 3,722 people across the county without a roof over their heads; 2,813 of those were in Seattle. That number, counted in just three hours on January 23, is up 21 percent from last year.
And that number is a floor, not a ceiling; volunteers who conduct the count know they can't possibly find everyone living outside. And this is in addition to the 6,171 people in indoor shelters and transitional-housing programs counted in January. All of this, despite the fact that the county's 10-year Plan to End Homelessness hit the decade mark this year.
While there's no count on how many people might be living in these informal groups, there are four organized camps within the city limits (Nickelsville, Tent City 3, United We Stand and The Ave Foundation) and two more on the Eastside (Tent City 4 and Camp Unity Eastside).
Camps offer people a degree of safety, says Alison Eisinger, executive director of the Seattle/King County Coalition on Homelessness. If people go it alone, they either have to try to find a secluded spot to sleep and hope no one bothers them, or they have to stay in the open and hope that others will see if there is trouble.
Forming groups helps them avoid those issues, she explains. Also, people in encampments have a place to leave their things during the day in relative safety. She is quick to note, however, that the vast majority of people living in camps would rather be inside.
Last month, the City Council debated Mayor Ed Murray's proposal to permit three more camps, accommodating as many as 100 people each.
Updated: Seattle City Council approved this ordinance Monday, March 30.
"Permitted encampments are not, in my view, a long-term strategy to end homelessness," said Murray during a January 14 press conference. "But planned, organized encampments have less impact on our neighborhoods and provide a safer environment than what we see on our streets today."
While existing camps are governed by the residents of each camp, these new camps would be run by social service providers with some related experience. Additionally, while current camps are typically housed on property owned by religious institutions, the new camps would be permitted on some city-owned or even private property and could stay in the same place for as long as a year, under the initial proposal. As proposed, the city would need to spend $5,000–$7,000 for administrative costs to set up the program, which would be covered within the existing budget. The City Council was considering the proposal as this issue reached its deadline.
"This mayor has appropriately replied to homelessness as an emergency," Eisinger says. She adds that she hopes Murray's efforts, while a good start, are just the beginning, and calls for more robust measures, such as following through on a plan that she said could allow 500–700 people to come inside at night in city-owned facilities.
"We believe there should be a place inside for everybody outside," Eisinger says. "We have to make it a priority."
Unofficial campsites in Seattle are one sign of the city's growing homeless population. In January, Mayor Ed Murray suggested that the city issue permits for three additional tent cities as a temporary measure to provide some degree of safety for people living on the streets.

"I've been homeless all around the world," says Wolf, an unemployed truck driver and fisherman, who has been in and out of Seattle since 1989. "Tent cities seem like the best answer. You have your freedom, your independence, you can work and you can have a little fun."

"I feel like a lot of people have the misperception that homeless people are stupid," says Robin. "But, a lot of them aren't. There are some highly intelligent people out here." Robin says she is not able to stay in a shelter because she is homeless with her brother and the shelters won't let them stay together.
"I got married young and had a kid young," says Adam, who moved here from Utah in September. "My wife and I made very good money. We had three nice cars and a mortgage. But I had stressed myself out and turned into a massive alcoholic. By 24, I was in the hospital to have 39 inches of small intestine removed. Now, I'm homeless and five times as happy as I was then."

I'm on disability. But when I got here, my disability was cut by a little bit, which left me in between being able to pay rent and not being able to pay rent," says Kato, who moved to Seattle from Las Vegas. "I'm just stuck in this temporarily." 

Clayton says he became homeless after being seriously ill a few years ago. Now, he camps wherever he thinks it's safe, and mostly keeps to himself. "We have to leave soon," he says about his current campsite. "If you clean up all the garbage, they typically don't mess with you. But when more people start showing up, it gets dirtier, and you usually get posted."

Seattle's highway underpasses provide a little extra shelter from the elements for people living on the streets.
"Living like this is harder than we pictured it," says George (right), who moved with Jessica (left) from North Dakota. "You have to be strong to get through this. If you don't know how to get up, then you'll stay here forever. I have a strong mind and I always stay positive. Even if today didn't turn out, there's a tomorrow. That's how you have to think or there won't be a tomorrow."

"I'm socially inadequate to deal with normal people. That's why I'm homeless," says Jeffrey, who was born in Seattle and grew up at Yesler Terrace. "Ever since I was 2 years old, I've told my mom I wanted to live outdoors. I like it out here. I know where everything is and I can get meals when I need them."
Cassidy avoids shelters. "Every single shelter is filthy and has an infestation," says the Seattle native, who has been on and off the streets since 2010. "Plus, you have to leave during the day and carry everything on your back. They're the worst."

For additional photos and stories visit andrewwaits.com/encampments