The song remains the same, only better
Seattle's friendliest music venue, Tim's Tavern, reopens in White Center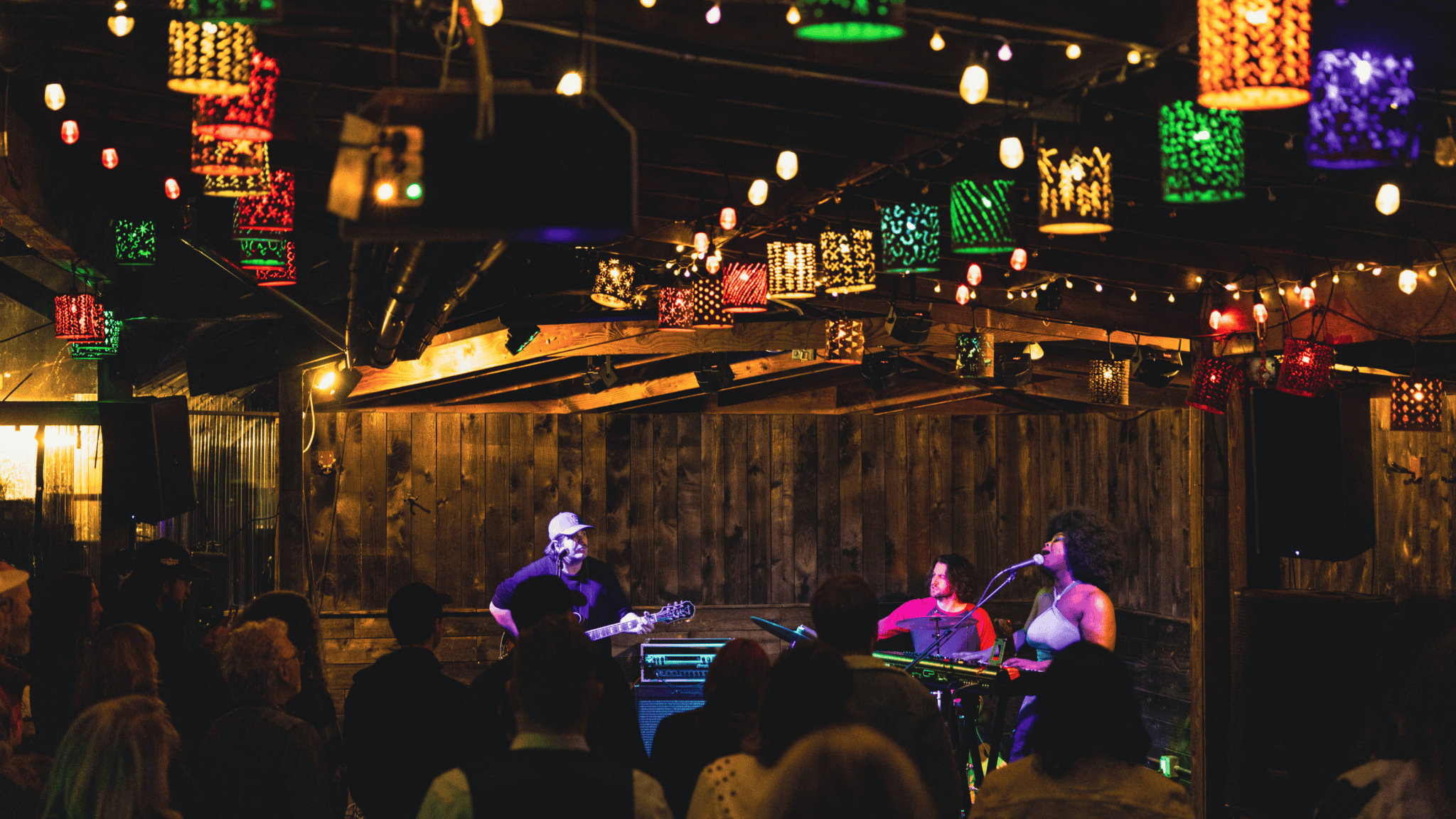 When Tim's Tavern was forced to close because its landlord wouldn't renew its lease, co-owners Mason Reed and Matthew O'Toole told their real estate agent they wanted their new location to be like the Drunky Two Shoes in White Center. They wanted somewhere with an outdoor stage, somewhere "pandemic-proof." A year and a half later, they got exactly that. On March 31, the new Tim's turned its iconic neon sign back on in the old Drunky's location on 16th Avenue Southwest.
It wasn't the pandemic that did Tim's in. The hole-in-the-wall venue, formerly located about a mile east of Carkeek Park in Greenwood, was able to pay its rent throughout the shutdown due to a mix of grants, community donations, and live-streamed concerts including Save Tim's Fest, an all-day online broadcast that drew more than 20,000 viewers. It reopened in July 2021, only to be shut down again at the end of September when its landlord decided he didn't want the building to be used for live music anymore.
"It was really unfortunate because it was something that I had been trying to open communication with the landlord about repeatedly during the pandemic," Reed says. "And the response was always, 'Let's just get you guys on your feet and then we'll talk.' We got on our feet, and he decided not to renew our lease."
The space will now house La Cabaña, a Central American restaurant Seattle magazine dubbed a "community hub for people who hail from all over Central America." It's a fitting replacement for a venue at the center of Seattle's music community; the 50-person capacity space often drew double that amount on a Friday or Saturday night. 
Reed and O'Toole spent the next year and a half looking for a space to reopen. They put in several offers, but nothing worked. Reed's theory is that these deals fell through because it's cheaper for building owners to sell to investors than bring buildings up to code. Reed was even looking at purchasing a gravel lot where he could build an outdoor bar and stage. Then, one day, their real estate agent called and said Drunky's had gone up for sale.
"We put in an offer almost immediately," Reed says. "Within 24 hours, we had an offer for them, and it all started rolling after that. All of the cards fell into place."
There's a lot that hasn't changed at the new location — the ownership, the neon sign, the venue's dedication to having music seven nights a week — but the biggest change is the venue's size.
The new space can hold 200 people at the outdoor stage and 100 people inside, approximately six times the capacity of the Greenwood location. But Reed doesn't want to stop there. He's planning an in-person Tim's Fest for September (likely Labor Day weekend) and wants to build out a temporary stage in the parking lot, which he estimates could hold anywhere between 500 to 800 people. Concertgoers will then travel between stages in the parking lot, patio, and the indoor Seattle Legends stage.
Reed, who spent the last year and a half while Tim's was closed working as a chef at venues such as the Tacoma Dome and The Gorge for big-name touring musicians like Harry Styles, also completely redid the food and drink menus. Similar to Razzi's Pizzeria, the new Tim's features four distinct food menus: regular, gluten free, vegan, and gluten free and vegan. It boasts both a dedicated plant-based fryer and a dedicated gluten-free fryer.
The drink menu is equally inclusive. Reed and the Tim's bar manager crafted a full cocktail menu and a full nonalcoholic cocktail menu. Tim's is also expanding its wine offerings, an endeavor Reed hopes will help showcase local wines and wineries. The bar features local craft beer on tap, and food is sourced as locally as possible, including all proteins. All sauces and dressings are made from scratch.
"One of the best things about Washington is we have everything," Reed says. "We have the best beer. We have the best wine. We have great farmers and great produce. So, we're bringing all of that in and trying to support local as much as possible."
The restaurant portion of the venue is always open to the public — tickets are required only for the outdoor stage. Tim's is also open for weekend brunch beginning at 10 a.m. 
Tim's — which originally takes its name from the first owner but now, according to Reed, is an acronym for "Together in Music, Seattle" — moved into the old Drunky's location in February and got busy cleaning and redecorating. After eight weeks of renovation, the new Tim's Tavern soft opened its doors to a crowd of 250 industry insiders. The night wasn't without hiccups: Doors opened at 6 p.m., and at 4:45 p.m., the staff was still hanging up lights. The dishes that were supposed to be delivered in the morning didn't get there until 4:30 p.m.
The mad dash to get everything ready was so intense that a few staff members resigned (in hiring for the new Tim's, Reed and O'Toole kept the Drunky's staff members who wanted to stay on and pulled new staff from Reed's experience as a chef). But the doors opened at 6 to a packed house, and it stayed that way the entire weekend.
"All of this hard work and madness came to a beautiful fruition. We are very lucky and very happy to live in a city where we have so much talent," Reed says. "And then we have a whole community of people that supports that talent and says, 'Yeah, I'll throw 15 bucks to the band.'"
Those 15 bucks went to a grand reopening weekend lineup filled with Seattle stalwarts like Asterhouse, a rock band fronted by brothers John and Russ Thornburg; Kate Dinsmore, a high-energy, bluesy singer-songwriter; and Peter Donovan, a country-esque performer formerly of Americana band All The Real Girls. 
"You could feel the electricity in both the crowd and the staff working the event," says Asterhouse front man John Thornburg. "It was truly a magical night."
Reed's goal is to treat every musician that plays Tim's like a rock star. A musician himself, Reed has played shows all across the country, and he took his favorite parts of his experiences as a touring musician and put them into Tim's. Artists are always paid the full amount of their ticket sales (minus a standard fee to help cover production costs). These gestures of good faith allow the venue to have live music seven nights a week — artists are clamoring to play at Seattle's friendliest venue.
For show information, visit Tim's website at timslivemusic.com and follow on Instagram at @timstavernseattle.