Three Impressions of Cursed Oak
By AJ Rathbun December 1, 2016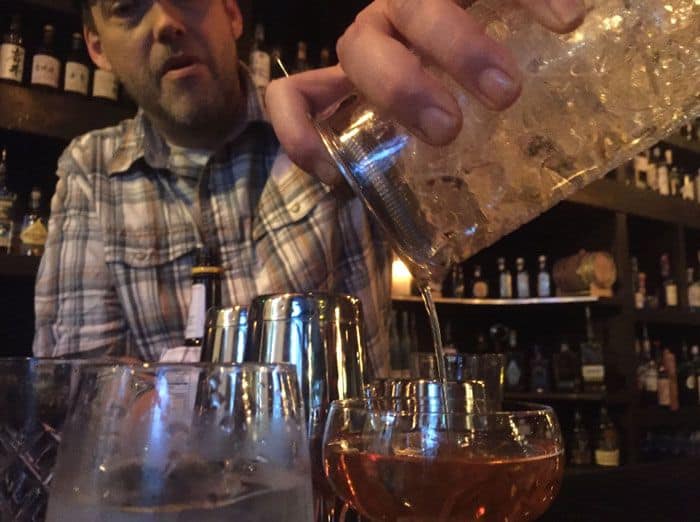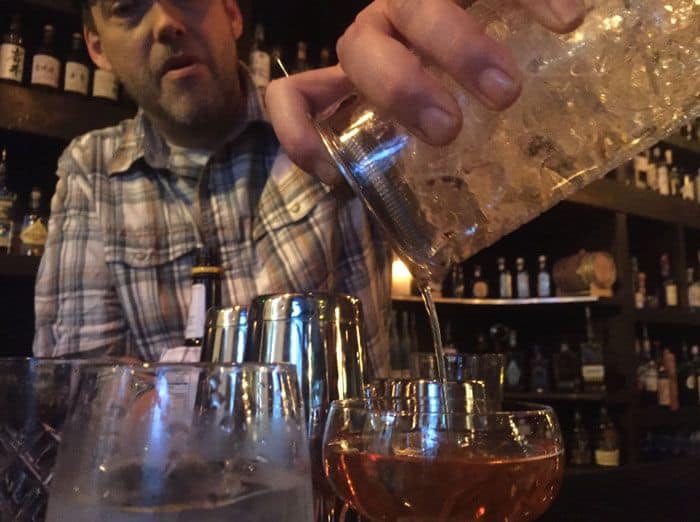 Occupying the space that once housed the Coterie Room, kitty-corner from the Crocodile in Belltown, Cursed Oak had a soft opening back in October and has kept its doors open seven days a week since then. My wife and I stopped by recently to try out the drinks and food, and to see how things are going. 
The Drinks: The cocktail menu crafted by bar manager and co-owner Mike Carroll, who used to run the Whisky Bar, starts with a list of 13 libations, house creations that includes both original and classic variations, and some barrel aged drinks; it then flows into a short list of classic cocktails broken out by base spirit. The Rosemary Delight, with Angel's Envy bourbon and a duo of amaros, Nonino and Montenegro, as well as a sprig of rosemary lit on fire in the glass, was a rich, layered, herbally treat with a hint of smoke, ideal for winter. On the lighter side, the Cucumber Collins was a glass full of summer thanks to its refreshing mix of gin, cucumber syrup, blood orange, lime and soda, along with cucumber slices speared on a metal stir stick. The overall spirit selection is strong, with a robust whiskey choice, especially in the bourbon arena. There's a friendly showing of local spirits like 3 Howls, as well as menu selections for red, white and sparkling wine, along with beer and cider.

The Food: They're called "Rations" here, the creations of past Top Chef contestant—Season 9, if you missed it—and house chef Simon Pantet (ex Tavolata, Single Shot, and others). The selection isn't expansive, but does feature a number of eye-catching choices and good variety. If, like me, you've gotten over your youthful dislike of Brussels sprouts, try the salad where they're paired perfectly with zucchini and a feta dressing. Want to step up to a larger entrée? Don't miss the virtuous goat cheese gnudi, which comes with spinach, parmesan and an earthy chanterelle and oyster mushroom combo. For carnivores, Mike told me the lamb shank has been a big hit—easy to imagine as it's accompanied by a hearty side of meatballs, marble potatoes and finished with a hazelnut gremolata. If just stopping by for a drink and a snack after work or when running errands downtown, grab the fries, served with a creamy, indulgent aioli for dipping.
The Space: The bar itself is a showpiece. 30 by 9 feet in size, at first it appears to be made of some ancient rosewood, but it's actually a huge block of custom-formed cement, stained a dark red. I suggest sitting there, to chat with Mike and the other friendly staff, and to experience the bar up close. It has 13 wood stools, and sits in front of the amply-loaded bottle shelves and across from a long booth with seats formed from a maple slab. There are a couple small tables in the bar area and a small bar rail, too.
The general atmosphere features dark wood accents, low, lounge-style lighting and plenty of hanging vintage bulbs and flickering candlelight for further ambiance.
In the main dining space, you'll find an assortment of wood-topped tables, another of those exquisite maple slab booths, a chef's bar on the kitchen's edge, a deeply blue and textured wall and an interesting chandelier. Tall windows face onto Second avenue, but they have curtains in case it gets too sunny. Be sure to visit the bathrooms: the Koi wallpaper in one and butterflies and flowers in the other are charming.