Trap Kitchen Will Make a Brief Seattle Appearance Next Week
Two chefs traded gang life for kitchen life—and now they're coming to cook for you
By Chelsea Lin November 9, 2016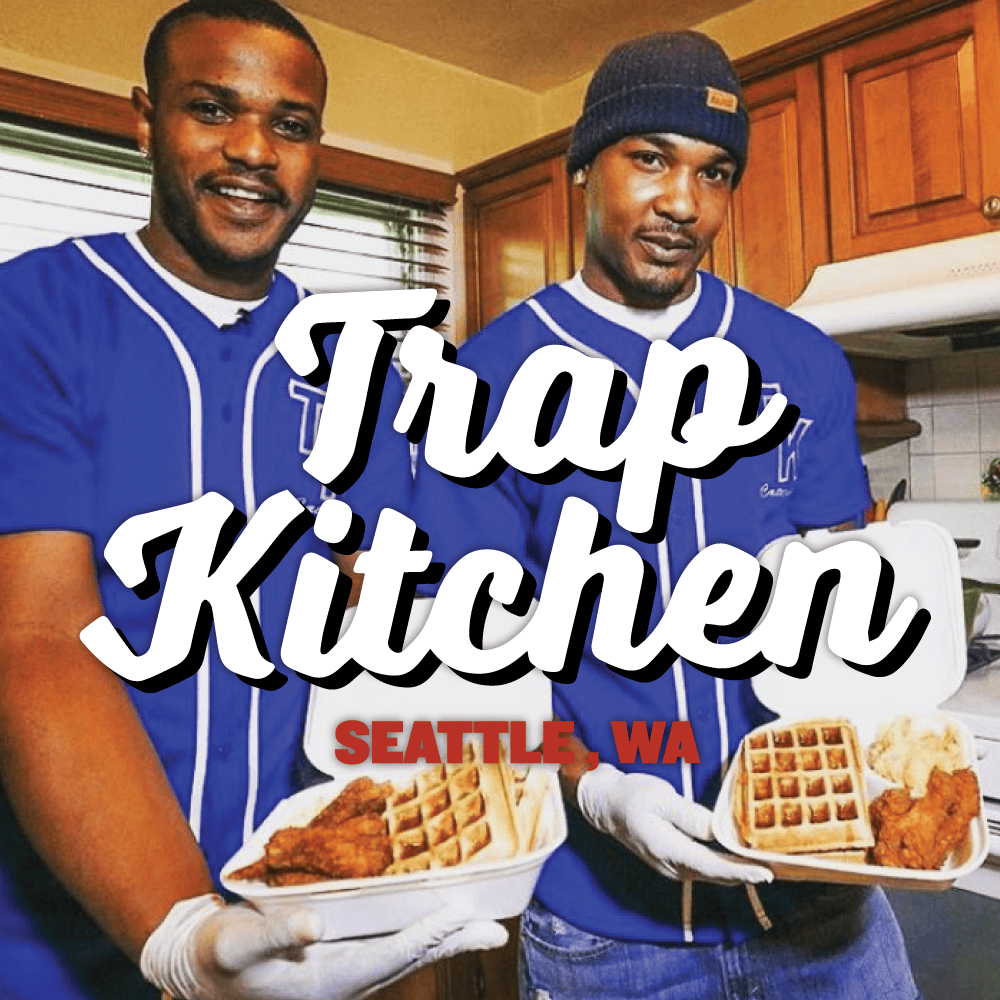 Local chef Taylor Cheney was flipping through channels late one night when she stumbled across the sort of Vice documentary made for late-night TV viewing: how a couple of former Compton gang members and self-proclaimed hustlers turned out to run underground L.A. catering sensation Trap Kitchen. The two chefs, Spank and News, make a single dish a day—comfort foods like barbecue, enchilada pie, fried chicken, and seafood gumbo—advertise on media, and sell until it's gone. It sounds quaint, but really, underground is the wrong word. The project, started in 2013, has a following of more than 73,000 followers on Instagram (@therealtrapkitchen) and has filmed an episode of the new Martha & Snoop's Potluck Dinner Party that's supposed to air within the next few weeks. They've cooked for some of hip-hop's biggest names. There's a TV deal in the works, and talk of a brick-and-mortar location.
And still, when Cheney sent them a message on Facebook right after she caught that documentary, they responded immediately. Would they be interested in doing an event in Seattle? Totally. 
As it turns out, chef Spank has family just south of Seattle and has spent a reasonable amount of time in the Emerald City over the years. The guys will be in town next week on Nov. 18 for Seattle's first Trap Kitchen event, cooking up some of their most popular dishes, like a pineapple bowl Spank explains as kind of like a teriyaki bowl (and you know how this city feels about its teriyaki). Cheney enlisted the help of her industry friends—Edouardo Jordan at Salare, Marjorie's Donna Moodie, Tarik Abdullah, etc.—to donate additional bites and a number of musical artists to perform. 
The event will benefit the TEACH program by the Black Prisoners' Caucus; giving back to the community is a huge part of Trap Kitchen's mission. Cheney's no stranger to helping underserved populations herself—her pop-up restaurant Yalla focuses on the food of the Middle East and has largely featured Syrian cuisine.   
For tickets to the event, check this out.