We Rode a Battery-Powered Bike Share to the Top of Queen Anne
Lime E-bikes are everywhere in Seattle
By Austin Iverson August 14, 2018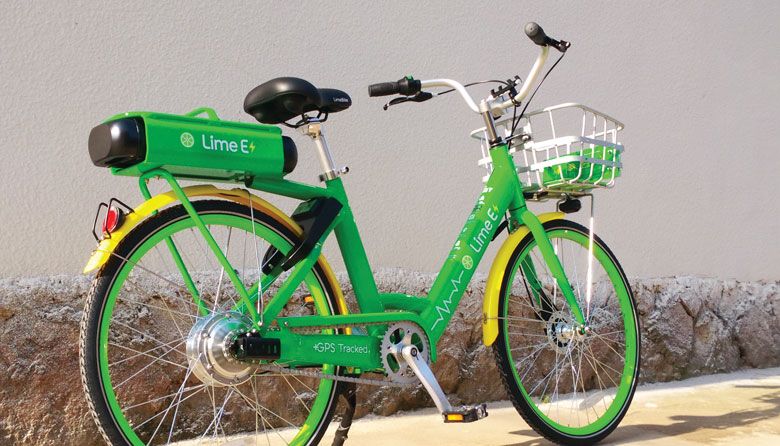 This article appears in print in the August 2018 issue. Click here to subscribe.
E-bikes are popping up all around town, including the approximately 300 added by Lime to Seattle's bike-share fleet last February.
We took one out for a spin, starting at Seattle Center and ending on top of Queen Anne at Kerry Park, to test how the e-bike stacks up against the traditional "analog" version.
Ride Time:
Analog: 20-25 minutes
E-bike: 10 minutes
Cost (for a 30-minute rental):
Analog: $1
E-bike: $1 to unlock, 15 cents per minute, for a total of $5.50
Effort:
Analog: Serious muscle power required. Even with the bike's multiple gears, it wasn't possible to bike up steep Queen Anne hill; some walking required.
E-bike: Getting up a hill is where you want that motor; it made the climb up Queen Anne possible, but both peddling and motor assist were needed.
Sweat factor:
Analog: You'll be ready to hit the shower after this ride.
E-bike: Sweat? What sweat?

Tips:
Download the bike-share company's app onto your phone—Seattle's three bike-share services each have their own; you need this to unlock a bike and go.
One small push of the pedals on an e-bike sends you forward quicker than on an analog bike; be ready for this!
E-bikes make going up hills a breeze, but if you stop pedaling, the bike will slow to a stop when you may not be expecting it.
The e-bike's weight makes it cumbersome; be prepared for challenging maneuverability at higher speeds and around tight curves.