This Week Then: Looking Back on Notable Fires in Washington State
By Alan Stein April 18, 2019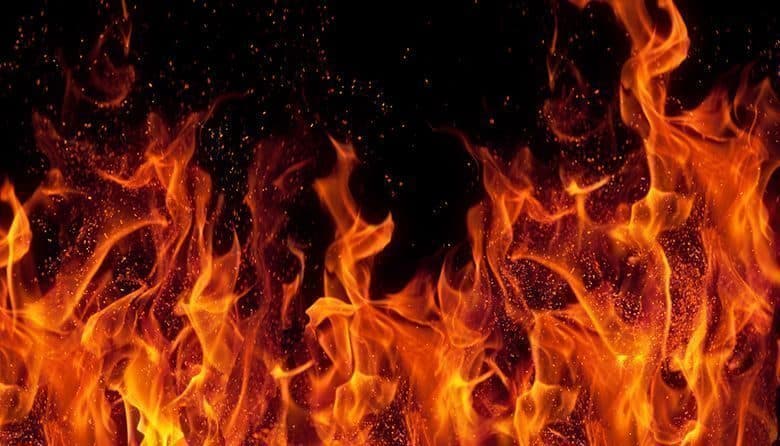 This story was originally published at HistoryLink.org. Subscribe to their weekly newsletter.
Fiery Sites
One hundred and thirty years ago this week, on April 18, 1889, a devastating fire wiped out much of Cheney in Spokane County. This was just the first of several notable conflagrations throughout the state that year, and was followed by major fires in Republic, Seattle, Ellensburg, and Spokane. The towns all rebuilt in brick, but Cheney suffered yet again when the main administration building of the State Normal School — now Eastern Washington University — burned down on April 24, 1912.
As we saw this week in Paris, famous and beloved landmarks can be wiped out by fire in almost an instant. And although Washington does not have major buildings that date back centuries, it has seen more than a few noteworthy blazes over the years. In 1898 Tacoma's Western Washington Industrial Exposition building — then the largest frame building on the West Coast — burned down. In 1902 St. Anne's Roman Catholic Church, established at Tulalip in 1857, burned beyond repair. And in 1903 the people of Winslow (now Bainbridge Island) watched their first community-built steamship, Eagle, burn to the waterline while moored at the dock. 
Seattle's Grand Opera House burned in 1906, and in 1909 fire destroyed the Snohomish County courthouse. Seattle lost the Grand Trunk Pacific dock in 1914, the Grand Theatre in 1917, and the Lincoln Hotel in 1920. Centralia lost its Grand Theatre in 1924, and a year later the Great Northern Railway's grain and ore terminal in Seattle burned to the ground. And in 1928, fire destroyed the third floor of the Old State Capitol Building in Olympia, along with its clock tower.
In 1949 the Big Four Inn, a well-known resort in Snohomish County, was consumed by fire. In 1955 flames destroyed Marysville's largest industry, the Weiser Lumber Company. The Seattle Cedar Manufacturing plant in Seattle went up in smoke in 1958, as did the abandoned Wheeler-Osgood Company mill in Tacoma a year later. Bellevue's beloved Lake Hills Roller Rink suffered a huge fire in 1968, and a year later an arson fire destroyed the Pacific Trail Sportswear factory in Seattle.
Tacoma's landmark Top of the Ocean restaurant was destroyed by arson in 1977, and the Lowell Community Church, Everett's oldest church building, burned in 1984. Seattle lost the Jolly Roger restaurant — once a gambling den, speakeasy, and bordello — to arson in 1989, and in 2001 Masin's Furniture Store and other businesses were wiped out in Old Bellevue. Over the years, advances in fire protection have helped save many other structures, but history has shown that our built environment is always at risk, and forest fires remain a constant threat.
Earthly Delights
On April 22, 1970, the first Earth Day celebration was held to raise awareness of environmental issues. On that day, Washington Senator Henry M. Jackson — a leader on environmental legislation — spoke at UW and WSU on the dangers of environmental degradation. In Pullman, some students pelted him with marshmallows due to his hawkish stance on the Vietnam War, but Jackson caught a few and threw them back, eliciting cheers.
In keeping with Earth Day celebrations, we also note that this week marks events in two early studies of the Northwest's natural world that took place two centuries ago. On April 22, 1812, fur trader, map maker, and geographer David Thompson left Kettle Falls for Montreal, having spent the previous year undertaking a scientific survey of the Columbia River. His explorations led to the first accurate rendition of the Inland Northwest north of the Snake River.
And on April 20, 1825, Scottish naturalist David Douglas arrived at the Hudson's Bay Company's Fort Vancouver, one month after the fur-trading outpost opened on the north bank of the Columbia River in present-day Clark County. Douglas, a collector for England's Horticultural Society, was dispatched to the Northwest coast to bring back specimens and seeds of regional plants for introduction into British gardens and forests. In September that year, he made the first recorded ascent of the Cascade Mountains.
NEWS THEN, HISTORY NOW
On the Go
On April 22, 1854, the Washington Territorial Legislature incorporated the city of Steilacoom. Despite its promising start, railroad construction in the 1870s bypassed the town, and its growth slowed as Tacoma became the Pierce County seat and main industrial and economic center.
Just Say No
On April 24, 1877, General Oliver O. Howard met in a day-long council with Smohalla, an influential Wanapum spiritual leader. Howard told Smohalla that he and his followers must move onto the Yakama Reservation. However, distracted by the Nez Perce War that broke out a few weeks later, Howard took no steps to enforce the order, and Smohalla ignored it.
Moving Slow
On April 22, 1889, Duncan Hunter filed a homestead claim to 80 acres of dense forest in south Snohomish County, becoming the first non-Indian resident of what would become Lynnwood. Other homesteaders soon followed, but the city didn't incorporate until April 20, 1959.