Where to Get a Great Weekday Breakfast
The best dishes to start every day of the week
By Allison Austin Scheff, Jess Thomson, Sara Dickerman, Leslie Kelly, Paul Zitarelli and Ali Brownrigg January 14, 2014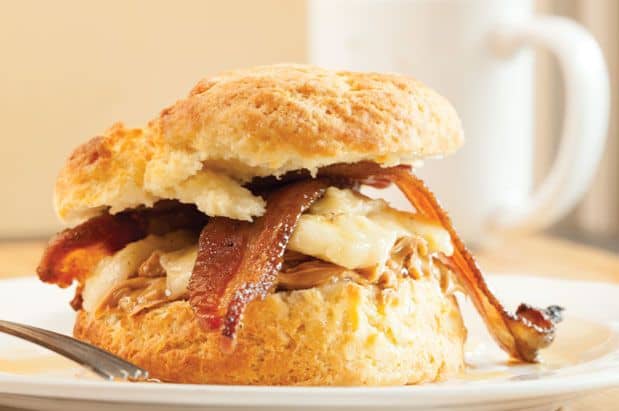 Seattle magazine's early-rising team of food experts tout their favorite spots for the most important meal of the day (and the weekend).

[pancakes]
If you head to one of Portage Bay Café's three airy Seattle locations, where the servers sport T-shirts with the company's tagline—eat like you give a damn—consider stretching beyond your usual order and don't hesitate to bring a friend with food sensitivities. Try the thin, sweet (gluten-free!) take on Swedish pancakes, slathered with lingonberry butter ($11.50), or the vegan banana pancakes ($12.50), made with a surprisingly delicious blend of hemp milk, rice flour, bananas and brown sugar. Those shirts should read let them eat cakes. Three locations in Ballard, South Lake Union and Roosevelt; portagebaycafe.com J.T.

[cheesy grits]
Light, bright, casual and very family friendly, Fiddlehead Fine Foods & Café is a cheerful eatery at the West Seattle Junction that serves up satisfying breakfast (and lunch) fare every day of the week (except Mondays). You can't easily go wrong with the menu, which ranges from house-made cherry macadamia granola ($7.50) to pork hash doused in a creamy roasted garlic sauce ($12.95). But it's the spanking good cheesy grits, gussied up with bacon, shallots, tomatoes and braised greens ($10), that really float our boat. West Seattle, 4310 SW Oregon St.; 206.708.7891; fiddleheadfinefoodsandcafe.com A.B.
[baked eggs]
From the whitewashed walls to the worn wood floors to the white metal chairs, The Fat Hen offers the Italian farmhouse breakfast experience to Seattle folks without the Italian farmhouse. Sit at the window, bask in the light and dig into one of the egg bakes that give the tiny spot its name; we like the eggs in camicia ($8.50)—served in a bubbling dish of tomatoes, basil and mozzarella. Bring a jacket; the wait outdoors can be chilly. Ballard, 1418 NW 70th St.; 206.782.5422; thefathenseattle.com J.T. (Photo: The Fat Hen, tucked away in Ballard, has an Italian farmhouse feel; by Meryl Alcabes)
[pancakes]
There is a reason buttermilk pancakes frequently get tarted up with all manner of fruits, nuts and (gasp!) chocolate chips: because they're inherently boring. But not so for cornmeal pancakes at the homey Madison Diner ($6.99 for a stack of three), which display corn's savory-sweet goodness through the prism of the griddle. Your server will ask you if you need extra butter. You may not need it, but you will definitely want it. Bainbridge Island, 305 Madison Ave. N; 206.842.5786; themadisondiner.com P.Z.
[diner breakfasts]
Dave Meinert and Jason Lajeunesse's Lost Lake Café is a simulated midcentury roadside diner, with comfy padded stools and honky-tonk music blaring through speakers better than any real-life diner's. Despite the artifice, the retro-engineered menu (served 24 hours a day) delivers just what you might need for a comforting weekday morning out; from spot-on huevos rancheros ($10) to indulgent French toast ($7.50) prepared with all the treats from a tipsy homemaker's liquor stash: Kahlúa, Baileys, Grand Marnier and Frangelico. Capitol Hill, 1505 10th Ave.; 206.323.5678; lostlakecafe.com S.D.
[kids' breakfast]
Art in The Four Seasons, one of Seattle's best locales for upscale, full-service hotel brunch, also lets you eat through kid-colored glasses. Browse fully illustrated menu options and appreciate the Lego-inspired locking stack of perfectly sized utensils—as well as the way the food arrives the moment before you couldn't wait a minute longer for it. And while the actual kids at your table devour their silver dollar pancakes ($10) or egg, toast sticks and sausage rings ($10), you'll appreciate how your hearty short rib Benedict ($18) was served just a beat after your finished cutting their sausage. Downtown, 99 Union St.; 206.749.7070; artrestaurantseattle.com J.T. (Photo: by Melissa Kagerer)
[french fare]
Edith Piaf and the smoke-stained walls are absent, but Café Presse is Seattle's offbeat version of places like New York's French bistro restaurant Balthazar. Here, très français breakfast staples such as oeufs plats ($7.50) come in piping hot gratin dishes encrusted with bubbling Gruyère. Great drip coffee (from Caffe Vita) poured into brown ceramic cups with saucers completes the Francophile experience; the coffee even cools down as quickly as it does in Paris. Capitol Hill, 1117 12th Ave.; 206.709.7674; cafepresseseattle.com J.T.
[french toast]
Many Columbia City–zens will tell you that the sunny dining room at Geraldine's is the unofficial heart of the neighborhood. And the surest thing on the all-day breakfast menu is the incredibly good French toast ($8.95): fried in butter until crisp on the outside, custardy deliciousness in the middle, seasonal fruit on top, syrup on the side. It cannot be improved. Columbia City, 4872 Rainier Ave. S; 206.723.2080; geraldinescounter.com A.A.S.
[Spanish]
In Spain, you wouldn't necessarily get tortilla española at breakfast time: The tall room-temperature frittata, filled with signature layers of thinly sliced potatoes, is a snack-time favorite morning, noon and night. Still, it's a great breakfast treat, and at Capitol Hill's tiny Spanish tribute café Chico Madrid, the tortilla is most satisfying in bocadillo (sandwich, $7.50) form: Tucked into a thin crusty baguette that's been slathered with garlic-sharp aioli, it's starch-on-starch perfection. If you're in a sweeter mode, the moist magdalena cake ($2.50) delivers an ultra-lemony start to your day. Capitol Hill, 711 Bellevue Ave. E, Suite 100; 206.453.3234; chicomadrid.com S.D.
[biscuits]
The bubble and squeak ($13)—a vibrant take on a leftover brisket, cabbage and potato dinner—shouts with vinegar and black pepper. The biscuits ($2) are so fluffy at The Wandering Goose, they might be confused for cake. But the most impressive part of Heather Earnhardt's cozy Southern-inspired breakfast joint on Capitol Hill is that even with the restaurant's horrific weekend crowds, her food keeps us wandering back. Go early on weekday mornings, with a reason to take home a tall slice of red velvet cake ($6.50). Capitol Hill, 403 15th Ave. E; 206.323.9938; thewanderinggoose.com J.T.
[baked eggs]
Baked eggs with ham, cheese and spinach sounds so humble, doesn't it? What the menu at Oddfellows Cafe doesn't say is that the cheese is Gruyère, the eggs are tender, the spinach is soft, and that the whole delicious mess is swimming in a thick hollandaise sauce ($8). Capitol Hill, 1525 10th Ave.; 206.325.0807; oddfellowscafe.com A.A.S. (Photo: by Melissa Kagerer)
[breakfast sandwich]
It's not just the space—which is warm, off the beaten path and buzzing with conversation. At North Capitol Hill's home-away-from-home Volunteer Park Cafe, the fig-maple scones ($3.25) are excellent, and the daily quiche ($6–$7) has a tender crust and softly set middle. But it's the Brie and apple panino ($6), on a warm, crusty baguette, dripping with lavender honey, that makes us swoon. Capitol Hill, 1501 17th Ave. E; 206.328.3155; alwaysfreshgoodness.com A.A.S.
[steak and eggs]
The Shanty Cafe's walls are plastered with reminders of its long history—it's been around since 1914, when Seattle was a timber town, and yes, that's a real two-man saw on display—so it's no surprise that this diner's signature dishes are decidedly old-fashioned and its servers, decidedly sassy. Anyone with a lumberjack-size appetite should have no problem tucking away the platter-size chicken-fried steak and eggs, with toast and crispy hash browns on the side ($9.75). Lower Queen Anne, 350 Elliott Ave. W; 206.282.1400; theshantycafe.com L.K.
[happy-hour breakfast]
On a weekend morning, you can almost see the fog of a hangover floating above the intricately inlaid wood tables at Queen Anne's go-to brunch and beignet place, Toulouse Petit. It's perfect for those who take a Hurricane ($8.50 during the day) with their morning coffee; it's also just right if you long for the oversize breakfast at Mother's in New Orleans. Try the buttermilk biscuits with Creole sausage gravy ($11) or the spicy Creole andouille hash ($13). Weekday bonus: You can score breakfast at the happy-hour price of $9 for nearly every dish. Lower Queen Anne, 601 Queen Anne Ave. N; 206.432.9069; toulousepetit.com J.T. (Photo: Toulouse Petit in Lower Queen Anne is one of the few places in town to get beignets; by Jonathan Vanderweit)
[grits]
At SoDo's Hudson, on a busy stretch of Marginal Way, the Southern-inspired food is hearty, the service is tattooed, friendly and efficient, and nobody will lift a brow if you order a Rainier before noon. If you're smart, you'll follow it with the cheesy grits, a savory bowlful stirred up with a handful of crisped bacon, a fried egg resting right on top, toast on the side ($7.95). Not at all complicated, it's just right. 5000 E Marginal Way S; 206.767.4777; hudsonseattle.com A.A.S.
[breakfast pho]
When Campagne alums Lauren Feldman and Shawn Mead opened Vif Wine and Coffee in an old burger joint in Fremont, they envisioned a place that would match the name (French for bright and vibrant), pouring Olympia Coffee Roasting Company's brew until wine-thirty. And alive it is, especially on Pho Fridays once a month, when Feldman's heady, anise-scented broth ($9, with a cream puff) graces the otherwise Northwest-inflected breakfast menu (think stewed greens and Rockwell beans with a poached egg, $9). Not bad for a Jewish cook from Jersey. Fremont, 4401 Fremont Ave. N; 206.557.7357; vifseattle.com J.T.