You Don't Have to be a Gearhead to Love Derby, SoDo's New Gastro Garage
Ethan Stowell's newest restaurant is now open in car-lover's clubhouse The Shop.
By AJ Rathbun August 17, 2017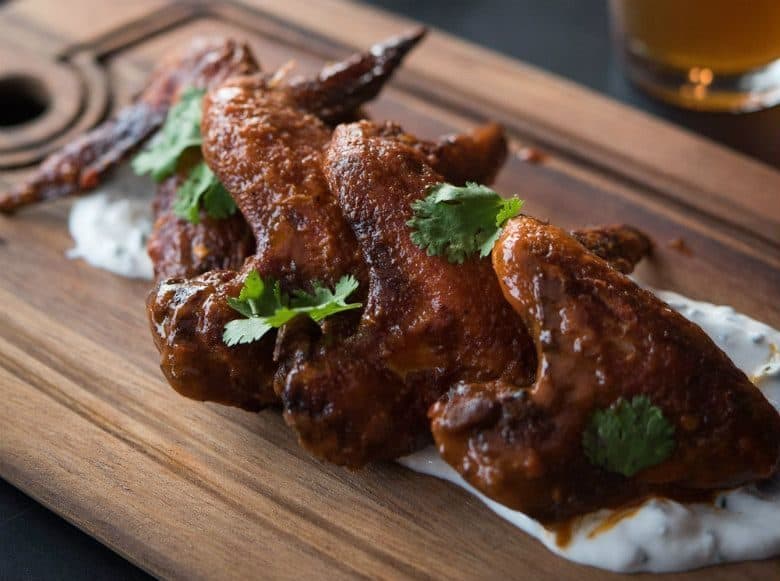 The latest in the Ethan Stowell empire (and just opening last week), Derby is parked in an industrial stretch of SoDo's Sixth Avenue and resides within The Shop. Opened by Seattleite Matt Bell, The Shop is a car enthusiast's dream, with indoor auto storage, repair bays, experts on site and a member's lounge with VR racing, a pool table and more. Derby is open to all, though, and we recently drove down to check it out. Here are three impressions.
The Drinks
There are 10 drinks on the cocktail menu, heavy on whiskey but with a good range, and a few exceptional names, including I'm Going Home in Macklemore's Cadillac—a tiki-ish Scotch drink with falernum, pineapple, allspice and lemon). But my favorite was Using Me for My Cheese. With rye, aquavit, herbal liqueur Benedictine and cardamom bitters, it had a lasting savoriness accented by a Gouda cheese garnish.
The happy hour menu (3-7 p.m. daily) has affordable prices and a few drinks not on the regular list, highlighted by the refreshing Ranye West: Aperol, lemon, Angostura bitters and Rainer beer combined for an unexpectedly tasty summer hit. They also offer 17 canned beers, perfect for after working on your motor, with Yakima's Bale Breaker Field 41 Pale Ale being tops. Eleven draft beers and a small array of wine round things out.

Those fancy whips might not be in your budget, but the happy hour-priced Ranye West cocktail is. Photo by Natalie Fuller.
The Food
Fitting into the garage-meets-gastropub design, the food from chef Thomas Dodd (ex-Marjorie) starts with a wide collection of small plates. The word from our friendly waiter is that the dates with bacon, goat cheese and aged balsamic are speeding out of the kitchen. There are smaller menus of soups and salads and sandwiches, as well as a few larger dishes.
For carnivores with an appetite, steak and eggs has to be the choice—it comes with pommes puree and crisp onions. For vegetarians, there's an attractive ravioli with ricotta and preserved lemon. Much like with drinks, the happy hour menu has some singular and well-priced options. The snap peas with butter and mint were crispy and fresh, but the pretzel really had my engine running. It was soft inside with a mix of seeds on top, mustard, fennel, caraway and others, which provided a rich flavor and an outstanding crunch. It came with mustard and a beer cheese sauce, too.

Photo by Geoffrey Smith
The Space
Walking in, you instantly know you're in a car-lover's paradise, thanks to the sweet rides just inside the door. You can pick a seat from black wooden-topped tables and chairs, wooden booths, a lounge space with couches, or one of the 15 barstools at the wooden bar, with it all ending up at 90-odd seats in total.
I say go for a spot near the tall windows on one wall that provide a view into The Shop's massive garage room, which is full of cool cars from streamlined Porsches to a muscled '60s Dodge Charger and more. Macklemore's Cadillac was actually there, along with his moose-headed motorcycle. Though you'll spend more time gazing at cars, the restaurant space—with wood-beamed exposed ceilings, concrete floors and an open kitchen—is cool, too, in a fittingly-industrial way.
Overall, Derby's a fun spot to stop at, even if you don't have a snazzy ride (though you might end up parking your Honda Fit next to a Jag). 
Sign up and get Seattle's best events delivered to your inbox every week.