Your Seattle Dining Bucket List
We break down our favorite dishes by neighborhood
By Chelsea Lin & Naomi Tomky January 31, 2019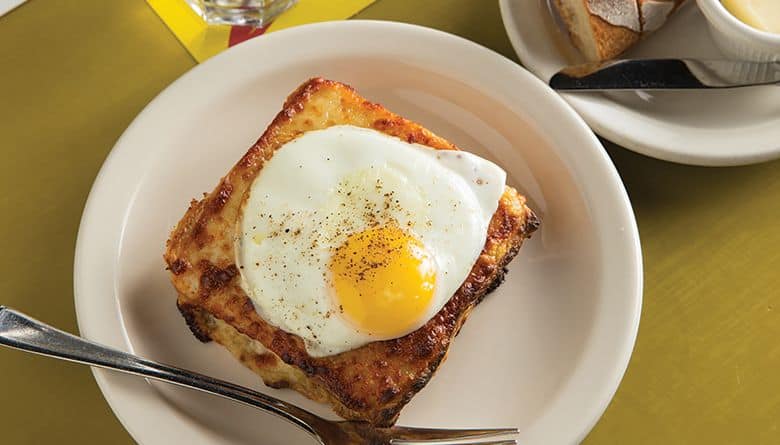 This article appears in print in the February 2019 issue, as part of the 100 Best Things To Eat cover story. Click here to subscribe.
Get a PDF version of this list here.
BALLARD
Brimmer & Heeltap, bread
Cafe Besalu, ginger biscuit
Cafe Munir, hommous bil lahm ou snobar
Copine, Dungeness crab salad
Delancey, bacon and onion pizza
Hood Famous Bakeshop, ube cheesecake
La Carta de Oaxaca, mole negro Oaxaqueño
Rosellini's, kouign amann
San Fermo, saffron spaghetti Bolognese
Sawyer, s'more choco tacos 
Señor Moose, camarones al tequila
The Walrus and the Carpenter, oysters
Un Bien, Caribbean roast sandwich
BEACON HILL
Amazing Thai Lao Cuisine, kao nam tod 
Bar del Corso, suppli al telefono
Breezy Town Pizza, Pepperoni Paint Job
Homer, soft serve
Taco Street, breakfast tacos
BELLTOWN
Dahlia Bakery, triple coconut cream pie
No Anchor, smoked and pickled mussels
Tilikum Place Café, Dutch baby
BROADVIEW
Little Ting's Dumplings, pork dumplings
CAPITOL HILL
Aviv Hummus Bar, falafel
Bateau, burger
Betsutenjin, Hakata-style ramen
Café Presse, croque madame
Kedai Makan, nasi goreng
Little Uncle, khao soi gai
Plum Bistro, Mac 'N' Yease
Polish Home, pierogi
Poppy, eggplant fries
Spinasse, tajarin con burro e salvia
The Wandering Goose, cherry hand pie
Westman's Bagel and Coffee, B.E.C.
CENTRAL DISTRICT
Meskel Ethiopian Restaurant, vegetarian combination
Raised Doughnuts, raspberry holes
CHINATOWN–INTERNATIONAL DISTRICT
Lan Huê, banh mi dac biet
Pho Bac Súp Shop, short rib pho
COLUMBIA CITY
Super Six, Auto Banh Sando
DOWNTOWN
Loulay, hot chocolate
Metropolitan Grill, "Long Bone" rib eye
EASTSIDE
Kirkland: Kathakali, meen pollichathu
Redmond: Miah's Kitchen, hot-oil-seared biangbiang noodles
FREMONT
Fremont Bowl, chirashi
Kamonegi, Kamonegi soba
RockCreek Seafood & Spirits, Point Judith Calamari "Kari-Out"
Seattle Biscuit Company, Willie Lee biscuit
Vif, breakfast bowl
GREENWOOD
Coyle's Bakeshop, cretzel
FlintCreek Cattle Co., wild boar shoulder
La Conasupo, barbacoa
MADISON PARK
Cafe Flora, portobello Wellington
MONTLAKE
Café Lago, lasagna
MULTIPLE LOCATIONS
A la Mode Pies, butterscotch bourbon pie
Asadero, tuetanos
Ba Bar, banh cuon
Bakery Nouveau, twice-baked almond croissant
Dick's Drive-In, Dick's Deluxe cheeseburger
Dough Zone Dumpling House, Q bao
Eltana, shakshuka
Heaven Sent Fried Chicken, fried chicken
Hot Cakes, molten chocolate cake 
Jack's BBQ, brisket
Ma'ono, fried chicken sandwich
Marination, Spam sliders
Molly Moon's Homemade Ice Cream, salted caramel ice cream
Off the Rez, chili tacos
Rachel's Ginger Beer, float
Tavolàta, pappardelle 
Taylor Shellfish Farms, geoduck sashimi
NORTH END
Edmonds: Fashion Dim Sum, piggy buns
Lake City: Man'oushe Express, zaatar and cheese man'ousesh
Lynnwood: Sam Oh Jung, bibim nengmyun
Mill Creek: Toshi's Teriyaki Grill, chicken teriyaki
PHINNEY RIDGE
Opus Co., salmon with kasu "risotto"
PIKE PLACE
Bavarian Meats, BLT
Beechers Handmade Cheese, World's Best Mac and Cheese
Ellenos Real Greek Yogurt, passionfruit yogurt
Jack's Fish Spot, cioppino
Le Pichet, raclette
Matt's in the Market, catfish sandwich
Maximilien, moules marinières
Mee Sum, curry hom bow
Shug's Soda Fountain & Ice Cream, s'more sundae
Sushi Kashiba, omakase
PINEHURST
Ahadu Ethiopian Restaurant, kitfo
Jebena Cafe, foul
PIONEER SQUARE
Il Corvo, daily pasta
Salumi, porchetta sandwich
The London Plane, muhammara toast
QUEEN ANNE
Canlis, Canlis salad
Eden Hill, foie gras cake batter
RAVENNA
JuneBaby, pimento cheese
Wataru, straw-smoked red snapper
SOUTH LAKE UNION
Bar Harbor, Dungeness crab–stuffed eggs
Deep Dive, hot dog
White Swan Public House, seafood chowder
SOUTH PARK
Loretta's Northwesterner, Tavern burger
WEDGWOOD
Wedgwood Broiler, French dip
WHITE CENTER
Crawfish House, crawfish boil
Editor's Note: This article has been updated since print publication.
Sign up and get Seattle's best events delivered to your inbox every week.