Your Seattle Restaurant Questions Answered: Themed Bars, Ballard Lunch Spots and Kid-Friendly Restaurants
Plus: Best boba, fresh pasta and Greek food
By Seattle magazine Staff March 13, 2019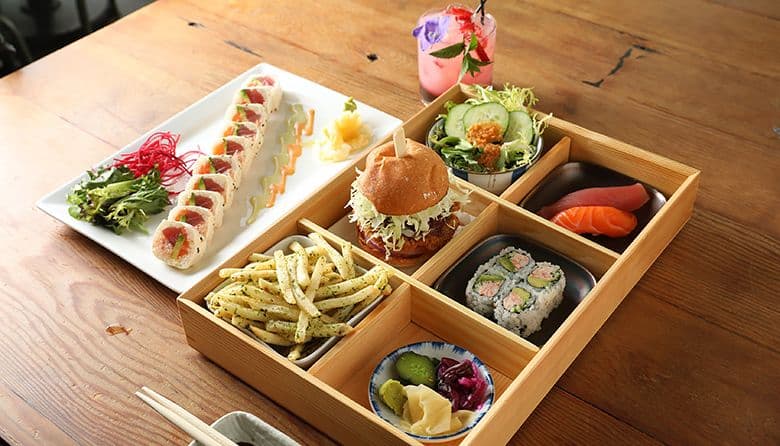 The Seattle magazine Instagram is a hot spot for photos of some of the best things going on in our city–we had a lot of fun with it during Seattle's recent Snowmageddon. Once a week, you can also find updates from food and lifestyle editor Chelsea Lin, where she answers questions from our readers about the best places to eat out in Seattle. This week's roundup includes neighborhood hot spots in Ballard, Capitol Hill, South Lake Union, downtown and Alki; we've got New England lobster rolls and Russian food, too. 
Have a question for Chelsea? Submit here. 
Reader: Best child-friendly restaurants in downtown?
CL: I guess it depends on what you consider child-friendly… I've taken my kids to Loulay for brunch and it was totally fine. If you go at 5pm, anywhere is kid-friendly. That said, I think any of Tom Douglas' places or anywhere in the market would be a good fit. My kids LOVE Din Tai Fung, but they can eat their weight in xiao long bao so it gets real expensive.
Moving to Cap Hill—what are the staples in my new neighborhood?
Capitol Hill is such an amazing neighborhood because there are so many options across the board. Some classics I'd add to your list are Poppy, Altura, Stateside, Kedai Makan, Spinasse, Quinn's, Bar Ferdinand and my new favorite, By Tae.
How should a tourist prioritize all there is to do and eat?!
It's so hard! That's a good problem to have. I may be biased, but I'd say start with our list of the city's 100 best things to eat, which you can read here. There are more than a dozen listed as quintessential Seattle bites, and if you make it through those, you'll have a pretty great idea of what the city has to offer.
Best deal for lunch in Ballard?
I love the hoagies at Hog Island, but my favorite Ballard sandwiches are at Mean Sandwich. La Carte de Oaxaca is open for lunch, and so is Katsu Burger, and both of those are great. When I lived in Ballard I'd end up at Mr. Gyros a fair amount, so try that, too.
Where can I get Cajun-style crawfish by the pound?
Crawfish King in the International District has Cajun seasoning among its spice options, and also tons of seafood (including crawfish) to order by the pound. I also recommend Crawfish House in White Center!
Any recs for cocktails that include egg whites?
I had a wonderful cocktail at Deep Dive a few weeks ago called the Chill Pill, and it definitely had egg whites. In fact, I looked at their menu again and a number of the cocktails on the bar menu do. Go early for your best chance at grabbing a table!
Your favorite boba places?
I really love the quality of Drive Thru Boba in Bellevue, though it's not a drive-through and they have kind of odd hours, so it's not the easiest to get to. I would also check out the Moo Bar in South Lake Union, because they do an excellent job.
Cheap sit-down dining in SLU?
Renee Erickson's newest place is Willmott's Ghost, and it's open all day… it's great, but I wouldn't necessarily call it cheap. I love Eggs & Plants, which is a little off the path in Amazon land, and also recommend Ba Bar and Mamnoon Street in the 'hood.
Best house-made pasta?
I went to GH Pasta Co last week, Brian Clevenger's new fast-casual spot near South Lake Union, and thought it was really, really good. There's an assortment of house-made pasta, and also excellent sides like roasted broccoli and garlic bread. I warn against going at noon, which is what I did, and had to wait in a line 20 people deep… everyone seemed to clear out by around 1.
Best Greek food?
Omega Ouzeri is probably the best for a more formal dinner out somewhere, but if you just want to eat spanakopita and moussaka on your couch, I love Taki's Mad Greek.
Best place for dinner and drinks in Ballard?
Sawyer is my new favorite spot for dinner and drinks in Ballard—it's so good it's a semifinalist this year for a James Beard Award for Best New Restaurant in the country, which JuneBaby won last year. But a few other favorites: Pestle Rock, Staple & Fancy, Copine and San Fermo.
Best Russian food place?
I love Russian food and think it's such a shame it doesn't get more play here. That said, there's a new place in Capitol Hill called Dacha Diner that's doing some Russian staples like borsch, blini and herring under a fur coat that are delightful.
What are some great themed bars in Seattle?
Unicorn remains one of my favorite, for its quirky carnival nightmare sort of theme. The Angry Beaver in Greenwood is fun—it's a Canadian hockey bar. As someone who loves music, I also like Revolver Bar, since they have a huge selection of vinyl records.
Best place to host a small wedding shower on the Eastside?
It depends on the vibe you're going for… someplace like Ascend or Wild Ginger would be big enough to accommodate parties of all sizes, and are familiar with doing these kinds of events. I also really love the food and cocktails at Lot 3, so if you wanted something that skewed a little more casual, maybe get in touch with them.
Any bar recommendations with board games?
Mox Boarding House, which has locations in both Ballard and Bellevue, is more like a gaming store that happens to have a bar, but if you're serious about your board games, they can't be beat. Downstairs at Capitol Cider has a good assortment, as does Beer Star in White Center.
Is there anywhere locally to get Maine/New England style lobster rolls?
I've had the most comparable lobster roll at Bar Harbor—it's truly really great, and you can choose between having it dressed with mayo or butter, though in my opinion, butter is far superior.
Date night in downtown?
You can't go wrong at Le Pichet—the food is amazing and the atmosphere feels like you're sitting in a Parisian bistro. Even if you've both been before, it's always so charming. If you're looking for something flashier, I just checked out Aerlume, and it's got a super cool fire table to sit around indoors, while looking out onto Elliott Bay, which is pretty impressive.  
Moving to Alki, what are your favorite spots?
I've had brunch at Alki Café a few times, and it's absolutely one of those charming old school spots you should have in your back pocket. Along that western strip there's a Cactus and a Duke's, but I think it's worth heading over to Marination Ma Kai that faces east toward Seattle—the food there is awesome and the views are incredible.
Best dinner courses with wine pairings? (Maybe not too expensive)
I think the best deal on an excellent multi-course dinner in town is Opus Co. in Greenwood. It's $55 per person and the wine pairing is only an additional $32, which combined still makes it cheaper than just the food part of fixed price meals around town.
Best spot for fried catfish?
Simply Soulful makes great fried catfish, and of course, JuneBaby's is awesome, and you can even get it on the lunch menu. Matt's in the Market does an excellent fried catfish sandwich at lunch.
Where to find taro bread besides 85C Bakery Cafe?
I've seen taro buns at Kiki Bakery, and I know Despi Delite has a bunch of taro baked goods as well!
Sign up and get Seattle's best events delivered to your inbox every week.