Happiest Happy-hour Bartenders
These five local mixologists are keeping it real at happy hour with humor, warmth—and a mean drink.
By Seattle Mag April 8, 2012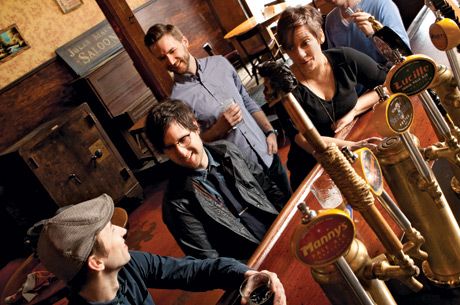 Bryn Lumsden
Rob Roy, Belltown
With a calm manner that isn't shaken (even if a group of 15 shows up suddenly), and a literary charm that extends to everyone and anyone sitting at the bar, Lumsden is unflappably friendly even while making a passel of the snazziest and firmest fizzes in town. He's as classic a bartender as the classically minded drinks he serves. Try: the wonderful sloe gin fizz or any other fizz. 
Veronika Groth
Chino's, Central Capitol Hill
From the moment you take a seat on an unpretentious plywood barstool, Veronika Groth makes you feel you're a part of her sociable community. Whether strolling you through one of her latest inventive rum-based creations or just sharing stories about bars gone by, she always treats you kindly. Try: the rotating seasonal take on the mai tai, which is sure to include rum and other delicious ingredients.
[Editor's note: After this story went to press, Veronika Groth left Chino's. She is currently tending bar at Artusi.] 
Andrew Friedman
Liberty, North Capitol Hill
A rarity in that he's both bar owner and bartender, Friedman has never met a customer he didn't want to talk with—whether about themselves, his beautiful barrel-aged cocktails or the whiskies behind the bar. It's plain that he doesn't just want your business, he wants you to feel a part of the neighborhood. Try: The Good Dog, a cocktail that's aged in oak and includes Woodinville Whiskey's White Dog unaged whiskey, chamomile-infused grappa liqueur, lemon bitters and lemon juice. 
Adam Fortuna and Jonathan Hudak
Artusi, Central Capitol Hill
It's fitting that Artusi's hexagonal white-marble-topped bar is in a U shape, surrounding bartenders Adam Fortuna and Jonathan Hudak and their host of Italian-inspired cocktail ingredients; that makes it easier for these genial fellows to interact with customers, telling tasty stories and bringing a calm good-naturedness to the bar. Try: the grappa sour, which mingles Bertagnolli grappino, lime, salted muscovado syrup and angostura bitters.