The new book 'Decorate for a Party' shows how to welcome guests in style, whether for drinks, dinner or special occasions

BY:

|

Updated: November 27, 2018

Image Credit:

decor8, LLC, original photo on Houzz

This article originally appeared on Houzz.com. 

"There is something really wonderful about having friends over for dinner," Holly Beckersays in her newest book, Decorate for a Party. "It can be a more intimate, relaxed, and fun change from meeting at a restaurant." If you agree with that sentiment but feel overwhelmed by the thought of planning a party, you're not alone—Becker, along with coauthor Leslie Shewring, is here to help. This coffee table-worthy tome is packed with gorgeous yet simple ideas to make planning a breeze, so you can actually enjoy your own fete. Read on for a peek inside the book, along with creative ideas for throwing a fresh and modern dinner party at home, plus four simple DIY projects to add a heartfelt and handmade touch to your next gathering.

Season: Summer, early autumn or winter

Party Suggestions: Cocktails // New Year's // Oscar night // Birthday

Setting the tone: "We both have a soft spot for Los Angeles and wanted to find ways to bring some of that L.A. vibe into a party at home," Becker says. For a fresh, modern take on a dinner party with friends, she and Shewring were inspired by Palm Springs, midcentury modern furniture, bold prints and shiny metal accessories (like the quick DIY foil bunting strung across the patio wall here).

Simple project: Foil bunting. "We wanted a bunting that was grown-up, not crafty, so we made a simple one by folding over small pieces of gold metallic paper, then glued them onto gold twine," Becker says. Re-create this look at home by snipping and folding metallic gold origami or scrapbooking paper over gold twine; adhere with glue.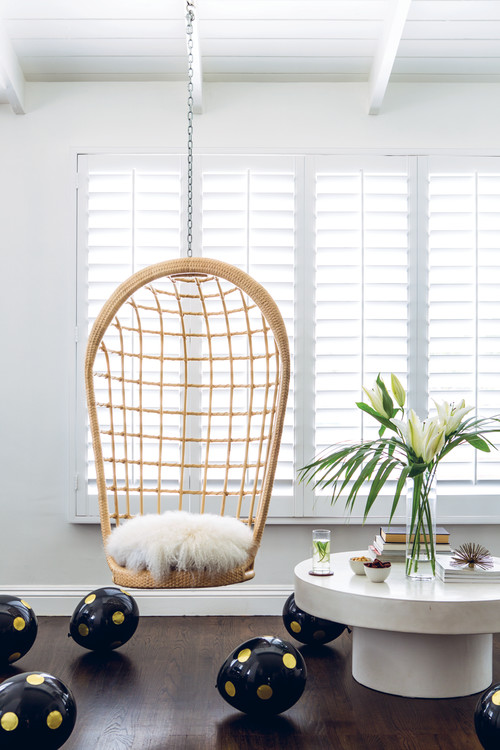 Color palette: Sticking with a color palette of black, white, green, wood browns, gold, orange and a little peach will help give the party a unified look. "From outside on the patio to inside the dining room, we wanted to keep the colors consistent," Becker says. Bring in a bit of glamour and drama with some tropical foliage, metallic gold details and a graphic print.
Simple project: Balloon stickers. Decorate black balloons with a few gold stickers from an office supply store.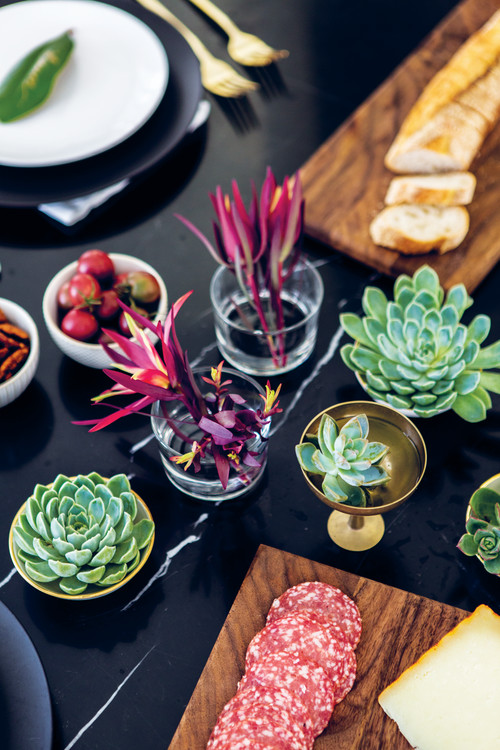 Modern tabletop: For a relaxed mood, set up a help-yourself drink station and set out nibbles so guests can mingle and graze. "When you have a beautiful tabletop you don't need to protect, like this shiny black marble, lay your spread sans tablecloth. It's a modern way to serve, and it feels less formal," Becker suggests.
Elements: Air plants // Succulents // Wooden chopping boards // Teak accessories // Monstera leaves // Shiny gold details // Glass cylinders // Matte black details // Marble // Tropical flowers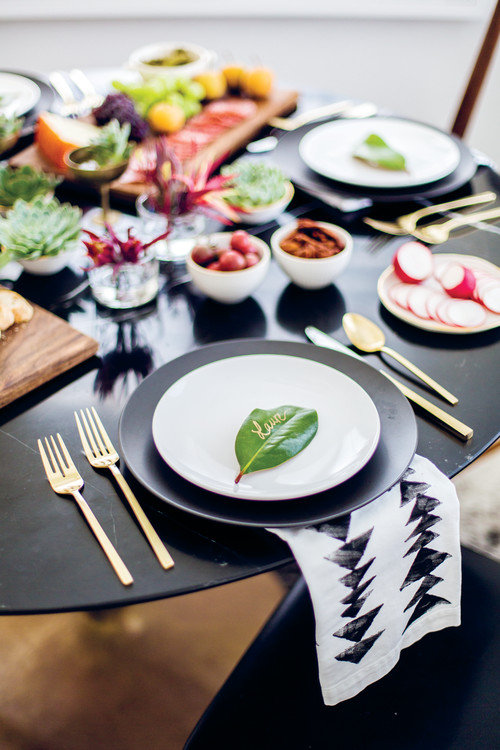 Simple project: Natural place cards. This project couldn't be easier, but the effect is personal and lovely: Simply use a gold pen to write names on greenery to customize your place settings. In the fall, collect colorful foliage from outdoors; in winter you can snip a few leaves from a houseplant.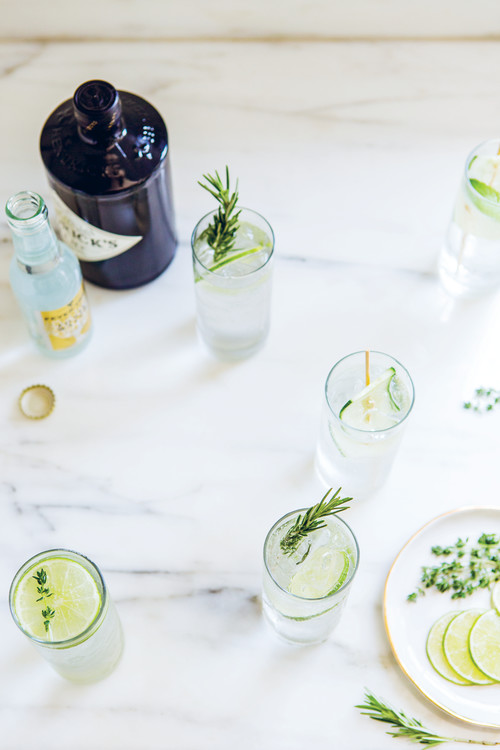 Simple project: Green garnishes. Make it easy on yourself and serve one standard cocktail for the evening. Guests can personalize their drink with a variety of garnishes you provide. P
Playlist: Moby, "Porcelain"; Disclosure (featuring Sam Smith), "Latch"; The Antlers, "French Exit"; The Temper Trap, "Sweet Disposition"; El Perro del Mar, "Change of Heart"; Mr Little Jeans, "Rescue Song (RAC remix)"; Touch Sensitive, "Pizza Guy."
Welcoming your guests. Getting as much done ahead ahead of time as possible, from setting the table to putting up decorations, will help you be able to relax when the first guest arrives. Becker and Shewring advise doing a quick walk-through of your house to make sure you didn't accidentally leave anything out while decorating. Ten minutes before the first guest is due to arrive, light the candles and cue up the music to set the mood. Set an intention to enjoy yourself. It's easy to let the last-moment rush of getting ready stress you out — but there's no need to go into a hosting tailspin. Follow Becker's wise words and you'll be well on your way to having a smashing success of a party: "Smile and make it your mission to have fun!"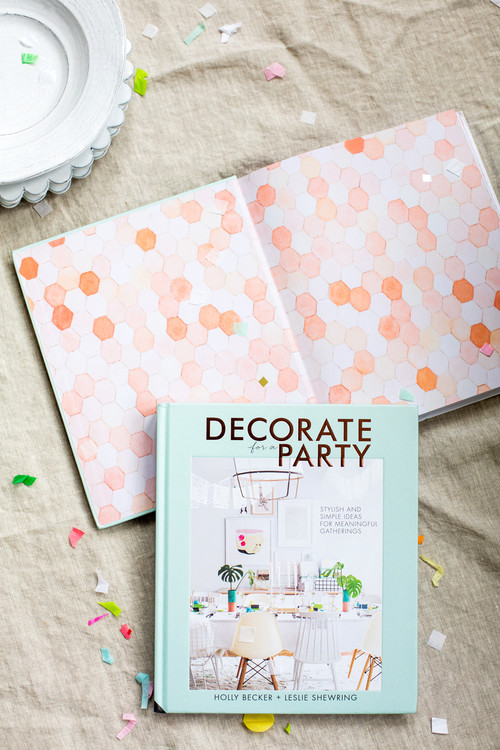 Make time to celebrate throughout the year. From the big holidays and occasions to small moments celebrated with just your nearest and dearest, there are many opportunities for gathering and creating special memories, in every season.