Family fixes design flaws to bring midcentury home into modern era
By Sean Meyers January 20, 2023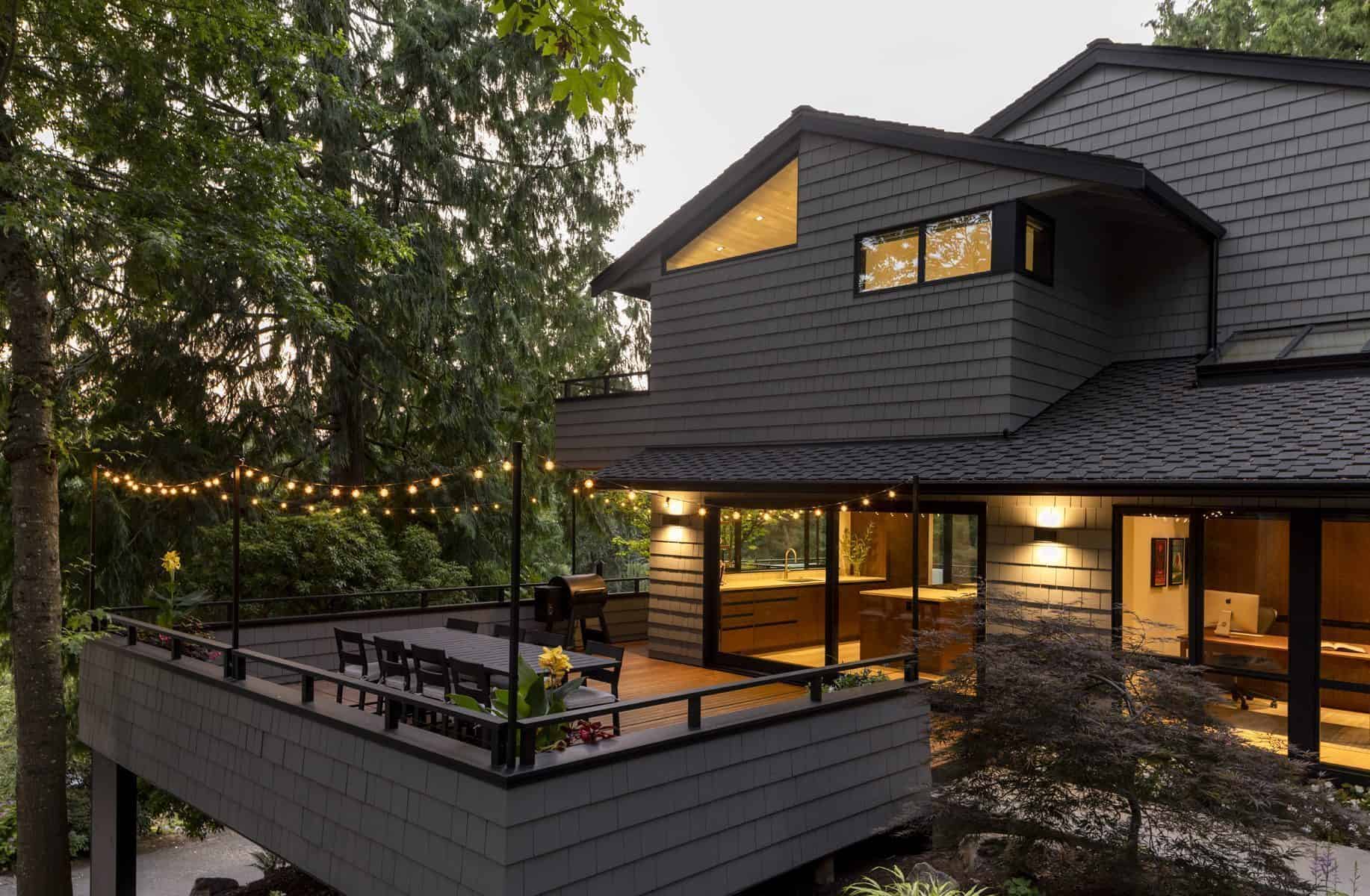 Photography by Rafael Soldi
"Treehouse" by Floisand Studio Architects returns to glory a Ralph D. Anderson home that had lost its compass.
Nick and Rachel Lenington purchased the 1970 Mercer Island home in 2010, attracted to the quiet neighborhood because of its midcentury vibe, big, west-facing windows, and abundant wildlife.
An advertised water view didn't really pan out, but they liked how their new home seemed to float among the cedars, maple and pine. They enjoyed the home for nine years, but also accrued architectural grievances that prompted them to commission a comprehensive remodel.
One complaint was that visitors often overlooked the obscure main entrance and knocked instead at the kitchen door, where there was no room to hang coats.
The confused entrance flipped the lot from the architect's original intent, creating a bizarro world where the deer running through the "front yard" were actually running through the de facto backyard.
More important, the home's choppy interior layout, dominated by walls, halls and doors, didn't fit the family's close-knit lifestyle. A series of underutilized outdoor decks felt oddly disconnected.
The upper floor hosts the master and guest suites, while the kids' bedrooms are in the basement. That leaves the home's ground floor as the hub of activities, but the inefficient layout had effectively backed them into the combination family room-kitchen.
"We loved living here, but we were only using about a third of our house," says Rachel.
Born in 1924, Ralph D. Anderson was known as "the poor man's Roland Terry," a noted architect known for helping to create post-World War II architecture throughout the Northwest. Anderson is credited with helping revive Seattle's Pioneer Square neighborhood. His early residential work included a modern glass box phase, which he abandoned due to high heating costs. His subsequent Northwest design-style phase featured vertical homes with broad windows, exposed framing and a formal T-shaped layout.
Anderson's iconic Mercer Island phase, often executed by contractors Black and Caldwell, was prolific and easily recognized, with stair-stepped tall and narrow windows, vaulted ceilings and walled-off kitchens.
"They would have been the McMansions of the '70s," he says. "We didn't want a bigger house. We had too much house as it was."
The Leningtons' home-flow problem was compounded by a long series of remodeling projects over the decades, says Allison Hogue, co-owner of Floisand Studio, a Seattle firm established in 1999. Floisand worked with the Leningtons through perhaps two dozen sketches before arriving at a winning main floor design that opened the living, dining and kitchen areas, orienting each to an exterior view, garden or deck.
"Heavily edit" is Nick's advice to other design-seeking homeowners. "Too many people try to do too much with architecture. It's not the answer to every problem. Simplicity is key."
Dead areas were eliminated and room created for a new office and foyer. New energy-efficient skylights, windows and doors maximize natural light and emphasize the connection to outdoor greenery. Improved light penetration and human traffic benefited indoor greenery, sparking a revival of the couple's wedding gift coffee tree, which now produces 100 beans annually. The interior palette includes quartzite counters, walnut cabinets, and white oak floors and ceilings.
Hogue believes the hidden entry might have resulted from a contractor using a template Anderson plan. "A limitation of spec homes is that the layout doesn't always jive with the site."
Floisand's redesign of the exterior included eliminating the chimney, regrading a low walkway and adding an angled wall, hardware and steel planters that funnel visitors to the stylish new cantilevered porch roof entry and walnut entrance door (Rogue Valley Doors).
The most satisfying aspect of the project for Hogue was reimagining the master suite, which was awkwardly situated on the low roof corner. The addition of a bath in the 1980s had created an area that was more hall than room. The suite proportions were expanded by realigning to the main roof ridge and vaulting the ceiling. New clerestory windows improved light and privacy, and sliding doors eased flow to the deck.
The new open floor plan fell short in one respect. The sunny and central new home office, completed just prior to the onset of Covid, was conceived as a cubby to hide bills, return a quick email or do homework. In retrospect, an office door would have come in handy.
"Our intention was a home office," Nick says, "not a work-from-home office."
Given the way things have evolved, perhaps the Leningtons were ahead of their time.
Contractor: Granite Mountain Builders
Structural engineer: Giraf Design
Geotechnical engineer: Zipper Geo
Cabinetmaker: Contour Woodworks
Windows/Doors: Quantum Windows & Doors
Landscaper: The Garden Guy & Co.
Seattle's best events delivered to your inbox