Publisher's Note: Can Our Architecture Make Us Better?
Seattle's built environment reveals a lot about the city
By Jonathan Sposato March 4, 2023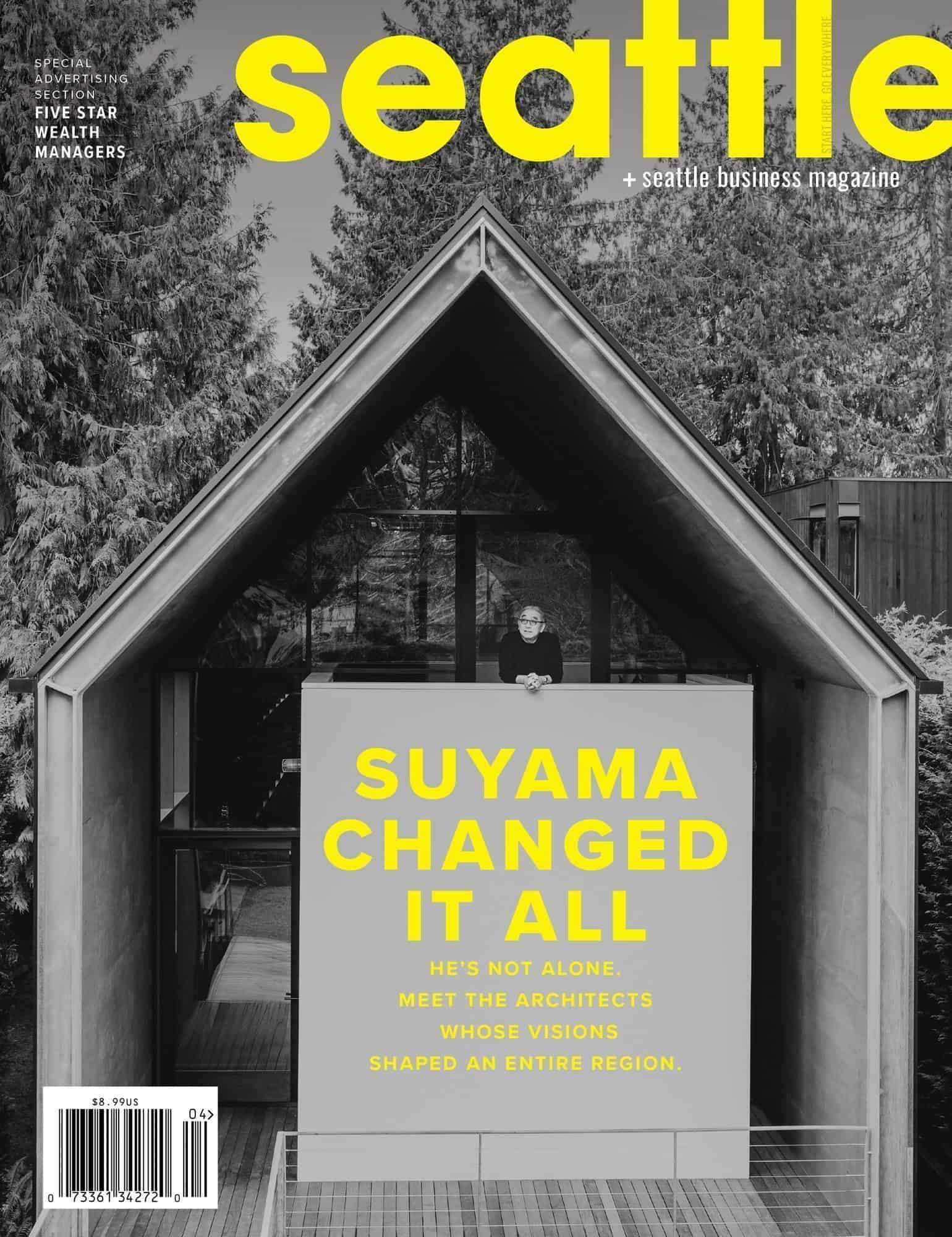 Architect, George Suyama at the Junsei House
Cover photography by Kyle Johnson
With this issue's focus on iconic Seattle architecture, we continue to drive awareness of the fact that Seattle is a world-class city, even if we ourselves may not know it yet. It's been said that architecture stands as a representation of how we see ourselves, of how we see the world.
At its most practical, architecture as a discipline teaches people to design houses, buildings, or parks by reconciling technique, process, materials, and aesthetics. At its most aspirational, architecture narrates the stories of a particular people of a particular place, and strives to advance that narrative far into the future, proclaiming to the world a way to make our environs forever beautiful or useful.
It is even believed that great architecture "hard codes" a certain quality of life, drives economic prosperity, and creates happiness.
If all that is true, what then do we make of Seattle's most iconic buildings? What do these buildings say about us? And to what extent have they fulfilled on creating a better quality of life for us all? And first of all, what are Seattle's most iconic buildings? We're delighted to present the most significant and important architectural works in our region. Most were chosen not because of their obvious impact on our local community or even their beauty, but because of their significant influence on the specific architectural movement of their times. Our previous issue highlighted the most influential people in Seattle. Think of this as Seattle's most influential architectural works.
For example, did you know that several jaw-droppingly beautiful Frank Lloyd Wright houses are in Normandy Park? How about the scattering of stunning Ellsworth Storey homes in the Mount Baker and Capitol Hill neighborhoods? As Rachel Gallaher writes in the wonderful "Pride in Place" piece, cover subject and Seattle native George Suyama has had an outsized influence on much of what we know as modern day Seattle. He has become a national icon celebrated for successfully fusing the aesthetic of the earliest Case Study Houses (experiments in American residential architecture) with influences from his ancestral Japan, and the climate, light, and geology unique to the Pacific Northwest.
And we celebrate the newer generation of Seattle's finest architects as well. Contemporaries such as Susan Jones, L. Jane Hastings, Jim Graham, and Eric Cobb bring new ideas that embrace the social and cultural contexts surrounding each project.
As housing affordability continues to impact demographic distribution and heighten economic divides, this generation may unlock some out-of-the-box answers.
And, of course, we make space for the counterpoint here as well. Cultural pundit John Jacobsen pens a biting critique of Seattle's architectural failures, stating that at times "it feels like we're living and working in the Fast Food Buildings of the computer game SimCity." Perhaps that's a fair point. But one thing we are in absolute agreement about is that creating beautiful cities takes partnerships. It takes thoughtful debate between investors, developers, architects, review boards, and most important, the people who are going to be living and working in those spaces.
As Jacobsen eloquently argues, when function and cost alone become the driving forces to what we build, then we might as well live in a SimCity. And we both agree we can always do much better. It takes just as much effort to build something ugly as something gorgeous. So, read on, enjoy the tactile effect of the great photography and words on these pages, and join our debate.
Jonathan Sposato
Owner, publisher
Seattle magazine/Seattle Business magazine
@jonathansposato
Sign up and get Seattle's best events delivered to your inbox every week.