How-To Guru: Macy's Executive Chef Toni Keene
A local chef has been demonstrating the art of demonstration for 24 years
By Seattle Mag May 13, 2013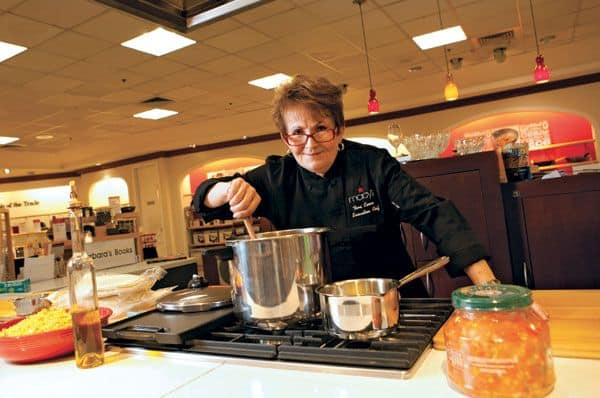 For Toni Keene, every Thursday is pressure cooker day. But that doesn't stress out the Macy's executive chef, who says her job is more play than work. The spritely 68-year-old has been recommending cookware and demonstrating new kitchen products on the sixth floor of the downtown store (and its predecessor, The Bon Marché) for 24 years, and doesn't plan on leaving anytime soon. Having learned to cook from her two grandmothers, Keene delights in making up recipes—in fact, she prefers inventing her own concoctions to using cookbook recipes, noting that whenever she's tried the latter, "They're always leaving something out or not using the correct amount of something." Before landing at Macy's, Keene did cooking demos for Larry's Market, where her infectious spirit led Larry himself to tell her, "You could sell ice cubes to Eskimos." She tailors her demos to seasons and holidays (customers swear she works miracles with Frango chocolates around Christmas), and this month she plans to demo easy recipes for kids and spouses to cook for moms on Mother's Day. If you find yourself moved to purchase a pressure cooker, buying one from Keene earns you a free one-on-one cooking class with her, which takes place behind the counter, or as she says, "In front of God and everyone."
Need to Know:
1. Toni Keene leads demos (and serves as "chief cook and bottle washer" in the Macy's home department Wednesday-Saturday, 8 a.m.-3 p.m.
2. Last December, Keene achieved an impressive stat: making 1,300 cookies in one day, for the Macy's Holiday Cookiefest.
3. Every Friday is "Frango Friday," when Keene reveals new recipes that use Macy's signature chocolate.