King County's Trailhead Direct Is Back
After a successful season in 2018, the bus service returns with access to more trails
By Chris Robinson & Daria Kroupoderova April 25, 2019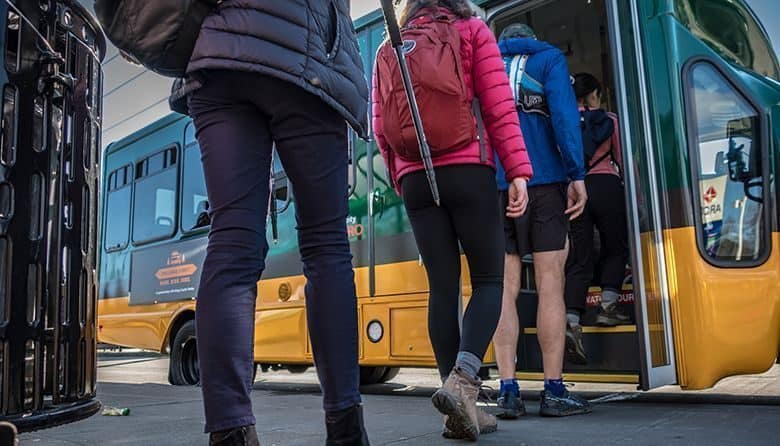 Attention, Seattle-area hikers: Trailhead Direct, a King County public shuttle service that takes nature lovers to some of the most popular Western Washington trails, is back just in time for peak hiking season. The program, a partnership between King County Metro and King County Parks, launched in spring 2018 and quickly gained popularity, servicing more than 10,000 hikers between April and October.
In its second season, which started April 20, the service is expanding its offerings to include an additional pickup point at the Link light rail Tukwila International Boulevard station to the popular Cougar Mountain Sky Country trailhead, along with a new destination added to the Mount Si route. Same as last year, hikers can catch the shuttle near three other Sound Transit Light rail stations: University Street (downtown), Mount Baker and Capitol Hill, and at the Issaquah Transit Center. All four routes operate on weekends and holidays recognized by King County Metro until the end of October, leaving every 30 minutes from 7:30 a.m. until early afternoon (see Trailhead Direct website for specific times). The shuttles are equipped with bike racks. Well-behaved dogs are welcome, though owners may have to pay an additional ticket fare depending on the size of the dog. The cost is $2.75 per rider, the same price as Metro's inner-city fare, and can be paid by ORCA card, Transit Go mobile ticket or cash with exact change.
The new service has been enthusiastically embraced. In a survey conducted by the King County Metro, 90 percent of participants thought the new service was a success, citing that Trailhead Direct was more environmentally friendly than driving and allowed hikers without cars to easily access hikes.