Kirkland-based Company Helps You Glamp in Style
Camp off the beaten path in comfort
By Roddy Scheer September 23, 2019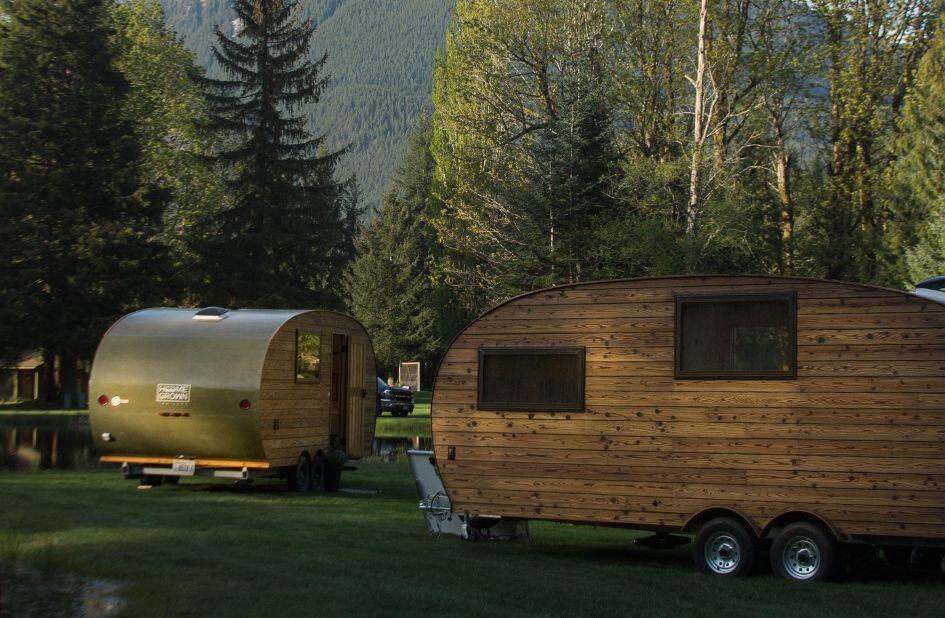 This article appears in print in the October 2019 issue. Click here to subscribe.
If you love spending the night in a wild and beautiful natural environment, but hate the idea of roughing it in a tent, start-up Roam Beyond's "glamping" concept just might be for you. The Kirkland-based travel business sets up specially chosen natural sites with tricked-out, solar-powered Homegrown Trailers featuring all the trimmings of civilized life. The company establishes relationships with public and private landowners in places with great access to nature and then moves off-grid Homegrown camping trailers to the site. Guests enjoy the comforts of a trailer with the great outdoors literally at their doorstep. Each Roam Beyond site also has a communal outdoor kitchen and fire pit as well as hammocks and other outdoor furniture to facilitate lounging and camaraderie amongst the guests.
Roam Beyond's first two locations—bookable on Airbnb and Glamping Hub for $229 per night—are within an easy drive of Seattle. At Roam Beyond's spot on the Olympic Peninsula coast at Kalaloch, nature lovers can spend the night cocooned inside a woody trailer—complete with a queen bed (and one or two optional bunks or dinette), composting toilet, hot water shower and induction cooktop, along with linens and towels—listening to birdsong and the mighty Pacific beating down the coast wave by wave outside.
Roam Beyond's other location is just a half-hour drive east of Seattle on Interstate 90 in North Bend, on the site of a public park (formerly the Cascade Golf Course). There, three Homegrown Trailers have been placed along the scenic shore of a small pond on what used to be a golf fairway, with tall pines still surrounding it. Although within earshot of the interstate, it's a peaceful site on a heavily manicured, though naturalistic, landscape.
Corey Weathers, CEO of Kirkland-based Homegrown Trailers, and the Transformational Travel Council's Jake Haupert cooked up the idea for Roam Beyond earlier this year with a goal of making wild places more accessible to people who want more out of travel than selfies and commemorative trinkets. The nimble nature of Roam Beyond's concept makes it unique, notes Weathers. "Our sites are mobile and can be uniquely positioned to give guests a front-row seat to the most awe-inspiring landscapes and wildlife viewings in the perfect season."
To that end, Roam Beyond has big plans to expand beyond its two initial sites. This month, the company will move the trailers from their current locations to other spots for the winter, in and near different iconic locales around the West. Yellowstone, Joshua Tree, Sedona, Moab, Zion or Grand Canyon, anyone?