A Light and Bright Remodel in Madrona
Father-daughter architects give a 1904 Madrona house a bigger, brighter style
By Shannon O'Leary October 15, 2014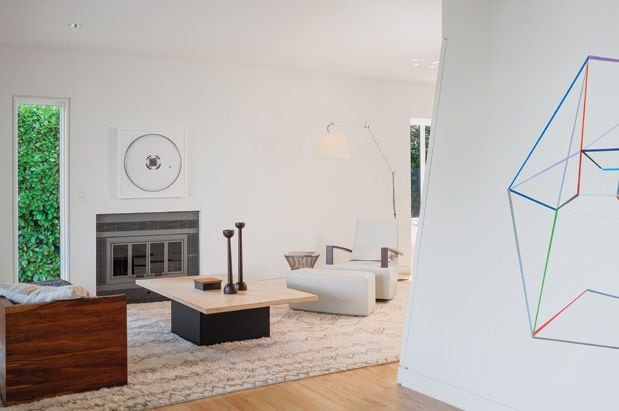 It's hard to imagine a truer window into an architect's mind than wandering the rooms of his own home.
That's exactly the scenario Crystal Bernstein lucked into while visiting a friend who was house-sitting for Rick Sundberg, FAIA, of Seattle's SKL Architects. "I remember really liking it," Bernstein says, "and thinking everything was very elegant, simple, user-friendly and very comfortable, and that it seemed to have a place for everything."
So when Bernstein, a busy gastroenterologist, bought a small, 1,400-square-foot must-remodel 1904 house on a hill in Madrona, her most nerve-racking decision already was made. The good doctor knew whom she wanted to call for her remodel. Not only did she acquire the services of Sundberg, founder of the iconic Northwest design firm of Olson Sundberg Kundig Allen, but also his daughter Mika Sundberg, a recent architecture grad, and her husband, Don Goble, a furniture designer and fabricator whose work makes several appearances in the house.

The staircase's inventive design channels natural light into the house from skylights above and a new, narrow bump-out view window below. Light play is further enhanced by the insertion of an open envelope alongside the staircase's slim wall

Bernstein was similarly decisive about her priorities for the remodel. Aside from wanting to preserve the home's heritage on the outside (a 1980s remodel had stripped the inside of its authentic elements), Bernstein's only other priorities concerned height and light. "I'm very tall, and I wanted to have a feeling of vertical spaciousness," explains the 6-foot-1-inch Bernstein. "Also, I am not from Seattle. I grew up in Arizona and North Carolina, so I was emphatic about needing a lot of [natural] light and very light surfaces."
While the house came with fairly high ceilings, it suffered from a slew of structural flaws from its earlier remodel. "We didn't know how bad it was until we got into the walls," Mika Sundberg says. The house's framework was severely compromised, and a corner beam had been removed in order to insert a bay window. "It was basically held together by nails," marvels Rick, "and it had pulled the whole wall nearly 2 inches out of plumb."

The bright and white master bathroom boasts an elegant Rick Sundberg–designed floating vanity, featuring a large, space-enhancing mirror with a thin silhouette. Below: The massively deep tub comes with lake views and a handy slide-out step stool
The Sundbergs resolved the structural issues, but otherwise stuck to their plan, focusing on bringing daylight and a greater sense of space to the home's 1,400 square feet of living space (there is also a 500-square-foot unfinished basement). They removed the walls enclosing the kitchen and the dining area (adding exposed steel beams to do the load-bearing work), enlarged the living room window and added a wide, glass front door.
Throughout the house, streamlined surfaces (custom floor-to-ceiling cabinetry in the kitchen), tucked-away storage (an invisible coat closet in the living room and roll-out chest in the master bedroom) and thin profiles (staircase walls)—conspire to create that sense of vertical spaciousness Bernstein desired. The master bedroom, which dominates the upstairs (there are also two additional bedrooms and a bath), is the ultimate expression of that mission. Walls were removed, ceilings raised, and skylights installed to create a connected master bedroom and bath that is one open, bright, high-rise space. By owner request, the tub (21 inches deep with a built-in step) and bed share the same stunning Lake Washington views. "I love being able to sit in bed, or in the bath, and look out the window and watch the boats," Bernstein says. "I can spend hours there."

The home's pale palette extends to the newly open kitchen, where a lightly veined marble plays over the countertops and a large backsplash wall, which also provides privacy from the neighboring house. A view window slotted above the sink and narrow horizontal windows above the backsplash wall bring more natural light into this formerly windowless side of the kitchen. Taller-than-average work surfaces, measuring 38 inches high, were a must-have for the 6-foot-1-inch homeowner
The Sundbergs also turned the awkward existing stairwell into a light- and space-grabbing opportunity. A new 10-foot bump-out window (replicating one in Rick's home and replacing the bay window) now gives staircase climbers peek-a-boo water views and more maneuvering room. "We wanted to get a little more space there," Rick explains, "so you didn't feel like you're running into a wall when coming down the stairs." The stairwell is also a conduit for natural light, something that Rick says his client requested.
"She didn't want to use a lot of recessed [artificial] lights." So Rick designed an inventive open envelope adjacent to the stairwell to channel daylight downstairs from the new second-floor skylight. He then upped the home's light-show quotient by sloping the wall next to the stairwell.


The dining room set was co-designed by architect Rick Sundberg and Don Goble, who also handled the fabrication. The birch table, which comes with a built-in lazy Susan, features a massive base—a metal column left over from another Sundberg project
"Given our climate, I've spent most of my career thinking about light, and how to get light from as many different directions into a room as you can," Rick says. "Because if you can get light in from at least two directions, which is not always easy to do, it balances the room out." He adds with evident pleasure, "In the case of this house, it lives largely on daylight."
"I didn't believe that there would be as much light as there is," says the hyperbole-averse physician, "It's just a very pleasant, easy place to live."
This project was selected by a panel of architects for the AIA Seattle Home of Distinction program (aiaseattle.org) as an example of how to seamlessly blend traditional and modern styles and create a home that feels spacious despite its small square footage.

The 1904 home's Old World exterior was preserved, while its street presence and functionality were dramatically improved by the addition of a driveway, allowing for multi-car off-street parking and easy pedestrian access to the house. A path was inserted between rock walls (added as a precaution against soil slides) so the bike-commuting homeowner can pedal right up to her basement entrance



Natural views are the star of the second-floor master bedroom. It also houses a number of architect Rick Sundberg's clever built-in elements, from a hideaway roll-out storage chest (not seen) to an ample wedge of display shelving, carved from the space left over after fashioning the stairwell's open "envelope" element

The exterior deck


Resources
Architects: Rick Sundberg, FAIA, lead designer, and Mika Sundberg, SKL Architects (Capitol Hill, Piston and Ring Building, 1429 12th Ave., Suite D; 206.322.1130; sklarchitects.com).
General contractor: Thom Schultz and Peter Lansdowne (superintendent), Mercer Builders (Mercer Island, 3860 76th Ave. SE; 206.275.1234; mercerbuilders.com).
Structural engineer: Liz Fekete, Frank Company (frankcompany.com).
Landscape architect: Michelle Arab, Michelle Arab Studio (Ballard, 6614 28th Ave. NW; 206.769.4500; michellearab.com). Landscaping (planters, ongoing projects): Ptarmigan Teal, Teal Designs (206.324.3211; ptarmigantealdesigns.com).
Kitchen countertops/backsplash: Carrara marble, Oregon Tile & Marble (Georgetown, 5930 Sixth Ave. S; oregontileandmarble.com).
Cabinet fabrication (kitchen, bath, roll-out chest): Superior Manufacturing (Kent, 341 Railroad Ave. S; 253.859.0060).
Floor lamp (living room): Artemide "Tolomeo Mega," Hive (Portland, 820 NW Glisan St.; 503.242.1967; hivemodern.com).
Master bath pendants: Handblown clear glass "Mary" pendant (resoluteonline.com).
Custom furniture design/build (dining table/chairs, porch swing): Don Goble, Weld and Glue (206.963.0560; weldandglue.com). Interior design consultant: Jennifer Beedon Snow, represented by Linda Hodges Gallery (Pioneer Square, 316 First Ave. S; 206.624.3034; lindahodgesgallery.com).
Line painting (entry, on the angled closet wall): Victoria Haven, represented by Greg Kucera Gallery (Pioneer Square, 212 Third Ave. S; 206.624.0770; gregkucera.com)
Sign up and get Seattle's best events delivered to your inbox every week.