People in Beer: The Women-Helmed Brew Crew
Four local women prove that beer is a man's world no more
By Kendall Jones October 8, 2013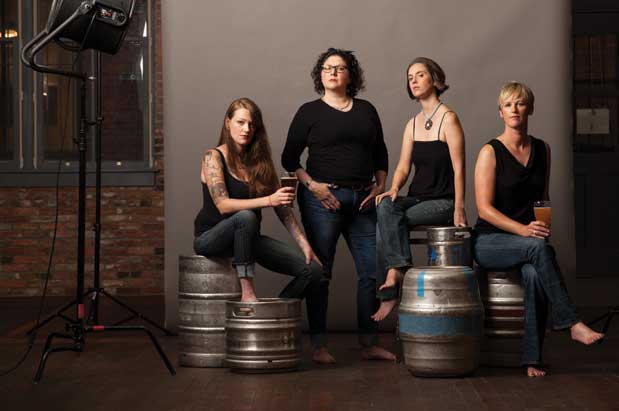 Archaeologists argue about how many thousands of years ago our distant ancestors started brewing beer, but no one questions that women did the work. The dominance of clean-cut men in lab coats and artisans with belly-length beards is a relatively modern phenomenon.
Around Seattle, plenty of women are carrying on the ancient legacy. Heather McClung, co-owner of Schooner Exact Brewing in Seattle, left a career as an elementary schoolteacher to open a brewery with her husband, Matt. Not only is their 5-year-old brewery one of the fastest growing and most ballyhooed in Washington, McClung serves as the president of the Washington Brewers' Guild—the trade organization representing the brewing industry in matters of public policy.
Sara Luchi worked in the restaurant at Silver City Brewery's brewpub in Silverdale, but she just couldn't keep her nose out of the brewery, asking questions and showing interest in the brewing process. When she got her chance to work in the brewery in 2009, she worked hard, learned quickly and was soon brewing beer. Last year, Luchi accepted a position as head brewer at Rock Bottom Brewery in Bellevue.
In 2012, former high school biology teacher Robyn Schumacher became the first woman in Washington to earn her certification as a cicerone, beer's equivalent of a sommelier. Becoming a certified cicerone is no easy task, and only a handful of people in Washington have even attempted it. She wasn't exactly sure what she would do with the credential, but she knew she loved beer and wanted to carve out a career for herself in the craft beer business. For a time, Schumacher worked at the various Marination locations, including most recently at Ma Kai in West Seattle, managing the bar. Today, she stands with two partners on the brink of opening their own brewery, Stoup Brewing in Ballard, where she will be assistant brewer.
Erika Tedin, owner of Full Throttle Bottles in Seattle's Georgetown neighborhood, learned to love beer while studying abroad in England as a college student, and her love of the suds continued to grow when she moved to Seattle in 1991 and discovered an emerging craft beer scene. In 2008, she opened one of the city's first beer-focused retail shops and is now firmly ensconced in the local beer community.
"The craft beer business is a place where our creativity is not constrained, and where those of us with strong and intense personalities are respected," Tedin says. "Men in the industry are not threatened; more so, they respect us and treat us as equals. They know we bring different things to the table. And that's a good thing."
Sign up and get Seattle's best events delivered to your inbox every week.