Remembering the Victims of the Green River Killer
Is Seattle ready for a memorial to the Green River murder victims—the majority of them prostitutes?
By Michelle Goodman March 17, 2013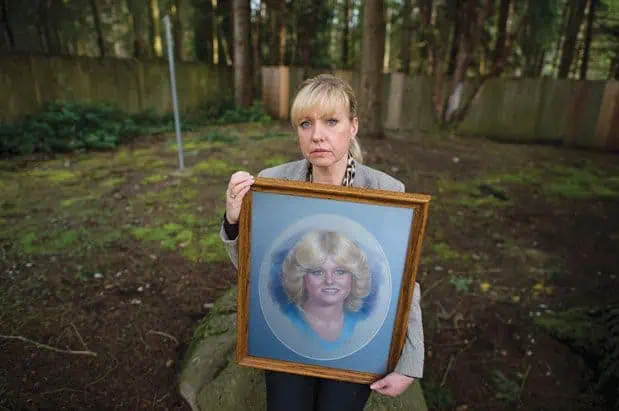 The Seattle area is filled with difficult landmarks for Jenny Graham, who now lives in Spokane with her husband and two children. "I'll drive by the corner where Gary Ridgway picked my sister up," Graham says of her frequent trips to the Seattle area. "I'll drive by where they found my sister's body. These are memories that never, never go away." Graham's sister, Debbie Estes, was 15 when Ridgway killed her. Debbie had been missing for six years when authorities found her remains in 1988. At first, Graham felt too ashamed to talk about her sister's mur- der. Many of the Green River victims had been prostitutes or runaways. Some had been abused. Debbie had been all three. "The girls were being blamed for their deaths," Graham says, recalling the public sentiment toward Ridgway's victims as police recovered body after body.
Seattleite Noel Gomez knows how it feels to be regarded as one of society's throwaways. A teen mother whose parents kicked her out of the house, she soon wound up under the thumb of an abusive pimp, turning tricks from Seattle's Highway 99. "I pretty much envisioned myself being thrown in a ditch somewhere and being Jane Doe," Gomez says. Now out of "the life" for seven years, she wants to ensure that the Green River victims are recognized as whole human beings, not just as the head shots—or in some cases, mug shots— portrayed by the media for two decades. "They were sisters, daughters, nieces, aunts, friends and mothers," she says.
Gomez's goal: to create a permanent memorial in the Seattle area to the victims of the Green River killer. In addition to establishing a public space for remembering and mourning Ridgway's victims, she hopes to change the public perception that prostitution is a way of life women and girls happily embrace and that prostitutes invite the violence committed against them.
'EACH FAMILY WILL REACT IN DIFFERENT WAYS. FOR SOME, IT'S GOING TO BE WAY TOO PAINFUL.'
Gomez is no stranger to social advocacy. She's worked with troubled youth at several Seattle children's agencies. She also leads a City of Seattle class for prostitutes who've been arrested; it's part of a diversion program that also includes community service. And last year, she cofounded the Organization for Prostitution Survivors (OPS), a volunteer-run nonprofit that offers support groups for current and former prostitutes, as well as community education programs. The Green River Victims Memorial is OPS's pet project. Gomez and OPS cofounder Peter Qualliotine believe it will be the first U.S. memorial to women and children killed while in the life of prostitution.
This wouldn't be Seattle's first memorial to people who've fallen through society's cracks. Last fall, a memorial honoring homeless people who have died in King County was unveiled downtown in Victor Steinbrueck Park—after nine years in the making and some stiff resistance to the high-profile location.
On the crowd-funding site Indiegogo, a virtual fundraiser for the Green River Victims Memorial outlines OPS's long- range plans for the project. During phase one, which spans from January 2013 to the end of the year, OPS will hold weekly art workshops for prostitution survivors. OPS will display these collected works in a series of public exhibitions and during presentations at churches and schools, to community and social groups, and "basi- cally any place that will have us come in and do a presentation," says Qualliotine, who has led community outreach pro- grams in Seattle and Portland to dispel myths about prostitution and domestic violence for the past two decades. The memorial's design and construction— phase two of the project—won't begin until 2014.
As of early February, OPS had raised less than $11,000 of its $225,000 goal on Indiegogo, with a March deadline. Gomez says she's confident that OPS will raise the remaining cash needed to complete
the memorial through grants and other fundraisers. But money may be the least of the project's concerns. Undertaking a public memorial tied to such a horrible blight on the region's history opens up myriad questions. U.S. Congressman Dave Reichert, who worked the Green River case for two decades and was King County sheriff when Ridgway was arrested in 2001, finds himself asking many of them. He's supportive of the idea of a memorial, but cautiously so. "The struggle is, how do you do it?" he says. "And would the families embrace this?"
Reichert worries that some of the victims' relatives won't want those psychic wounds reopened. He remembers meeting with the families in 2003 to tell them about the plea deal that would spare Ridgway's life in exchange for the killer providing details on the locations of dozens of missing women believed to be his victims. "Every family reacted differently," Reichert says. "I know this is a different message—saying that we want to memorialize your loved ones. But each family will react in different ways. For some, it's going to be way too painful to even think about having any sort of public memorial." He also wonders whether some relatives will see this memorial as enshrining Ridgway, or whether they'll worry it will brand the daughter or sister they lost as a prostitute.
Then there's the matter of location. "The victims were found all over, spread out from Oregon to north King County," Reichert says. "Where does the memorial get placed? Do you have more than one? If you put it by the Green River, it does put Ridgway at the center. It also focuses only on the first few victims that were found near the river."
"A lot of people want us to tell them what it's going to look like and where it's going to be," OPS's Qualliotine says. But before he and Gomez pursue a design or location or begin hashing out details with community leaders, they want to build support at a more grassroots level. For them, this means beginning with the voices and artwork of local prostitution survivors and the input of the families of the Green River victims.
OPS is smart to approach this memorial slowly, in stages, says James Young, director of the Institute for Holocaust, Genocide, and Memory Studies at the University of Massachusetts, Amherst, who has counseled numerous cities and countries on their memorials and has juried designs for Manhattan's 9/11 Memorial and Berlin's Holocaust memorial. He believes that brainstorming answers to—and even debating—the outstanding questions as a complete community is a healthy part of the remembrance process. And he suspects the process will prompt people who've never met any of the Green River victims to contemplate what it means to be vulnerable as a sex worker, the role that johns play in their victimization and even prostitution policies. "That's a lot to ask of a memorial," says Young, who has been a visiting professor at the University of Washington in the past. But he adds, "In this case, it's easy to see all the things this memorial might do."
King County Sheriff John Urquhart is optimistic this memorial might help to reshape public opinion about the sex trade. "I think society, and certainly police departments, have gotten away from thinking that prostitution is a victimless crime," he says. "I don't think it is. And the more we can reinforce that attitude with the general public, the better off we're all going to be."
Graham, no longer silent about the circumstances leading to her sister's death, agrees. She hopes that besides raising awareness of the prevalence of sex trafficking in greater Seattle, somewhere down the line, this memorial might prompt a stranger to step in when they see a young person in trouble. "Prostitution wasn't a choice; it was survival for Debbie," Graham says of her sister. "For me, they're intertwined—the Green River murder and the reason she was out there. Now I have a sense of relief that people care." 
Sign up and get Seattle's best events delivered to your inbox every week.