Restaurant Review: Pizzeria 22
Hidden Italian gem Pizzeria 22 cooks up Neapolitan pies in West Seattle
By Seattle Mag May 24, 2013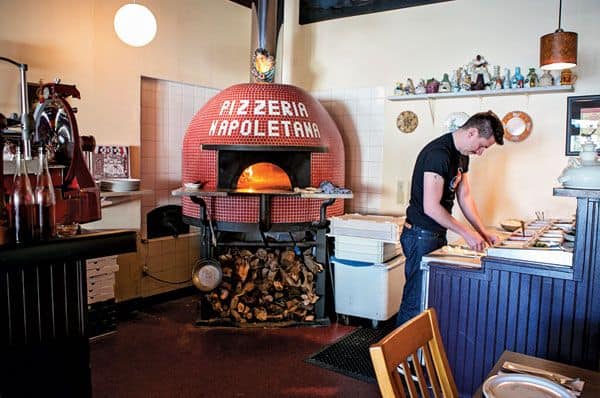 Cary Kemp learned to make pizza on Via Tribunali in Naples before launching the local Via Tribunali pizza chain in 2004. So, the guy knows his pizza.
His Admiral District sliver of a pizzeria, which he opened in June 2011 and named after a hole-in-the-wall Naples pizza joint called Ventidue, is warm and neighborly with plenty of adults on dinner dates. Here, the specials—wood-oven-roasted clams in a spoon-worthy tomato broth, served with small, oven-blistered, Parmesan dusted flatbread for dipping ($11)—are legendary, as are the sturdy, chewy-crusted pies topped with luxurious lobes of buffalo milk mozzarella (added to the pizzas halfway through so as not to make the crust soggy—smart!) and fresh basil ($11), or Cascioppo Brothers sweet Italian sausage and roasted mushrooms ($13), or some seriously good prosciutto, which is sliced to order and partnered with a sweet and earthy tomato sauce and fresh mozzarella ($16). Kemp and his small staff work the room like pros, not missing a beat.
The Italian-centric wine list is fairly priced; glasses range from $5 to $9. For dessert, sure, you could opt for gelato. But why would you when there are wood-fired s'mores ($5–$6) to be devoured, toasty marshmallows and all?
Dinner nightly. West Seattle, 4213 SW College St.; 206.687.7701; pizzeria22.com