Rhody Fever at the Arboretum
The Washington Park Arboretum beckons with big blooms
By Seattle Mag March 31, 2015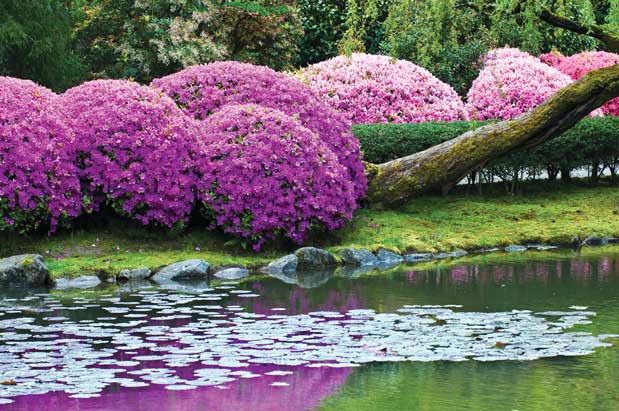 It's one of Seattle's most sparkling gems—which many of us forget about unless we're looking for cool places to take out-of-towners. But the Washington Park Arboretum offers an oasis of calm amid our high-tech, crane-laden, traffic-choked city, and this time of year serves as a spectacular display of blooming rhododendrons, azaleas and other spring stunners.
For a walk among the wilder varieties, hit the rhododendron garden and Azalea Way in the free expanse of the meandering Arboretum. If you prefer your specimens trimmed and tamed, head across Lake Washington Boulevard to the Seattle Japanese Garden (admission, $4–$6, free for kids 5 and younger), where the ponds, paths and traditional statuary add to the Zen appeal.
While the urge to pick a pretty flower will be mighty, channel that impulse into the Early Bloomers event, the Arboretum's first public plant sale of the year (4/11 at the Graham Visitors Center). There you'll find all manner of springy flora, including trilliums, primroses, rhododendrons, hydrangeas and camellias, all propagated from the Arboretum's own collection and waiting for a good home.