12 Home Hot Spots for Holiday Decorating
By Charmean Neithart, Houzz Contributor December 8, 2016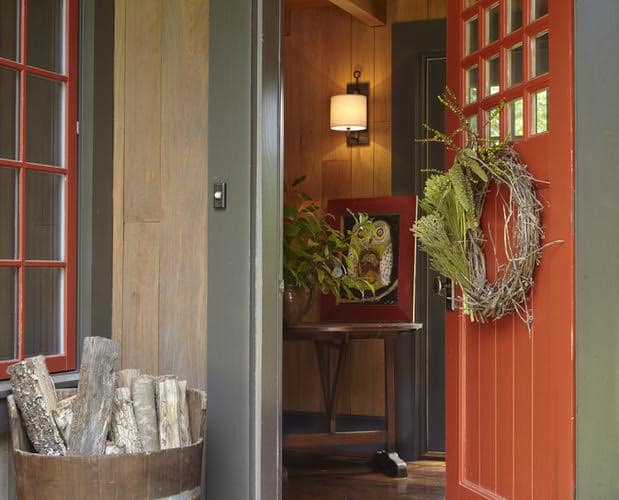 This article originally appeared on Houzz.com.
Time to dust off those boxes in the garage and clean the spiderwebs from the garland stored in the basement. The holidays are upon us. My two youngest boys have holiday radar. As soon as October 1 hits and the air chills at night, they know it's time for fall decorating. Of course, fall and winter decorating doesn't have to be limited to Halloween, Thanksgiving, Hanukkah and Christmas. Celebrating the seasons in general, with their change of weather and colors, is a great family activity, too.
Decorations don't have to be elaborate. Simple touches include foliage, a seasonal tablecloth and twinkling lights. To get you all in the spirit, here are some areas around the house that can easily be decorated with garland, wreaths, fall fruit and lights.
1. Front door. A beautiful wreath welcomes the holiday season. Beginning in September wreaths can include anything from fall leaves to twigs and ribbon
2. Mailbox. Bright ribbons, twinkling lights and garland all create a warm welcome for visitors and your mail carrier. Every year for Halloween, we place a fake crow on top of our mailbox. After a number of years, we realized the crow keeps the squirrels away.
3. Lamppost. Greet guests and family in front of the house with some seasonal flair on the exterior lighting. This also works for porch lights and for chandeliers over tables. Fresh foliage looks warm and inviting in the low light.
4. Front porch. Whether you have a small or large porch, make way for the pumpkins, bundles of hay or garland with twinkling lights. If you love to decorate with messy foliage that may dry out, the front porch is a good spot, because it's easy to clean when January comes around.
Related: 25 Holiday Decor Ideas You Can Make Yourself
5. Entry table. If you have an entry table, this is a great place to display holiday photos of family and friends. Additionally, an entry table serves as a convenient platform for greeting cards. I love this idea of hanging a wreath from the mirror too — showing great views from front and back.
6. Stair rail. What says "holidays" more than a seasonal garland on a stair rail? Often a stair rail can be seen from the front door, so garland here adds to the warm feeling of coming home for the holidays. I love the orange and yellow in the garland here; it works for all the holidays that wind down the year.
7. Mantel. Perhaps the most traditional space to decorate, the mantel is the heart of a home. It's a prime location for twinkling lights, spooky ghosts or fresh greens. I also love to include family photos from previous holiday celebrations on it.
Related: Decorate A New Mantel
8. Dining table. Get out those candles you got as a hostess gift all those years ago. Pair them with a beautiful runner and seasonal foliage.
9. Back of a chair. Make your meal table inviting and warm with a special touch for family or guests on their chair backs. For a twist, place their names on the chairs instead of on plates.