AIA Home of Distinction: Central District Triplex Provides a Blank Canvas for Bold Design Strokes Inside and Out
'We wanted to create a model for urban living, where we have potentially six homes: three townhomes and then the three Airbnb or mother-in-law units'
By Jennifer Pinto November 5, 2019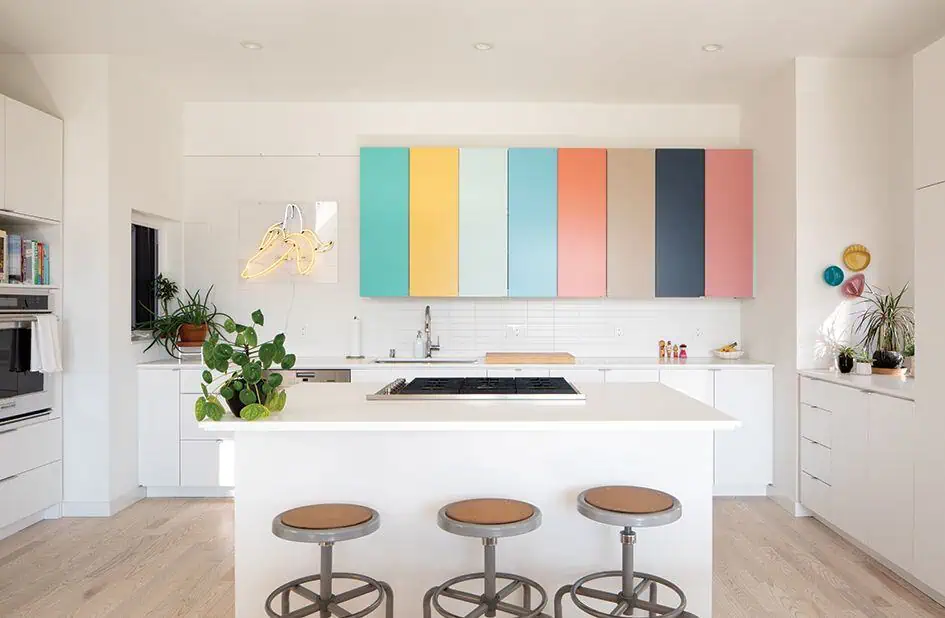 This article appears in print in the November 2019 issue. Click here to subscribe.
Living in the city has its perks, but in 2017, Aleksey Fedorov and his partner, Nikolay Saprykin, needed more space—like yesterday. The couple owned a tiny studio in the heart of Capitol Hill and were looking for something larger, "so we wouldn't end up killing each other," Fedorov says. But as they searched the local real estate listings, Fedorov, a brand strategy lead at Microsoft, and Saprykin, an artist, couldn't find a home to fit their budget. Then, one day, they passed by a boxy trio of three-story townhouses still under construction on a quiet street in the Central District. The building was like nothing they'd seen before: Vertical black metal cladding seemed to lift the structure into the air, while cutouts toward the back made space for an old cherry tree. The couple found themselves smitten with its striking design. It also helped that each unit was advertised as having its own accessory dwelling unit (ADU), located on the ground level, which the couple could potentially rent out for an extra source of income.
Lazen and Gregga have an impressive art collection, which stands out against the home's neutral palette
The triplex Fedorov and Saprykin fell for is the brainchild of Kailin Gregga, a partner at Best Practice Architecture; her partner, architect Steven Lazen of NBBJ (acting as a sole practitioner on this project); and Rob Humble of Hybrid Architecture. Lazen, a lifelong city dweller, and Gregga watched countless townhomes go up around the neighborhoods where they lived and worked, and they were not impressed. "From an urban densification perspective, these developments are the right thing to do, but a lot of the townhomes that are being built seem to be making too many moves," Lazen says. "They're relatively small in scale, but they use a bunch of different colors and four or five exterior materials."
Lazen, Gregga and Humble came together to conceptualize their dream triplex. The idea: to design a small, multifamily complex in which Lazen and Gregga occupy and exercise creative control over one of the units. And in 2016, they found the perfect 30-foot-by-120-foot hillside lot in Seattle's Central District for three attached, three-story townhomes. The ground floor of each unit features an ADU space, which the owners can use as a home office or a rental property, with its own entrance off the shared walkway.
When placing windows, the architects thought strategically about how they could best get a cross breeze, take advantage of the views and light, and stay within budget
"We wanted to create a model for urban living, where we have potentially six homes: three townhomes and then the three Airbnb or mother-in-law units," Lazen says. "It was an interesting idea on flexibility and trying to make things a bit more affordable in an area that is becoming increasingly unaffordable."
To counteract what they perceived as the fussiness of other area buildings, Gregga, Lazen and Humble opted for a "dumb black box" covered in vertical corrugated metal siding and with playful details, such as asymmetrically sized and placed windows, and pops of bright pink paint on the rooftop railing and around the large picture window on the southwest corner of the front, street-facing townhome, which belongs to Gregga and Lazen.
The nickname Big Mouth House came from the comical facial features of the street-facing facade