The Best Seattle Suburbs for a Quick Commute
Transit ridership is growing faster in the Puget Sound region than anywhere else in the country. Here are the suburbs where commutes are quick and easy
By Niki Stojnic March 6, 2018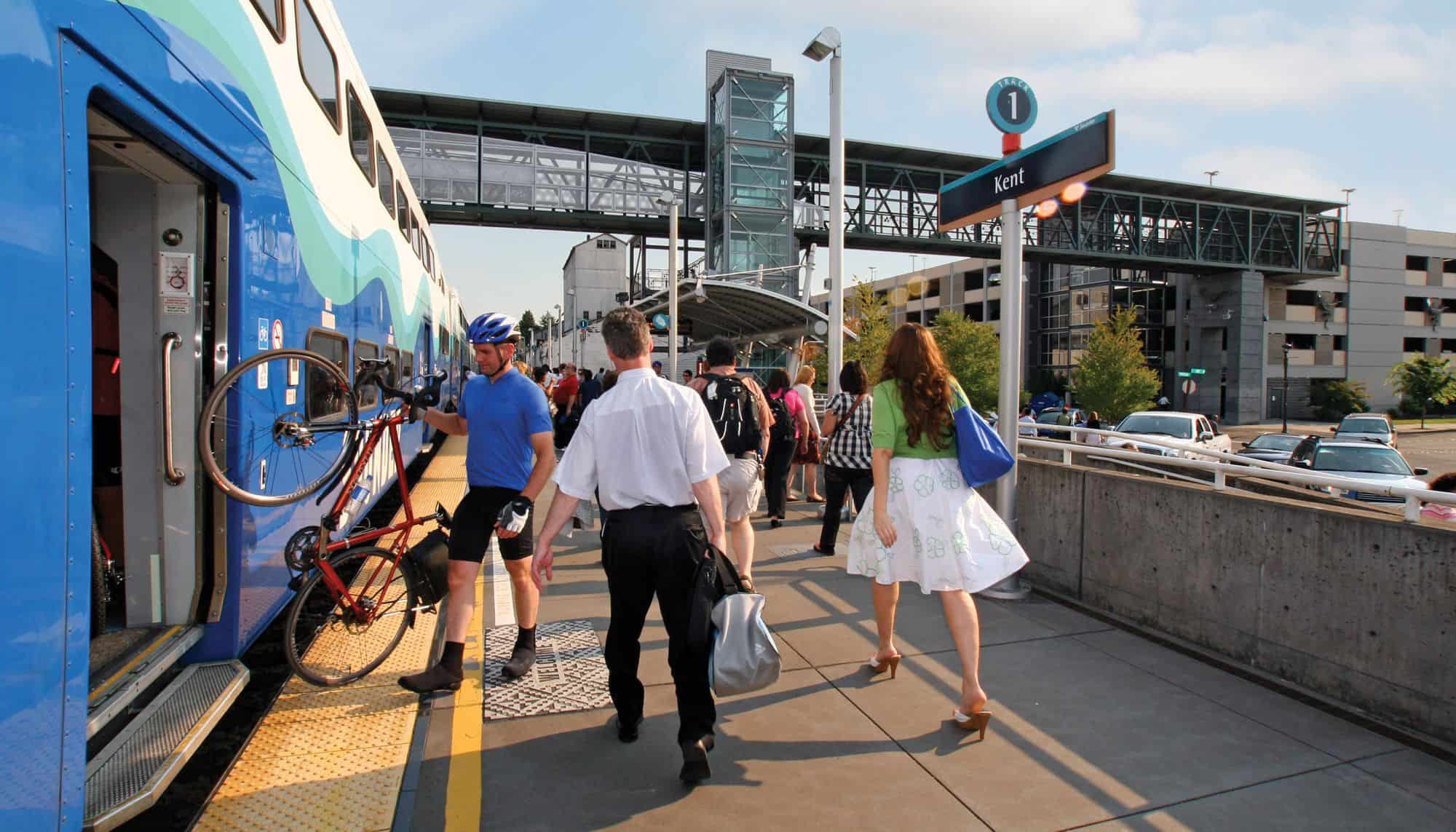 This article appears in print in the March 2018 issue, as part of the "Best of the Burbs" cover story. Click here for the rest of the story.
No matter how idyllic your oasis outside the city, you occasionally leave it, often to get to work. Transit ridership has grown faster in the Puget Sound region than anywhere else in the country, according to the Puget Sound Regional Council. These burbs are better than others at helping people get from point A to point B.
Kent
Hop onto the sounder train from the station at Railroad Avenue in downtown Kent—just behind Kent Station, a major open-air shopping, eating and entertainment center—and ride for a little less than 30 minutes to arrive at King Street Station. From there, you can walk, bus or take the light rail farther into downtown, if needed, or to points north.
The catch? The Sounder caters exclusively to commuters, with an emphasis on northbound travel in the morning and southbound travel in the evening, and there's no afternoon or weekend service (except for some Seahawks and Mariners games). There are also bus options from here, and cars and buses alike take advantage of great access to Interstate 5 or State Route 167, which feature high-occupancy toll (HOT) lanes—HOV lanes that are open to solo drivers for a toll. Those searching for a home in Kent will find many family-oriented properties with sprawling lawns, and significant new construction.
Neighborhood Snapshot
Population: 127,514
Median Home Price: $379,200
Appreciation: 11.9 percent
School Rank: Kent School District, no. 88 in state
Public Transportation: King County Metro bus service, Sounder train 
Commute to Seattle: 20.4 miles, typically 35–70 minutes
SeaTac 
When link light rail added "Angle Lake" to its South End stops, many Seattleites would have been hard-pressed to describe what—or where—that is. Named after a lake in the city of SeaTac that is, indeed, shaped like a backward "L," it's where a lot of new housing is being built, thanks to being a train ride away from downtown Seattle. Angle Lake itself is ringed with waterfront homes and includes a sweet, small beach park with a boat launch and spray park. 
SeaTac also has a couple of RapidRide bus lines that run through it for further connectivity to points east, west and south. RapidRide buses are designed to mimic trains as much as possible while still doing battle with road traffic; they run every 10 minutes during peak commute times and every 15 minutes the rest of the time, so you never have to look at a schedule. The F line connects Burien, SeaTac and Renton, and the A line connects Federal Way, Des Moines and SeaTac. SeaTac offers a mix of homes—from modest 1950s- and '60s-era ramblers to two-story contemporary family homes and a variety of new construction.
Neighborhood Snapshot
Population: 28,873
Median Home Price: $350,800
Appreciation: 11.4 percent
School Rank: Highline School District, no. 157 in state
Public Transportation: King County Metro bus service, Link light rail, Sound Transit
Commute to Seattle: 15.2 miles, typically 35–60 minutes

Photograph by Sound Transit (Angle Lake). The Angle Lake Link station in SeaTac opened in 2016, making it easier for residents of this suburb to commute to Seattle; I-90 is the quick route to Seattle for Issaquah commuters, whether by car or bus
Issaquah
Whether driving or busing, you can get from charming downtown Issaquah to Seattle in about 30 minutes—it's a straight shot on I-90 between the two cities. In early 2017, WSDOT added round-the-clock high-occupancy vehicle (HOV) lanes on portions of I-90 between Seattle and Bellevue, making a smoother, faster ride for car pools, van pools and buses for most of the route to Issaquah.
There are two main transit centers from which commuters can launch, parking their cars or bikes: the Issaquah Highlands Park-and-Ride on the east end, which has electric vehicle charging stations, and the Issaquah Transit Center on the west side, which has multiple park-and-ride lots—both centers feature bike lockers and racks. And if you work in neighboring Bellevue, travel from Issaquah is even easier. Issaquah has experienced significant growth in recent years; 45 percent of its housing has been built since 2000. Most of those homes are single-family houses or townhomes with multiple bedrooms to accommodate families.
Neighborhood Snapshot
Population: 37,322
Median Home Price: $752,500
Appreciation: 14.1 percent
School Rank: Issaquah School District, no. 7 in state
Public Transportation: Sound Transit, King County Metro bus service
Commute to Seattle: 17.4 miles, typically 30–55 minutes
Also consider: 
Des Moines is well situated halfway between Seattle and Tacoma, with access to I-5, State Route 99 and SR 509; it's not all that far from the Angle Lake light rail station either. Mercer Island, between downtown Seattle and Bellevue, offers an average commute of less than 20 minutes to either of these cities, with a variety of express buses that depart from the park-and-ride at North Mercer Way and 80th Avenue SE. The island will also benefit from the East Link of the light rail line, scheduled to be operational in 2023, which will connect the University of Washington–Angle Lake Line to Bellevue. Vashon Island is a viable option for those who want a rural lifestyle. The ferry ride between Vashon Island and Fauntleroy in West Seattle takes about 20 minutes; from there, the RapidRide C bus line takes about 30–40 minutes to get to downtown Seattle.
Sign up and get Seattle's best events delivered to your inbox every week.