Bicycle Diaries: The Competitive Side of Bike Commuters
In this series we ask Roddy Sheer for some tips and tricks for making bike commuting a little easier
By Seattle Mag May 12, 2011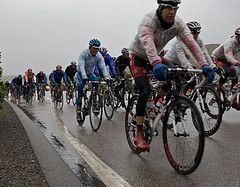 It seems that bike commuting gets the competitive juices flowing for Greg Widmyer, one of our resident blogging bike commuters this month. Here's how he puts it:
"I've kind of got a nice routine going this week with early morning calls.  I leave my house about 7:30, ride about 500 yards to a coffee shop, have a coffee and take my calls, then leave for the office about 9:30.  It feels quite decadent to be biking to work at 9:30 – a vague sensation of playing hooky b/c I'm biking and most folks are already in the office.   That sensation was helped by a gorgeous morning on Monday.   Had an awesome ride home yesterday too – the sun came out of nowhere in the afternoon.  No jacket, no gloves – first time this year, I think.
It's funny to observe the different approaches to the competitive urge that come out with respect to biking.  I see this in a few ways.  First, I see it in myself.  Most days, I don't like getting passed.  I can't help it.  I should just be riding along in my own little world, but I do notice who passes me and who I pass while on the road.   I kind of admire the folks who simply stroll along at a nice leisurely Sunday pace, but I don't seem to be able to get there.  And judging by the rest of the bike traffic, neither can most bikers.  There is a sense of "race" on some of the main bike drags.   There seems to be about five speeds of bikers.  Fast road bikers (distinguished by relatively tight, multi-colored bike shirts).   Fast hipsters on fixies (how the hell they road those single gear bikes so much faster than I ride my 18 gear bike is still a bit of a mystery to me).  The medium speed commuters (I put myself here and this group is distinguished by good, comfortable gear, decent bikes, and some form of Ortlieb pannier or backpack).  The slower commuter (this is the just getting to work group who may or may not have crazy gear and who are usually in street clothes).  The strollers (folks who genuinely look like they are really enjoying moving along at a nice leisurely pace and have not a care in the world and who the rest of us should aspire to look like if we weren't so fixated on getting somewhere).   So, I don't really mind it when I get passed by someone higher on the biker food chain, but it sort of irks me (and makes me pedal a bit faster) when someone is the leisure class blows by me.  Kind of funny to acknowledge that.  You can even see the same urge in this "bike to work month" team thing.  It's all set up to beat others for the most part – kind of weird, but I guess competition can bring out the best in folks.  It feels a little weird temporarily joining these groups though and getting "credit" for something you're doing anyway. 
Tomorrow's thoughts will be around all the things you need for bike commuting (and I'm not talking about reflectors, lights and fenders).
Also, stay tuned for some footage of REI cycling guru Julia Trippel's sometimes harrowing ride into work via her new helmet-cam.
Seattle mag contributing blogger Roddy Scheer recently explored the art of biking in the city. Check out more posts from his series:
Bicycle Diaries: Essentials for Bike Commuting
Bicycle Diaries: Shopping for Groceries on Your Bike
Bicycle Diaries: Celebrating Urban Bike Commuting in Seattle